U of T grads have one of the best employability outcomes in the world, new ranking says
U of T is the top-ranked Canadian university and 15th in the world in the 2018 QS Graduate Employability Rankings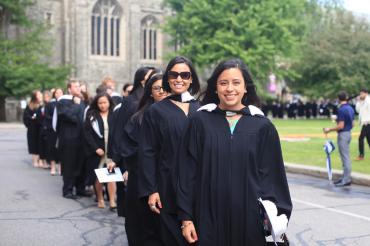 Globally in-demand graduates, alumni in leadership roles and high levels of engagement with employers are just some of the reasons the University of Toronto has one of the best graduate employability outcomes in the world, says a new independent study.
U of T is the top-ranked Canadian university and 15th in the world – up from 19th last year – in the 2018 QS Graduate Employability Rankings, which surveyed 600 top global universities in its annual report released Tuesday.
The 15th placement means U of T is among the top three per cent in the 2018 QS Graduate Employability Rankings. Among public universities, the University of Toronto ranked third in North America (just behind UCLA and UC Berkeley) and 10th globally.
"Students at the University of Toronto have the opportunity to learn from some of the top minds in their field and then hone their skills in real-world settings. Undergraduate and graduate students engage in experiential learning opportunities with a variety of university partners, from community agencies to startups to international companies," said Cheryl Regehr, U of T's vice-president and provost.
"We're pleased to see our ranking results continue to demonstrate U of T's excellent track record for graduate outcomes and employment." 
In compiling this year's ranking, QS used a methodology to rate each university based on its reputation with employers, alumni outcomes, partnerships with employers per faculty, employer-student connections and graduate employment rate.
Overall, Quacquarelli Symonds Limited considered responses from more than 30,000 employers, mapped the degrees and affiliations of more than 30,000 high-achievers, considered 130,000 employers' connections with graduates and evaluated more than 200,000 work placement partnerships.
In addition to U of T, four other Canadian institutions made the list of the top 100 ranked, including University of Waterloo (24th), University of British Columbia (35th), McGill University (42nd) and University of Alberta (94th).
Overall, the University of Toronto continues to be the highest ranked Canadian university and one of the top ranked public universities in the five most prestigious international rankings: Times Higher Education, QS World Rankings, Shanghai Ranking Consultancy, U.S. News Best Global Universities and National Taiwan University.
UTC