U of T ranked among world's top 25 universities in latest QS World University Rankings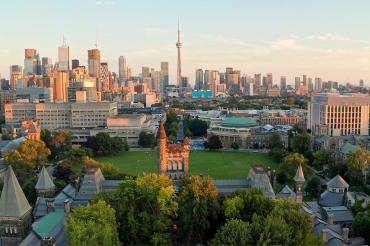 The University of Toronto has been ranked among the top 25 universities in the world by the prestigious QS World University Rankings. 
U of T moved up four spots to 25th globally in the annual ranking of the world's top 1,000 universities by Quacquarelli Symonds, a London, U.K.-based analytics firm. It also maintained its position as Canada's top-ranked school.
Among public universities, U of T ranked second in North America and 15th globally.
"The University of Toronto is recognized consistently among the world's top universities," said U of T President Meric Gertler.
"This latest ranking highlights U of T's global excellence in research and teaching, as well as the outstanding success of our alumni."
U of T achieved particularly high scores in academic and employer reputation in this year's QS World University Rankings, which ranks schools based on six different weighted measures. To measure an institution's academic reputation, QS surveys more than 94,000 higher education professionals on universities' teaching and research quality. For employer reputation, QS asks nearly 45,000 employers to rank institutions in terms of which produce "the most competent, innovative, and effective graduates." 
U of T's score for "academic reputation" was 15th-highest in the world, according to QS.
One of the drivers behind U of T's four-spot climb in the latest rankings was an increase in citations per faculty – a measure of research output.
The top three spots in the QS World University Rankings 2021 were unchanged from last year: Massachusetts Institute of Technology, Stanford University and Harvard University – in that order.
Two other Canadian universities joined U of T in the ranking's top 100 for the 2021 ranking: McGill University (31st) and the University of British Columbia (45th).
Overall, U of T continues to be the highest-ranked Canadian university and ranked among the top 25 universities globally in the five most closely watched international rankings: Times Higher Education World University Rankings, QS World University Rankings, Shanghai Ranking Consultancy's Academic Ranking of World Universities, U.S. News & World Report's Best Global Universities and National Taiwan University World University Rankings.
UTC