U of T to quicken pace of heart research commercialization with new entrepreneurship program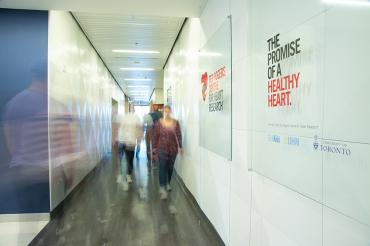 A cardiovascular researcher herself, Soror Sharifpoor knows just how much cutting-edge heart research is being done at the University of Toronto and its partner hospitals – which is why she was surprised to discover a dearth of related startup companies.
It's a gap she's now seeking to bridge. 
The research program manager for the Ted Rogers Centre for Heart Research's translational biology and engineering program spent the past year building a new entrepreneurship program from the ground up. 
Called Entrepreneurship for Cardiovascular Health Opportunities, or ECHO, the program introduces cardiovascular researchers to the world of startups and provides them with basic training, networking and funding opportunities. 
"Canada is an internationally recognized hub for cardiovascular research with exceptional scientists and clinicians developing ideas with high translational potential," Sharifpoor says. 
"We want to provide them with the necessary tools to turn their ideas into products that can be used by patients and their doctors."
A partnership with U of T's Health Innovation Hub (H2i), one of nine on-campus accelerators, the 12-month ECHO program is open to any student, researcher or entrepreneur in Canada and consists of five modules that teach everything from how to develop a business plan to strategies for navigating regulatory hurdles. Led by veteran entrepreneurs and other experts, the program culminates with a pitch competition for participating ventures that will hand out prizes from a $250,000 pool of startup funding.
Applications for the inaugural cohort of ECHO close Aug. 24, while the program itself kicks off Oct. 1. 
Sharifpoor says improving the translation and commercialization of cardiovascular research is one of the "milestones" originally envisioned for the centre, a partnership between U of T, the University Health Network and the Hospital for Sick Children. The centre was made possible by a $130-million donation from the Rogers family in 2014 – the largest-ever donation to a Canadian health initiative.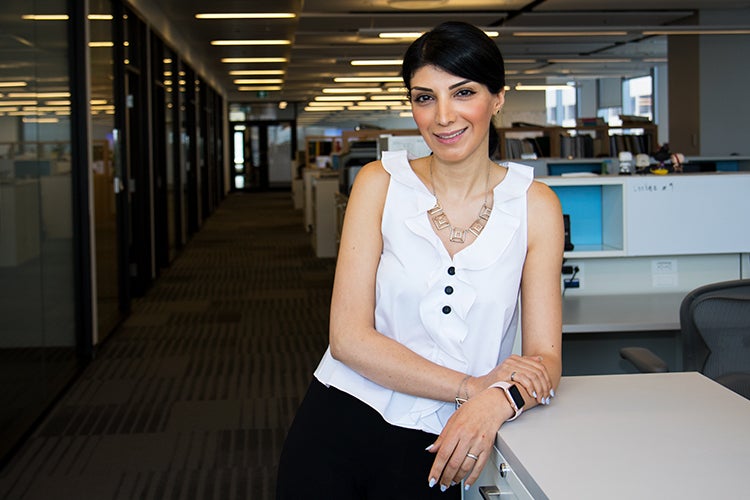 Soror Sharifpoor, the research program manager for the Ted Rogers Centre for Heart Research's translational biology and engineering program, spent a year putting together ECHO (photo by Chris Sorensen)
In her case, Sharifpoor says making the transition from scientist to entrepreneur came naturally because of her background in engineering. "As an engineer, your focus is always on designing and developing solutions for real-world problems," she says. "It's part of your training."
Even so, the path to launching 
her startup, Polumiros
, with co-founder
Kyle Battiston
was far from straight. The company's unique polymer, originally developed for cardiovascular applications, is now being developed as a filler material to improve cosmetic and mental outcomes for breast cancer patients undergoing lumpectomies.
"There are several Canadian programs that support cancer research commercialization and help drive novel technologies and cutting-edge therapeutics to the market," she says. 
Sharifpoor hopes ECHO will help do the same for patients suffering from heart disease and other cardiovascular ailments. 
She envisions a wide variety of possible market opportunities for cardiovascular researchers to exploit – from new drugs and medical devices to apps and wearables that monitor heart health. She cites, as an example, a group at the Ted Rogers Centre that's developing an MRI contrast agent that helps with early detection of cardiac fibrosis.
The plan is for successful ECHO participants to continue to work with H2i to further build their businesses. 
"We wanted these companies to have a place to continue onward," Sharifpoor says. 
"Our goal is to deliver much needed cardiovascular innovations to patients faster." 
UTC