U of T Pride: celebrating diversity and inclusivity during Pride Toronto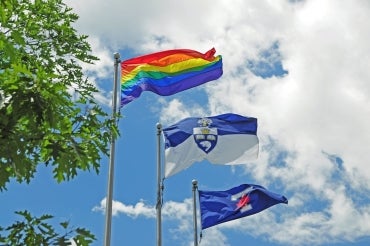 It's time to paint the campus rainbow. 
We're right in the thick of Toronto's first-ever Pride Month with festivities taking place all over the city leading up to the grand finale – the Pride Parade on July 3. 
This year, upbeat celebrations have been marred by the horrific mass-shooting at a gay nightclub in Orlando Florida where 49 people were killed. Its aftershock has been felt all over the world including Toronto, with vigils held this past Wednesday on all three U of T campuses. The pride flag flying over Varsity Stadium was lowered to half-mast. 
Speaking at the memorial at Hart House Circle, the University of Toronto's Sexual & Gender Diversity Officer, Allison Burgess, reminded attendees that Pride isn't just about celebrating the community. "Pride is also built on a history of commemoration – a history of active resistance to homophobia and transphobia," she said. 
But in the face of adversity, there's a call to stand louder and prouder than ever – as embodied by Pride Toronto 2016's theme – "You can sit with us" – embracing both diversity and inclusion with a cheeky nod to the classic teen film Mean Girls. 
It's a message reflected at University of Toronto's Pride events. 
"Even if they're just questioning or still in the closet – or even if they're out and they're proud, [U of T is] a safe space for everyone," says Sonali Patel, a third-year student majoring in sociology and woman and gender studies. She's also co-president of Woodsworth Inclusive, one of the student groups organizing of this year's Pride Picnic. 
U of T has been showing its Pride across all three campuses this month. And the Pride flag has been flying over Varsity Stadium since a special ceremony earlier this month, thanks to staff at the Faculty of Kinesiology & Physical Education.
During official Pride Toronto celebrations, look out for U of T student Jordyn Samuels. The equity studies and sexual diversity studies major has the Pride honoured position of Youth Ambassador.
Samuels was nominated by Supporting Our Youth – a community program that empowers lesbian, gay, bisexual, transsexual and transgender young people in the city. She has been a youth ambassador for their Human Rights Equity Access Team for the past six years.
University of Toronto's Sexual & Gender Diversity office is spearheading many of the Pride events on campus and U of T's participation in Toronto Pride events off-campus. 
Burgess (pictured below) says students, staff and faculty are encouraged to participate however they feel most comfortable. 
"If you're interested and want to participate, you're more than welcome to do so. We take that approach in our programming and in the work that we do and I hope people do feel welcome to participate in whatever way that feels good for them."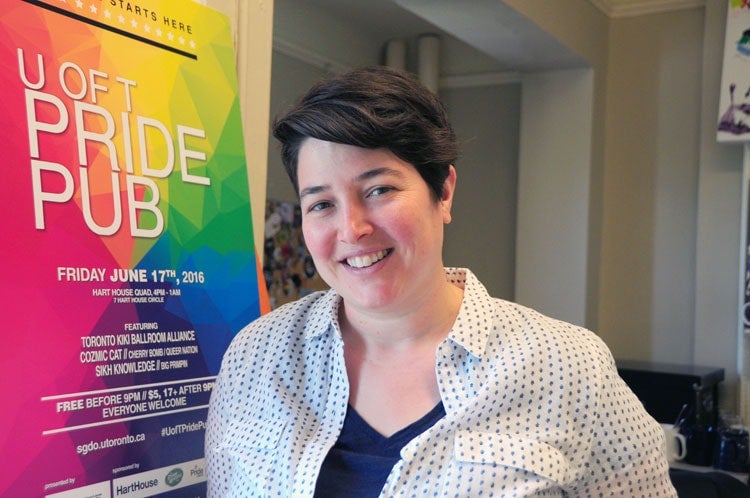 Here are some of the upcoming Pride events on and off campus:
U of T Events:
June 23 (All day): #Display Your Pride 
Face paint? Check. Rainbow flag? You got it. Glitter? Absolutely. Today is the day to show your pride any way you want whether you're a student, staff, alumni or faculty. Deck out your office or student space, wear something fabulous or create something that signifies what pride means to you. 
Don't forget to show it off! Use the hashtag #DisplayYourPride along with your campus hashtag (#UTSC, #UTM and #StG) to share your photos on social media
Check out the event page for campus-specific #DisplayYourPride happenings
June 28 (4-7pm): SGDO Pride T-Shirt Decorating Party 
Location: 21 Sussex Avenue, Room 421
If you're strutting your stuff at this year's Trans March, Dyke March or Pride parade, head to 21 Sussex (room 421) to score a free U of T Pride t-shirt. There will be plenty of craft supplies on hand to jazz up your outfit. 
See more details
June 29 (1-5pm): U of T Pride Picnic
Location: Woodsworth College Courtyard
The fifth annual Pride Picnic promises an amazing afternoon filled with entertainment, good food and even better company – and best of all – it's free!
Find out more 
 
U of T at Pride Toronto Events:
July 1 (7:30-9pm): U of T Marches in the Trans March 
Location: TBD
March along with fellow U of T students, staff, alumni and faculty. All trans-identified people and their allies are welcome.
Here's how to get involved  
July 2 (10am): U of T joins the Pride and Remembrance Run 
Our 50-person team is tightening up their laces, ready to participate in the annual run in support of local LGBTQ organization.
If you're looking to join the team or help them reach their goal of raising $10,000, visit University of Toronto's team page
Want to find out where to cheer them on during the run? See the route map
 
July 2 (1:30 pm – 3 pm): U of T Marches in the Dyke March 
Location: TBD
Looking to march? Join the University of Toronto contingent for the event, led by Black Lives Matter Toronto Coalition, celebrating activists, queer artists and performers.  
More details 
July 3 (1:30 pm – 5 pm): U of T Marches in the Pride Parade 
Location: TBD
Get ready to stand tall and prouder than ever. This year's parade is honouring the victims of the Pulse nightclub shooting in Orlando. Show your solidarity and march with U of T or get a great spot along the parade route (you might even catch a glimpse of Prime Minister Justin Trudeau).  
Details here: http://sgdo.utoronto.ca/event/u-t-marches-pride-parade-2/