President Meric Gertler is the United Way's 2016 campaign cabinet chair for the education sector (photo by Lisa Sakulensky)
Giving back to the community is behind the decision by University of Toronto President Meric Gertler to volunteer his time this year with other community leaders to help make the annual United Way fundraising campaign a success.
"I have frequently made the case that the global success of great universities rests on their local foundations," said Gertler, who has been named the 2016 campaign cabinet chair for the education sector. "Despite the economic success of Toronto, we know that too many residents of this region are struggling to overcome poverty, illness, unemployment or other disadvantages."
The president is joining more than 50 senior community and business leaders, including campaign chair and Royal Bank of Canada president and CEO David McKay, to help steer the Toronto & York Region branch's campaign toward success in raising its goal of $101.5 million in donations.
The money raised by the community stays in the community, creating opportunities for a better life for the millions of people who live in the GTA. For example, donors have helped more than 60,000 young people finish school and find jobs. They've also helped more than 306,000 newcomers and refugees successfully build new lives in the region.
"The United Way works with local organizations to build strong partnerships and deliver programs to help those members of our communities most in need of support," Gertler explained in an email to faculty and staff. "And by helping them to reach their potential, the United Way acts to strengthen our society as a whole."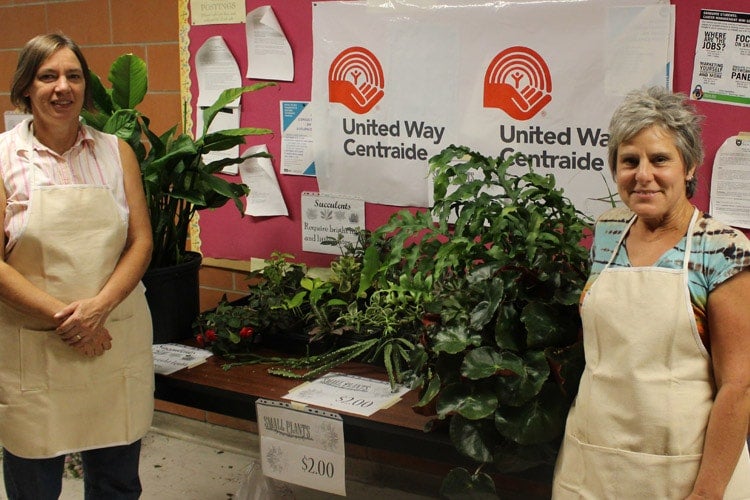 (Brenda Pitton and Marianne Kalich, horticultural staff at the University of Toronto Mississauga greenhouse, photo by April Forbes)
Fundraising activities for the United Way have already started at U of T Mississauga with the annual – and incredibly popular – plant sale.
On Oct. 18, the Mississauga campus will officially start its campaign with a barbecue which will also feature student Wali Shah delivering a spoken word performance and a campus police officer in full uniform DJ'ing the event. Shah has personally raised more than $1 million for the United Way to date.
Other upcoming events run the gamut from campus-wide to individual office initiatives, including a children's art sale at the Early Learning Centre, a campus police lost-and-found sale, a pumpkin carving contest and even a bowl-a-thon.
Events don't have to be big to make an impact, said April Forbes, who is in her first year as the coordinator of the United Way activities at U of T Mississauga. She said she's pleased the president has joined the charity's volunteer campaign cabinet, which is sure to give it a boost.
"He's taking a real leadership role," said Forbes, who is also a support worker based on campus with Community Living Mississauga. "U of T has always been a leader with a strong community focus. I've seen first-hand that forward thinking in seeing the importance of helping and including the community outside the campus walls."
Not only is her agency one of the dozens supported by United Way donors, but it's also entering its 20th year at the UTM campus. Through a campus office, Community Living Mississauga works with the university to help pair student volunteers with young people aged 21-30 who have an intellectual disability.
"We believe everyone deserves a campus experience," Forbes explained. "They are with their peers and sharing the same experiences that every university student has."
The one-on-one interactions in the Community on Campus program could involve working out at the gym together, developing literacy or computer skills, helping out at the library or just enjoying coffee and conversation.
Last year, the U of T community helped raised close to $700,000 for the United Way – a figure the university would like to match this year. U of T's official campaign kickoff takes place Oct. 19. Information on how faculty and staff can contribute will be issued in a message by Professor Bruce Kidd, vice-president and principal, University of Toronto Scarborough.
In the meantime, any questions can be directed to unitedway@utoronto.ca.