U of T places No. 1 in Canada, No. 20 globally in U.S. News & World Report's ranking of best universities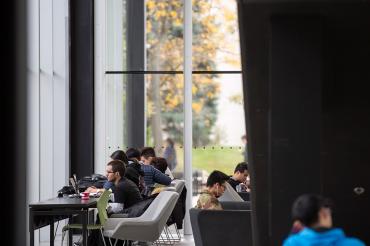 The University of Toronto has once again been ranked by U.S. News & World Report as the number one school in Canada and among the top 10 public universities in the world.
With a focus on research output and reputation, the Washington, D.C.-based news and information firm's 2019 Best Global Universities ranking shows U of T holding on to the same 20th-place position globally among both public and private institutions that it occupied last year.
U of T was also ranked first in Canada in 17 of 22 subject areas U.S. News & World Report evaluated. That includes four subject categories where U of T ranked among the top ten globally: clinical medicine (5th), psychiatry and psychology (8th), molecular biology and genetics (10th) and arts and humanities (10th).
 "We're proud to see the University of Toronto recognized for its world-renowned research and commitment to academic excellence," said U of T President Meric Gertler.
"The university's consistent strength across a wide range of disciplines opens doors to new knowledge and discoveries, and offers students a unique opportunity to study alongside top scholars regardless of their chosen field." 
The U.S. News & World Report 2019 Best Global Universities ranking, which uses data from Clarivate Analytics, is designed to provide insight into how universities compare internationally based on their research performance. To do that, the organization looked at 1,250 institutions in 75 countries and ranked them using a mix of reputational standing and data based on research publications and citations.   
Both the University of British Columbia and McGill University joined U of T in the ranking's top 100 this year, with UBC taking 29th spot and McGill 43rd.
The top three universities in the 2019 global ranking, meanwhile, were Harvard University, the Massachusetts Institute of Technology and Stanford University.
While U.S. News & World Report has been ranking American universities for three decades, the creation of a separate global ranking five years ago was meant to address the increasingly borderless nature of post-secondary education and help benchmark U.S. schools against their international peers.
"Higher education continues to be more global, meaning that prospective students are looking beyond universities in their country when thinking about where to enroll," Anita Narayan, U.S. News & World Report's managing editor of education, said in a statement accompanying the ranking's release. 
As a leading Canadian university with a global outlook, U of T earlier this year announced that international PhD students would pay tuition equivalent to their domestic counterparts. The move was designed help U of T compete for the best scholars and remove barriers to international applicants, who bring new perspectives to U of T's research apparatus and help to build the university's worldwide network.
Overall, U of T continues to be the highest ranked Canadian university and one of the top ranked public universities in the five most closely watched international rankings: Times Higher Education, QS World University Rankings, Shanghai Ranking Consultancy, U.S. News & World Report's Best Global Universities and National Taiwan University World University Rankings.
UTC