2016 Paralympics: U of T physical therapist looking forward to supporting role at #Rio2016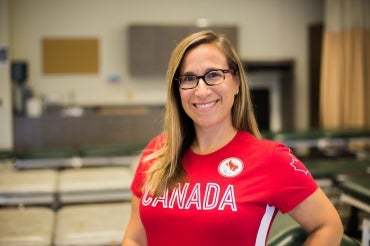 The 2016 Paralympic Games will be taking place September 7 to 18, and Mireille Landry, a physical therapy lecturer and exercise coordinator for the Women's Cardiovascular Health Initiative at Women's College Hospital, will be in Rio de Janeiro with the Canadian athletes. The Faculty of Medicine's Alyson Musial talked to Landry about her role.
Tell us about your role on the Health Sciences Team for Team Canada. How will you be helping our Canadian Paralympic athletes?
I will be assigned specific teams or athletes that are part of the Canadian Paralympic Team, and accompany these athletes/teams to their training sessions and events. I'll be on hand for any sporting event preparation, as well as emergency first aid.  My "office" is the change room, the playing field, and the Team Canada clinic in our residence at the athlete's village. 
My role will involve providing treatment and rehabilitation of injuries, as well as support for performance through injury prevention, maintenance and recovery interventions. I mainly use manual and exercise therapy, soft tissue and taping techniques. Athletes are very in touch with their needs and often require less aggressive treatments than what you might provide in a clinic. They are fine-tuned, high-performance individuals, and gentle approaches are generally more successful. A high-stakes competition isn't where you "show off" your skills in a new treatment or interfere with the athlete's preparation!
What is the greatest challenge you face as a member of this team?
A typical day working a multisport event can be long and not very glamorous. I can expect to work from early in the morning to late at night depending on training and event schedules. In an environment where you are consulting and treating athletes in change rooms, on sidelines or the field, you never really know what to expect!  
Parasport can be played by athletes with a visual impairment, a spinal cord injury, amputations, cerebral palsy, an intellectual difference, spinal bifida, multiple sclerosis and other different abilities. Treating musculoskeletal injuries in this context can be more complex than in other athletes. I have to take into consideration how their physical difference aids their function and performance, and interacts with equipment they may need. As an example, an athlete may use increased muscle tension to their advantage, so trying to "relax" the muscles would interfere with their performance. I also miss my kids being away for two weeks!
What is the most rewarding aspect of being on the Health Sciences Team?
I love being a "small cog on the big wheel" and helping the Paralympic Games, as well as our Canadian athletes, to thrive. It feels great contributing my knowledge, experience and skills; I call the Games my "happy place". I also get to connect with other therapists, sports medicine physicians, athletes and the whole team, which is a fantastic learning experience. I'm very much looking forward to the comradery, and expect we'll have a few adventures along the way.