U of T PhD student publishes hip-surgery research in major U.S. medical journal
Delaying hip fracture surgery more than one day associated with increased risk of death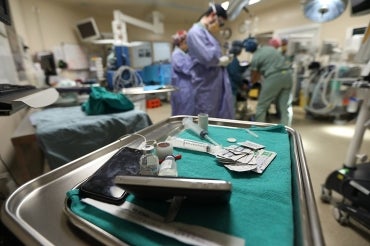 Waiting more than 24 hours to undergo hip fracture surgery may be associated with an increased risk of death and complications, according to research published by a University of Toronto graduate student and medical resident.
Dr. Daniel Pincus, a resident in orthopedic surgery, found the link after studying wait times and health outcomes of more than 42,000 people who had hip fracture surgery in Canadian hospitals.
Patients who had surgery more than 24 hours after coming to the emergency room with a broken hip had a 6.5 per cent chance of death within 30 days, compared with a 5.8 per cent chance among patients who received more immediate care.
"Complications analyzed included heart attack, pneumonia, deep vein thrombosis and pulmonary embolism. These are not necessarily a direct result of the injury itself but can occur when patients wait bedridden prior to surgery." says Pincus, a PhD candidate in the Faculty of Medicine's clinician investigator program.  "Patients also must fast before surgery, which is hard on an elderly person already dealing with intense inflammation from a break to the largest bone in the body."
Pincus was not the first to establish a link between hip surgery wait times and death rates.  But his study clarifies disagreement over the length of time that's most dangerous. He found that risk of death only increased after 24 hours of waiting.
"What is interesting is that we found a relationship between risk and delay, but only after 24 hours. Before 24 hours there was no increased risk of waiting. So surgery within 24 hours thus appears to be the 'safe window,'" he says. "Some patients will benefit from pre-operative medical treatment and rushing them to the operating room before this happens is probably not the right answer. If patients are healthy and ready for the OR, however, there is no reason they need to wait until 24 hours, especially as they are suffering in pain."
Hip fractures are the most common reason for urgent surgery in Canada, with more than 30,000 procedures occurring across the country annually. Currently, two thirds of patients in Ontario who enter the hospital with a hip fracture don't receive surgery within 24 hours, says Pincus. "There have been improvements made in the last five or ten years to get patients to the operating room faster, but more work needs to be done."
His research was published in the Journal of the American Medical Association (JAMA) on Nov. 28.
Pincus is a Vanier Scholar and is studying for his PhD as part of the Dalla Lana School of Public Health's Institute of Health Policy, Management, and Evaluation.
The study was funded by the Vanier Scholarship Program and the Marvin Tile Chair in Orthopaedics at Sunnybrook Health Sciences Centre. 
Faculty of Medicine