U of T PhD candidate explores Italy's ancient cultural and linguistic history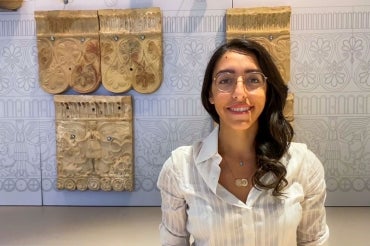 For many, inspecting what could be an old theatre ticket wouldn't be considered a trip highlight.
But in Claudia Paparella's case, the ticket in question was dated around 1st century CE and included an inscription in Latin, one of the languages attested in ancient Italy.
"I had never seen anything like that, and I don't think I have seen them anywhere else – it was amazing," says Paparella, speaking from L'Aquila, a city in central Italy.
The PhD candidate with the University of Toronto's department of classics in the Faculty of Arts & Science is travelling through Italy, exploring dozens of dig sites, ruins, museums and historical archives, thanks to the department's Norwood Traveling Fellowship, which is funding two months of travel to support her research.
"My project traces the social history of Indigenous Italian languages and their entanglement with the Roman imperial expansion in Italy from the 7th to 1st century BCE," she says.
"Long before the Roman expansion, Italy was a mosaic of different people with different ethnicities and languages. Some of the most important languages I'm working with are Oscan, Umbrian, South Picene, Messapic and Faliscan.
"Over time, writing and language progressively became a wider component of cultural identity and distinction."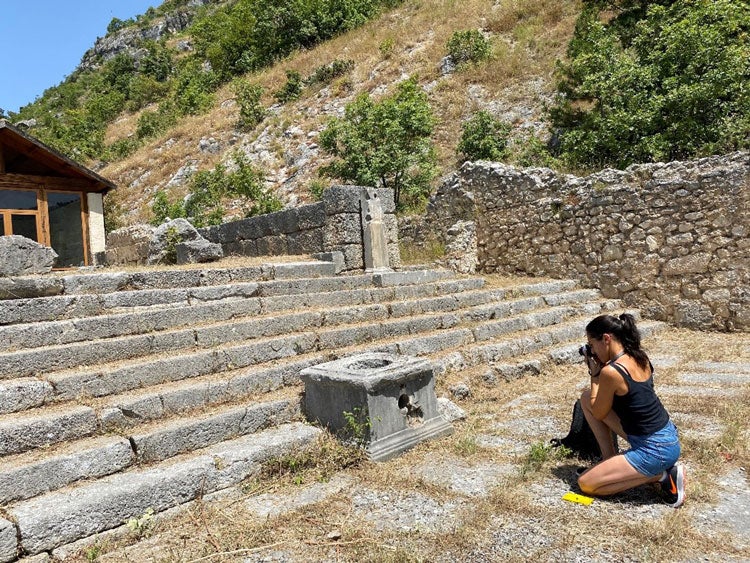 But then around the 4th century BCE, the Romans – whose empire was rapidly spreading – arrived and began putting pressure on these populations to adopt Latin as their chief language.
Italic peoples did adopt Latin for things like business and trade, but many of these populations resisted and continued to use their own language for several more centuries in more personal and private settings such as funerals or other religious affairs.
"I'm interested in the role the language has when these Italic peoples enter into contact with Rome," says Paparella. "What I'm trying to understand is the contexts in which Italic people decide to give up on Latin or give up on their own language.
"You speak your own language, but when you have someone as powerful as Rome invading your city [and] colonizing you, you have to decide whether you want to keep speaking and writing your language, or switch to Latin, the language of the colonizer, the language of power."
Paparella is on the hunt for artifacts with these Indigenous languages through inscriptions found on gravestones, as well as pottery, sculptures and ancient city ruins.
"If I already know what I'm looking for, I go to a museum because I want to see an object with my own eyes and have a first-hand experience," she says. "Or I hike and visit archaeological sites. Or I meet with people who can open museums that are usually closed because of lack of funds or a lack of public interest. They give me access to archive storage rooms, and I see a lot of unpublished materials."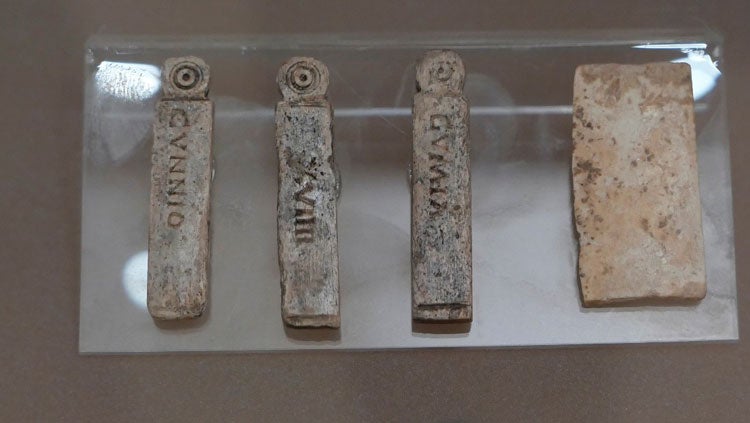 Can she understand these ancient languages? Partially.
"We can recognize letters and read the inscriptions out loud, but there's still work to do on vocabulary, grammar and syntax," she says. "The context in which the inscription is found and the comparisons with similar languages help a lot."
For some inscriptions, she is able to follow some established language traditions, such as those often used on gravestones.
"Funerary inscriptions are usually very simple," she says. "We know there is always the name of the deceased, there is sometimes the name of the person creating the funerary structure."
There is also a listing of a person's age and other useful information that enables Paparella to piece together its place and significance.
"I'm beginning to understand where and why people were more reluctant to use Latin or where they were more willing to express themselves, and what is the historical implication," she says.
Paparella returns to Toronto this month, and though she is a little exhausted and travel-weary from the constant trekking, especially the hikes up mountains in the blazing sun, she says she wouldn't change a thing.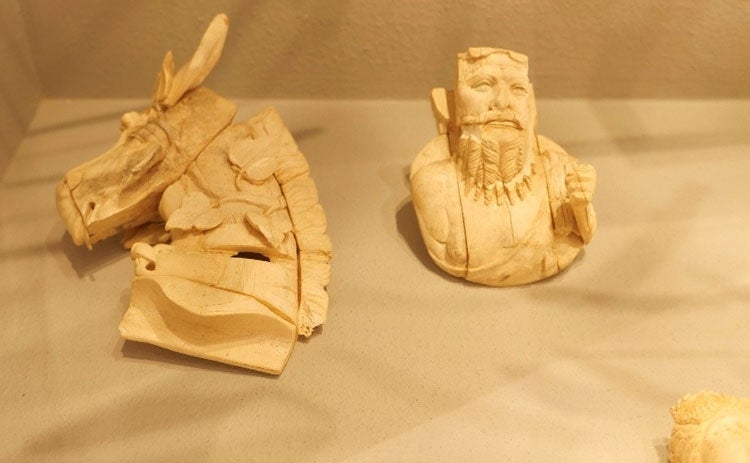 "I'm extremely grateful for the scholarship because I'm realizing that it takes a lot of time to visit all these sites," she says. "It also takes a car, a camera, and a good pair of sneakers. The pace is intense, I visit three sites or museums per day, but it's absolutely worth it. So I'm very thankful that I have these six weeks of fieldwork in which I can plan and schedule whatever I want."
Along her travels she has also been surprised by some of the small towns and villages she's visited, and their efforts to preserve Indigenous history.
"It's very impressive to see local communities that are still very proud and very aware of this Italic, non-Roman cultural heritage," says Paparella. "I discovered that in some towns, they do reenactments of rituals or battles. I've never experienced anything like that in a small town before. It's so interesting to see how these places are still very much attached to their origins and their diversity."
Arts & Science