U of T pharmacy grad co-founded startup that promises to help detect and treat cancers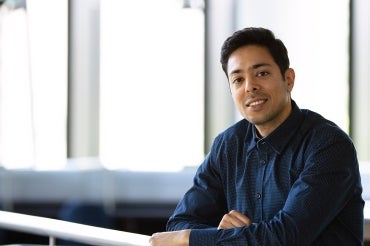 When Mohammad Ali Amini receives his PhD from the University of Toronto this week, he will also be celebrating the successful rise of Nanology Labs, the startup he launched while completing his research at the Leslie Dan Faculty of Pharmacy.
Based on technologies invented in the lab of Professor Xiao Yu (Shirley) Wu over two decades, Nanology is developing an innovative low-toxicity MRI contrast agent that circumvents the limitations of other MRI contrast agents currently available to detect and treat brain cancer.
"Our nanoparticulate system uses manganese and can simultaneously detect cancer using MRI and improve radiation therapy by sensitizing cancer cells," says Amini.
Manganese, an element that already exists in the human body, is safer and less toxic than MRI contrast agents made of gadolinium, which comes with a U.S. Food and Drug Administration warning.
In addition to concerns about toxicity, current MRI contrast agents are not sensitive enough to catch cancer early, says Amini. "We lack means for early-stage brain cancer detection in clinics. Roughly 65 per cent of brain cancer patients are diagnosed at later stages and, in North America, roughly 20,000 people a year lose their lives."
Patients would receive an injection of the agent, which passes the formidable blood-brain barrier. It then illuminates and oxygenates the tumor to improve radiation therapy performance. To date, Amini has seen promising results in various pre-clinical models. The goal is to move the technology toward first-stage clinical trials.
Connecting with U of T's Innovations & Partnerships Office and several U of T-based accelerators, including the Health Innovation Hub (H2i), UTEST and Impact Centre, helped Amini understand how a technology could be translated into commercialization and patient care. He got advice on how to conduct market research, write a good business plan and effectively explore the feasibility of his idea. 
"It's a very challenging path and it is a huge learning curve for scientists – you have to be persistent and passionate and believe in yourself and the technology," says Amini, who completed a degree in veterinary medicine in Iran before joining Wu's lab in 2013.
He also credits Wu, who is both a co-founder of Nanology Labs and his doctoral supervisor, for providing him with the necessary support and opportunities.
During Wu's 25-year academic career, her lab has invented many delivery technologies with issued or pending patents.
"However," she says, "there is a huge gap between patenting technologies and developing nanomedicine products to provide benefits to patients. Trainees, like Mohammad, with a strong passion to lead a startup to develop technologies into products, are extremely valuable. I am delighted to see the success that Nanology has achieved at this early stage under his leadership.
"Mohammad has set a role model for other trainees who may explore entrepreneurship as their career path, especially with an aim to commercialize technologies for which they have been involved in the invention."
Nanology is the first startup to come out of the Wu lab.
While Amini has entertained offers to pursue a post-doctoral degree from other institutions, he has decided to stay the course as CEO and co-founder of Nanology Labs.
Since June 2018, Nanology Labs has picked up significant funding support from several entrepreneurship pitch competitions, including $50,000 from the Ontario Brain Institute's ONtrepreneurs program, $25,000 from MaRS HealthKick Pitch Competition 2019, and the $25,000 first prize at this year's RBC Prize for Innovation & Entrepreneurship, an annual pitch competition and finale of the True Blue Expo, the capstone event of U of T's Entrepreneurship Week.
The financing Amini has secured will help the company manufacture the agent formulation and lead to additional pre-clinical studies for safety evaluation. He will also be part of the Creative Destruction Lab's (CDL) Super Session, an annual showcase of CDL's graduating early-stage tech companies. The CDL Super Session 2019 is taking place June 12-13 at U of T's Rotman School of Management.
When he began his PhD six years ago, Amini did not envision he would be leading a startup company. His takeaway?
"If you want to be successful, create your own path," he says. "This is what I've learned."
Pharmacy