U of T announces action plan on student mental health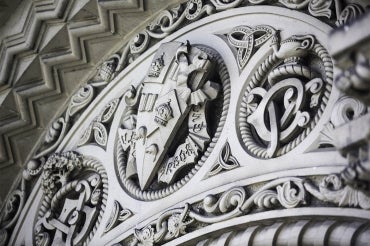 University of Toronto President Meric Gertler has announced a four-point action plan to address issues of student mental health, in a letter to the University of Toronto community.
"I would like to thank the many students and others who have come forward to voice their concerns, share their experiences and offer advice on improving services to students experiencing mental illness while promoting health and wellness across the university," President Gertler said. "Let me say that we have listened, we have heard you, and we will continue to do so."
The action plan includes establishing a task force to review mental health supports and services for students at U of T.
The task force will be chaired by Trevor Young, dean of the Faculty of Medicine and a professor in the department of psychiatry. Sandy Welsh, vice-provost, students, and Joshua Barker, vice-provost, graduate research and education and dean of the School of Graduate Studies, will serve as senior assessors. The task force will be seeking nominations of students, staff and faculty to join the team as well.
In addition, President Gertler said senior administrators are working closely with health partners outside of the university to improve their ability to refer students who are experiencing mental illness so they can receive specialized care.
The university will be engaging with the Ontario government to request more resources to help higher education institutions meet the needs they face in order to support their students. U of T plans to work with the Council of Ontario Universities and other partners to continue their advocacy work, following a joint report published in 2017 called In It Together: Taking Action on Student Mental Health.
As well, the Expert Panel on Undergraduate Student Educational Experience (USEE), a group of students, staff and faculty created last year by Vice-President and Provost Cheryl Regehr, is looking at issues around learning cultures, competitiveness, student well-being and student supports. Alongside the USEE expert panel, the School of Graduate Studies is examining issues specific to graduate student experience.
President Gertler said U of T is also continuing to build upon the Student Mental Health Framework, which launched in 2014 and led to improvements in access to mental health counselling.
In light of the framework, among other things the university has invested $1.3 million to hire 10 on-location wellness counsellors, who began work in 2017-18, and $1.5 million for on-location accessibility advisers, who were in place by the start of the current academic year. In addition, the School of Graduate Studies has added two on-location wellness counsellors.
"However, we have not yet managed to meet the overwhelming increase in demand," President Gertler said, adding that the number of students registered with Accessibility Services on the downtown Toronto campus has more than doubled over the past five years.
The growing number of students who are reporting mental health challenges is not exclusive to U of T, said President Gertler, citing the 2016 National College Health Assessment survey, which found that, in the previous year, 46 per cent of Ontario post-secondary students said they felt so depressed that it was difficult to function. As well, 65 per cent of the students said they experienced overwhelming anxiety and 2.2 per cent said they had attempted suicide.
In a recent memo, Kelly Hannah-Moffat, vice-president, human resources and equity, outlined the mental health and well-being resources available to faculty and staff as well as information they can use to help students who are in distress. (Services for students, staff and faculty are listed below).
In his letter, President Gertler said the recent death of a student on the downtown Toronto campus brought about "profound shock, sorrow, anger and frustration." But the tragedy "has also triggered an extraordinarily important discussion about suicide prevention and student health and wellness more broadly."
"In this sad and difficult time, our community members – and especially our students – have given us new reason for hope that together, and with our partners beyond our campuses, we can move steadily closer to a time when every single member of our community feels free to share their struggles, and fully supported as they strive to overcome them."
---
Feeling distressed? Find someone to talk to right now – and if there is an immediate risk, call 911.
The following are some of the mental health services available to students on all three campuses:
Downtown Toronto: Health and Wellness Centre (416-978-8030), located at Koffler Student Services
U of T Scarborough: Health & Wellness Centre 416-287-7065 
U of T Mississauga: Health & Counselling Centre 905-828-5255
Round-the-clock support
Free 24/7 support is available outside the university. Students, staff and faculty can speak to a trained crisis worker at any hour of the day.
Good 2 Talk 1-866-925-5454
Gerstein Crisis Centre 416-929-5200 
Distress Centres of Greater Toronto 416-408-HELP (4357)
The Centre for Addiction and Mental Health at 250 College Street
Anishnawbe Health Toronto Mental Health Crisis Line 416-360-0486
My SSP for U of T  Students 1-844-451-9700. Immediate support is available in 35 languages and ongoing support in 146 languages.
Appointed faculty and staff have access to the Employee & Family Assistance Program (EFAP), offered through Homewood Health, online and by phone at 1-800-663-1142.
UTC