U of T opens traditional medicine garden for the summer
A sacred place where people go to pray, to contemplate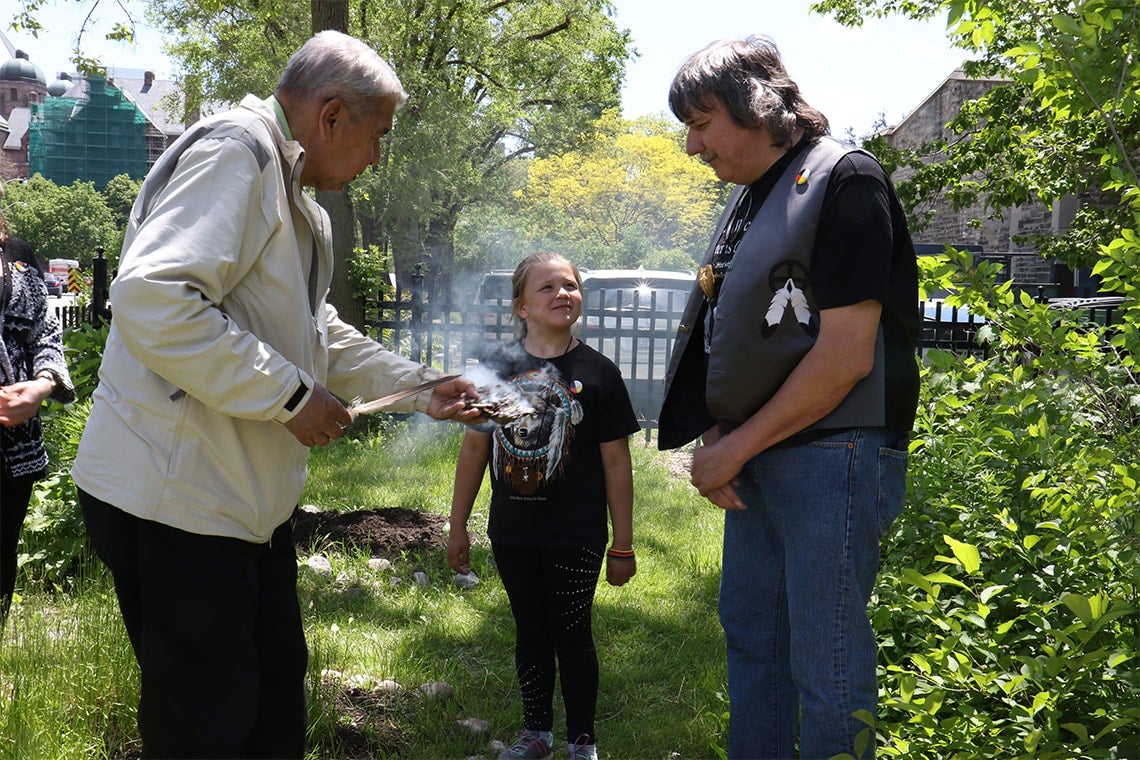 Next to the buzzing traffic hugging Queen's Park, there's a leafy sanctuary where you'll find U of T Indigenous studies student Roy Strebel tending to a traditional medicine garden.
He's pulling weeds, planting native flora and watering plants that can be used later – sage and sweet grass for ceremonial smudging, cedar to brew in a healing tea, and tobacco that can be used to create a tie for a traditional gift.
"It's a really serene place," says Strebel as he prepares flats of white, star-shaped flowers on a recent day at the Kahontake Kitikan Garden, located on the east side of Hart House.
Kahontake Kitikan Garden was created in 2002 by the Native Students' Association (N.S.A.) at U of T. It was named by the late Anishinaabe Elder Lillian McGregor and Oneida Elder Grafton Antone, combining the two communities' terms for "garden." 
It's a sacred space for U of T's Indigenous community, creating a place where Indigenous and non-Indigenous people can gather to learn about ceremonies involving native flora.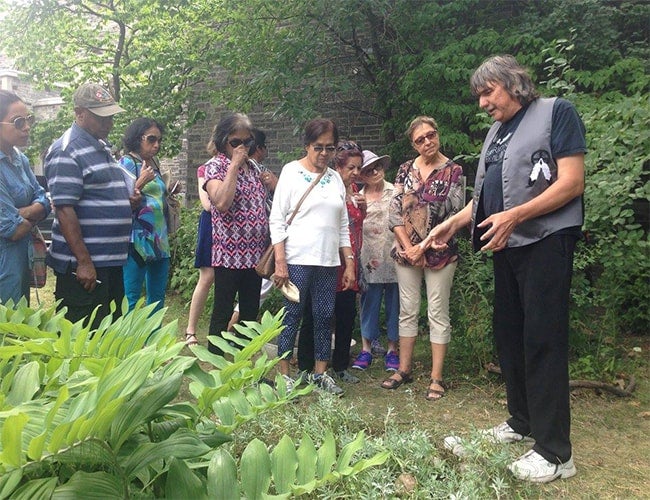 Roy Strebel speaks to a community garden group from the Waterfront Neighbourhood Centre (photo by Erika Dawson)
In his role as Bear Clan Leader for the N.S.A., Strebel is reponsible for maintaining the garden with the help of volunteers. He also invites tour groups to come and learn about the uses of the plants grown here, including cedar, sage, sweet grass and tobacco – all of which are used in ceremonies at the university.
Often, the plants from the garden are burned during smudging – a way of ceremonial purification, says Strebel who notes that there are still many people who are not familiar with the practice.
"You can use all the medicines together for smudging, or individually. I prefer sage," says Strebel.
Earlier this month, the garden opened for the summer with a ceremony. The harvest will be marked with another ceremony during the Harvest Moon in the fall, Strebel says. 
Over the past academic year, he has noticed more and more people at U of T requesting and using medicine from the garden or to request seeds with planting instructions.
"I've had a lot of requests for that this year which is good because years prior that never happened so people are starting to show interest," Strebel says.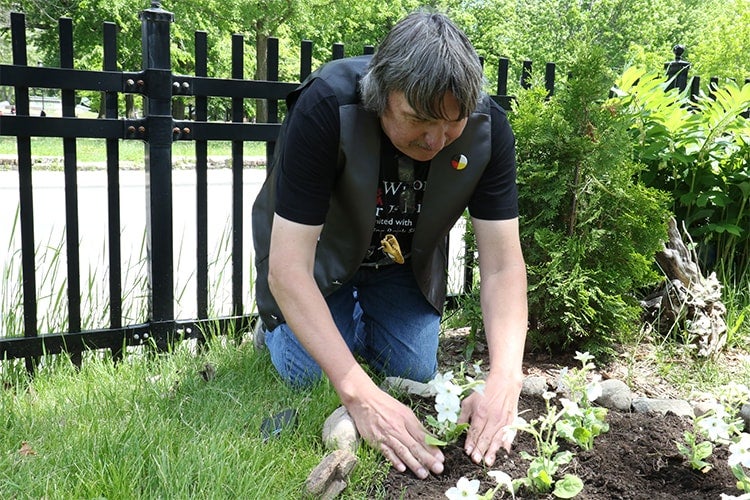 Roy Strebel planting tobacco, a sacred medicine for prayer, gifts for Elders and to thank the Creator. These star-shaped flowers emit a sweet, fragrant smell that gets stronger in the evening (photo by Hannah James)
UTC