U of T to offer courses in ancient Persian languages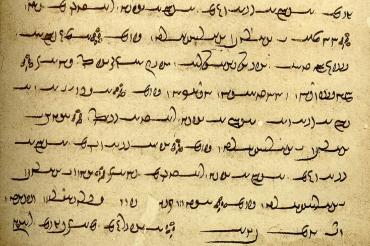 The University of Toronto will now offer Avestan and Pahlavi language courses in the Faculty of Arts & Science's Department of Near & Middle Eastern Civilizations, thanks to a US$250,000 commitment from the Persian Heritage Foundation.
The courses will be taught by Yuhan Sohrab-Dinshaw Vevaina, the first holder of the Yarshater Lectureship in Avestan and Pahlavi Languages. The limited-term lectureship is named in honour of Ehsan Yarshater, a professor emeritus of Iranian studies at Columbia University, the first president of the International Society of Iranian Studies, and founder and editor of the Encyclopaedia Iranica.
The gift from the foundation launches the Department of Near & Middle Eastern Civilization's community fundraising campaign to support the teaching of Avestan and Pahlavi languages.
"We are honoured to have a lectureship in Avestan and Pahlavi languages named for Dr. Yarshater," said Iranian history professor Mohamad Tavakoli-Targhi. "With doctorates in Persian literature from the University of Tehran and in Old and Middle Iranian from the University of London, Dr. Yarshater has been a pioneer in Iranian studies and in disseminating and making accessible scholarly research to both Persian and English language readerships. As a scholar, visionary academic administrator, and founder of major scholarly publication series, he has been a tireless advocate and source of inspiration and support for many students and scholars in Iranian studies."
The lectureship will expand on the University's historic strengths in Iranian culture and history by creating a robust offering of Persian languages. Since 2007, the Department of Near & Middle Eastern Civilizations has been unique among leading North American universitiy departments in regularly offering undergraduate and graduate courses on the history of Zoroastrianism. 
"We are grateful for the support of the Persian Heritage Foundation in launching the Yarshater Lectureship," said Timothy Harrison, chair of the Department of Near & Middle Eastern Civilizations. "By offering Old and Middle Iranian languages, the University of Toronto is developing one of the most comprehensive academic programs in the highly diverse field of Iranian studies, and our hope is that, with continued community support, we will make these courses a regular part of the curriculum."