U of T neurosurgeon among 2019 President's Impact Award winners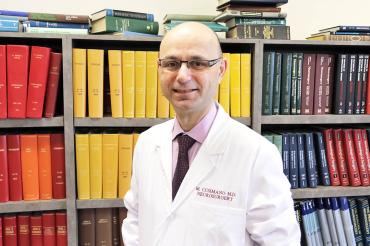 From youth-level hockey to professional football, neurosurgeon Michael Cusimano's research has influenced policy across the sporting world to reduce concussions and save players' lives.
The professor in the University of Toronto's department of surgery has been raising awareness about the severity and prevalence of concussions in sport for more than a decade, and his research has helped inspire rule changes in the NHL, NFL and FIFA.
"There's still an attitude out there that brain injury is like a broken arm," he told the Canadian Press in 2011. "We take our brains for granted, and we need to have people realize that you can't take your brain for granted."
He has also helped develop surgical techniques that have improved the quality of life for people around the world.
Cusimano, who is also a scientist at the Li Ka Shing Knowledge Institute at St. Michael's Hospital, is one of five winners of this year's President's Impact Award. He is being honoured for his significant contributions to traumatic brain injury research, the development of neurosurgical procedures, and for his professional and public education and advocacy.
The President's Impact Award celebrates and honours faculty members whose research has led to significant impact beyond academia, including on society, culture, public policy and law. Winners receive a monetary award of $10,000 per year for five years to be used toward their research.
"Each of the winners took their ideas outside the university community and brought positive and impactful change to the local, national and international community," says Vivek Goel, U of T's vice-president of research and innovation.
"The University of Toronto is incredibly proud of its five President's Impact Award winners."
Cusimano first joined the neurosurgery team at St. Michael's Hospital in 1992. Three years later, he became the first neurosurgeon to use endoscopic techniques – a tiny camera entered through the nose – to remove brain tumours. In 2012, Cusimano was the first Canadian surgeon to use a 3D camera to perform a similar operation.
He has also published in journals about the number of traumatic brain injuries in youth hockey, and collaborated on assessing whether athletes had suffered concussions at the 2014 World Cup.
Cusimano was also honoured with the Carolyn Tuohy Impact on Public Policy Award, a $2,000 prize presented annually to a U of T faculty member whose scholarship has had a significant impact on public policy.
Chatting at his office at St. Michael's Hospital, Cusimano says that, when it comes to sports-related concussions, the scholarship has barely scratched the surface. Even so, the work is having an impact as evidenced by Ontario's new laws around concussion management and the steps taken by governing bodies in hockey, football and other sports to refine their rules.
"I think the discourse has changed, [but] we have a long way to go still," he says. "I think there are very powerful forces that continue a certain discourse that takes time to change."
The other four President's Impact Award winners have also made a significant mark in their respective fields. University Professor Tania Li, a renowned cultural anthropologist, has done first-hand research on plantations to examine endemic poverty and the forces that drive villagers off their land.
Her work has exposed flaws in development policies and has influenced policy in Indonesia and beyond. She's spoken to the European Parliament, the World Bank in Jakarta and Washington, D.C. and the former Canadian International Development Agency. What's more, she's led training sessions with policy-makers and NGOs.
"This research has attracted the attention of policy-makers and advocacy groups because very few scholars have had the opportunity to study the plantation world up close," she said last year after winning an Insight Award from the Social Sciences and Humanities Research Council of Canada.
Li is the first U of T researcher to win the prestigious SSHRC award and was recently named a University Professor, the highest rank for U of T academics.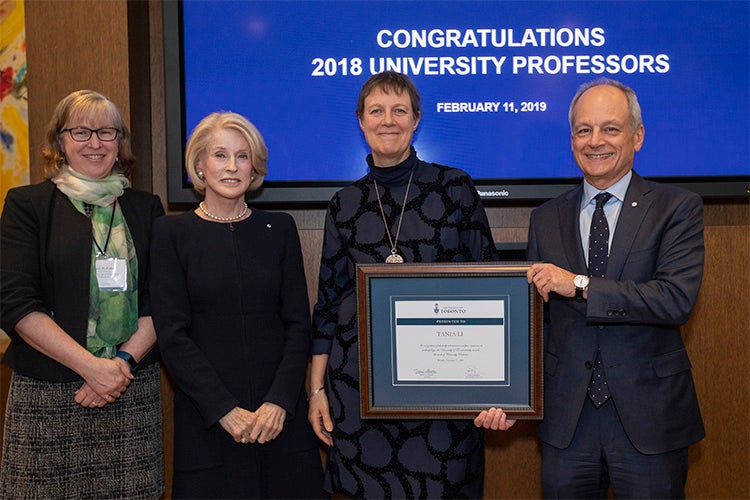 Tania Li is presented with a plaque honouring her University Professor appointment by U of T President Meric Gertler, Chancellor Rose Patten and Susan McCahan in February 2019 (photo by Nick Iwanysyhn)
As for Cusimano, he's modest in acceptance of his President's Impact Award and tips his cap to his many colleagues over the years.
"One of the downsides of awards is that there are a lot of people who are doing very good work, and very meritorious work, but there's only one award," he says, referring to his fellow surgeons, students and staff. "There are a lot of people doing things everyday that have a very important role."
Cusimano is grateful to his students and the feeling is shared. Throughout his office are notes from former students thanking him for his impact on their budding careers.
"I respect all those people who [have contributed]," Cusimano says. "They are the unsung heroes."
---
Here is the full list of recipients for the President's Impact Award for 2019:
Michael Cusimano, professor in the department of surgery and scientist at the Li Ka Shing Knowledge Institute at St. Michael's Hospital, "for his significant contributions to traumatic brain injury, development of neurosurgery, and for his professional and public education and advocacy." Cusimano is also the winner of the Carolyn Tuohy Impact on Public Policy Award.
Kamran Khan, associate professor in the department of medicine and scientist at the Li Ka Shing Knowledge Institute at St. Michael's Hospital, "for pioneering research on the globalization of infectious diseases that has informed international policy, and for founding BlueDot, a Toronto-based tech company that protects people around the world from infectious diseases with data-driven technologies."
Tania Li, University Professor in the department of anthropology, "for research that has demonstrated fatal flaws in growth-promoting development policies and outlined more equitable alternatives, shaping rural development research and policy internationally."
Jeffrey Rosenthal, professor in the department of statistical sciences, "for contributions to public discourse about the importance of quantitative reasoning, and efforts to improve a variety of societal problems through application of statistical analysis."
Karan Singh, professor in the department of computer science, "for contributions in computer graphics, design and animation, through the creation of commercial software, companies, and the Oscar-winning animation Ryan."
UTC