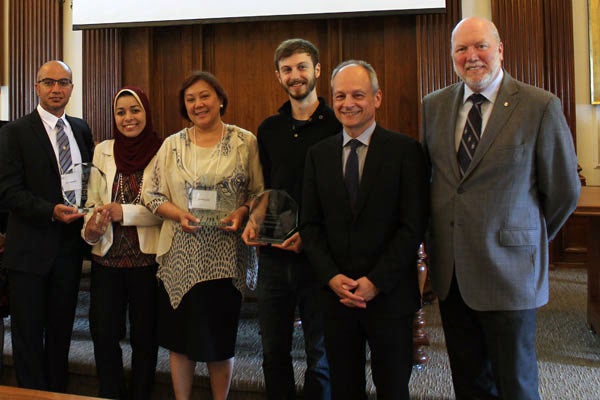 U of T names inventors of the year, celebrates top innovators
President Meric Gertler: "We are on an extraordinary trajectory"
A better keyboard for mobile devices, intelligent traffic lights to tackle traffic jams, a more ecofriendly way to make nanoparticles for applications such as solar cells and agriculture, and an artificial neural network that improves the way computers learn.
These four inventions took top honours May 21 at the University of Toronto Celebrates Innovation event.
The annual event, which has previously honoured the university's top inventors of the year, has widened its scope. This year, in addition to naming the top inventors of the past year, U of T honoured people and companies working on everything from apps to help the disabled to a printer that prints human skin for wound dressing. It also recognized the financial support of the Connaught Fund for several programs that support innovation.
"This year is extra special," said Professor Paul Young, U of T's vice-president, research and innovation. "We decided to bring into the fold some of the other competitive innovation programs. U of T is home to some of the world's most creative and entrepreneurial innovators, so these competitions were fierce."
The 2014 inventors of the year are:
Baher Abdulhai and Samah El-Tantawy of the Department of Civil Engineering, who invented MARLIN Smart Traffic lights Control Software. The technology uses machine learning to help traffic lights self-optimize. Based on artificial intelligence and game theory, MARLIN improves the flow of traffic and reduces maintenance and infrastructure operating costs. Abdulhai is a professor and El- Tantawy completed her PhD at U of T under Abdulhai's supervision. They co-founded Pragmatek Transport Innovations in 2013.
Will Walmsley, a recent graduate of the Department of Mechanical and Industrial Engineering, who was cited for his development of the Minuum keyboard. Dubbed "the small keyboard for big fingers," it provides a full keyboard for mobile devices using very little space, allowing users to type quickly and use gesture shortcuts.
Cynthia Goh, a professor in the Department of Chemistry, who is the inventor of a novel, inexpensive and eco-friendly platform approach to making a wide variety of nanoparticles, which are tiny particles about 1000 times smaller than the width of a human hair. The applications for nanoparticles are almost endless, and include drug delivery, coatings to protect materials against UV rays and more efficient solar energy collection. In addition to being an entrepreneur herself—her inventions have led to six start-up companies—Goh is also known for being a tireless advocate for student entrepreneurs.
Geoffrey Hinton, Ilya Sutskever and Alex Krizhevsky, who invented Supervision, a deep neural network that works much better than previous systems. Neural networks are models that are capable of learning and recognizing patterns. Hinton is a professor in the Department of Computer Science and Sutskever and Krizhevsky are former computer science students who are now research scientists at Google.
U of T President Meric Gertler said that the university's success with start-up companies is one of its "best-kept secrets," noting in his remarks at the event that the most recent analysis places U of T first in North America in terms of number of start-up companies created. "We are on an extraordinary trajectory."
To qualify for the inventor of the year award, entrants and their teams must be faculty members or trainees who disclosed their inventions to U of T's Innovations and Partnerships Office (IPO) within the past five years. Inventions are assessed based on their uniqueness, potential for global impact and commercial appeal.
Also honoured at the event were: 20 faculty members who received the Connaught Innovation Award, which accelerates the development of promising technologies; three companies that received funding from the Connaught Seed Start-Up Fund; and 11 start-up companies that participated in the UTEST program.