U of T named among Canada's 10 best employers by Forbes magazine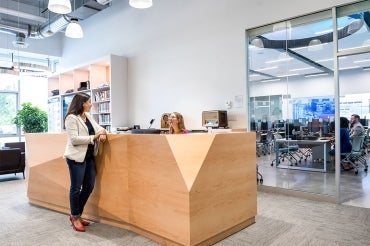 The University of Toronto is once again listed as one of Canada's top employers according to Forbes magazine.
The global media company's annual list of Canada's Best Employers ranks U of T 10th on its 2020 list – the highest of any university employer in Canada.
"We invest in our people so they can be their best at U of T," said Erin Jackson, U of T's chief human resources officer in the division of Human Resources & Equity. "We have over 10,000 employees and a two per cent turnover rate, which is quite remarkable compared to other higher education institutions."
U of T attracts, retains and engages its workforce through a number of intentionally inclusive, diverse and equitable initiatives that support employees over various life and career stages. This year, HR & Equity introduced the role of Executive Director, Equity, Diversity and Inclusion (EDI) to develop, enhance, and support the EDI work already being done across U of T's three campuses.
"The university has a longstanding and fundamental commitment to developing and advancing an intentionally inclusive working and learning environment," said Jackson. "From taking steps to close the gender pay gap to creating pathways for under-represented students and offering unconscious bias training for faculty and staff, we work hard to ensure our community investments are sustainable and tailored to meet the diverse needs of all members."
U of T offers eligible employees a comprehensive, competitive suite of benefits. For example, equitable compensation, generous parental leave and child care benefits, tuition waivers, phased retirement and a defined benefit pension plan are available for many faculty, librarians and staff. A True Blue Recognition Platform provides an online space to house many of the annual awards that make up U of T's formal recognition strategy and offers peer-to-peer functionality so that colleagues can informally recognize each other for small victories and day-to-day accomplishments.
The Forbes list of Canada's Best Employers surveys 8,000 Canadians working for businesses with at least 500 employees. Respondents are asked to rate how likely they would be to recommend their employer to others, and to nominate organizations other than their own. The final list ranks the 300 employers that receive the most recommendations.
HRE