U of T master's course teaches public policy students to think like community activists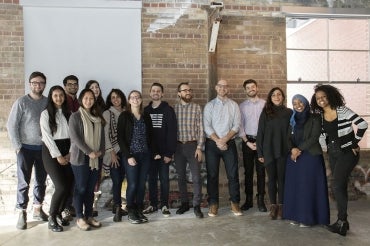 University of Toronto's School of Public Policy and Governance (SPPG) is well-known for training the next generation of government workers, but a new master's course offered by the school is teaching students about how to create change from the outside.
Co-taught by Gabriel Eidelman, an assistant professor at SPPG, and Jo Flatt, a U of T alumna and senior manager, policy and partnerships at Evergreen, the course is centred around the role non-governmental organizations play in shaping public policy.
Instead of keeping students in the classroom, Eidelman and Flatt are taking them to the places where change is actually happening.
"Central to the course is this notion of community, and we're trying to explore what that means but also see it for ourselves when we can," says Eidelman.
During the six-week intensive course, students learned about empathy through virtual reality at the House of VR, took a field trip to Hamilton to see how civic groups are designing inclusive community consultations, and walked through Toronto alleyways to explore the future of laneway homes – all while contributing to a blog about their experiences.
"For those of us who learn by doing, this was a really impactful way of exploring new concepts and I found myself far more engaged than I would be in a traditional classroom setting," says master's student Harpreet Sahota. "There is something really valuable about being in the physical space where the kind of impact that we're talking about is actually happening. It made everything far more tangible."
For their final assignment, the students are looking at three municipal issues: urban flooding, food insecurity and high school dropout rates.
Last week, students met with Toronto activists and advocates at Evergreen Brick Works where they were given practical advice and guidance on how to tackle their assigned issue.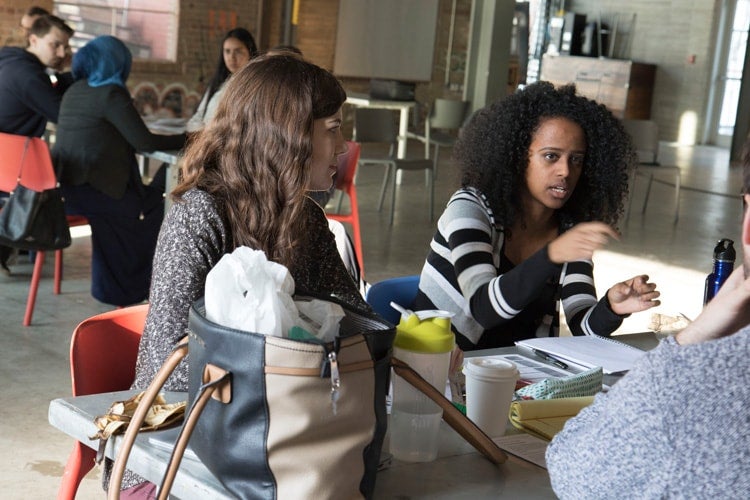 Master's students Terhas Ghebretecle and Alexandra Izgerean work on their assignment at Evergreen Brick Works (photo by Romi Levine)
"The mentorship is very cool. Hearing from people working in the field was amazing and actually having some of their work as case studies that we can learn from was very insightful," says Sasha Gronsdahl.
Sahota's group focused on the barriers preventing people from accessing food banks. They spoke with Samiya Abdi, an expert in community engagement who currently works on Ontario health care initiatives.
"[Abdi] helped identify some ways that we could approach partnerships with other organizations in ways that acknowledge shared interests and values," says Sahota. "I think this really emphasized the distinction between co-operating and collaborating."
Staff at Evergreen were also invited to sit in on classes in order to gain a new perspective on the work they were already doing. Evergreen is a non-profit organization that promotes healthy and sustainable cities.  
"We don't have access to the student audience," says Flatt. "This was something U of T brought to the table in terms of a cohort of interesting students."
Flatt says the course should also be replicated for people who are already working in the public service.
"Learning about how the outside understands you is really important to inform how your work should be done," she says.
UTC