U of T marks Orange Shirt Day, National Day for Truth and Reconciliation
Events took place across the three campuses in advance of Sept. 30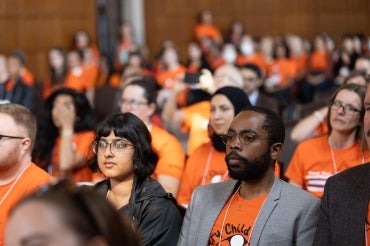 The University of Toronto community came together to commemorate Orange Shirt Day and the National Day for Truth and Reconciliation by honouring survivors of Canada's residential school system, reflecting on its lasting impact on Indigenous communities and recommitting to reconciliation.
Attendees packed the Great Hall at Hart House for a tri-campus event Friday, with hundreds more tuning into a livestream – one of several events across the university's three campuses in advance of Sept. 30.
The Hart House event included a panel discussion on the Indian Residential School Survivors' Storybase, a project at U of T Libraries that aims to make the stories of residential school survivors more accessible by compiling accounts from across the internet into a single searchable resource.
Mikayla Redden, information services and instruction librarian at New College Library, says storytelling was instrumental in shedding light on the horrors of the residential school system and she hopes the storybase can be a tool to help address its ongoing harms.
"Stories are a huge part of the reason that we know the truth, the courage of residential school survivors in telling their stories for decades – even in the face of disbelief and denial from the Canadian masses," Redden said.
"They're the reason we're here today. They are the reason for this day. They're the reason for the Truth and Reconciliation Commission and everything that resulted from it."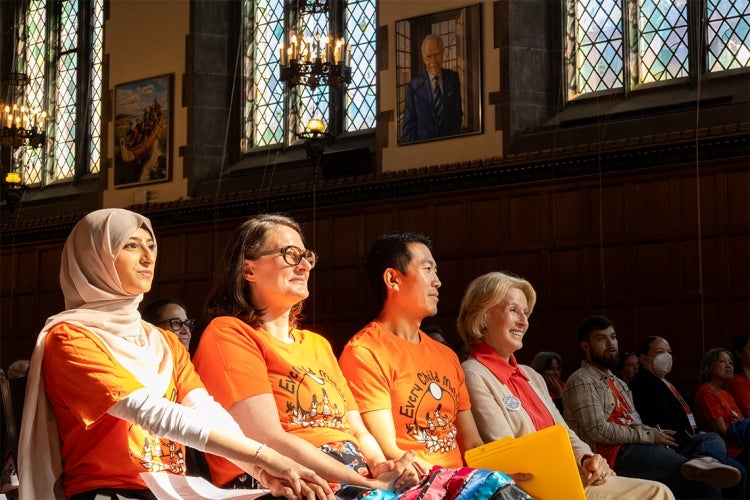 Redden, who is a mixed-race woman of Anishinaabe and Anglo settler heritage, says library staff met last year to discuss ways they could go beyond reading lists to amplify the voices of residential school survivors, their families and communities.
They wanted the project to meet an educational need without "taking" from Indigenous Peoples by enlisting their labour or exacerbating intergenerational trauma, Redden said.
"Canadians of all ages, from all walks of life can access the storybase, and they can use these stories, to listen to more of the truth, and learn and unlearn," Redden said. "Hopefully, they can take what they've learned, encourage others to do the same and turn the emotions that they are feeling … into an action. And that's what reconciliation is, it's an action."
Redden was joined on the panel by Grant Hurley, Canadiana librarian at the Thomas Fisher Rare Book Library, and Desmond Wong, outreach librarian at OISE Library, in a discussion moderated by Angela Henshilwood, head of the Engineering & Computer Science Library.
David Kim, warden of Hart House, emceed Friday's commemoration, which also featured remarks by Alexandra Gillespie, U of T vice-president and principal of U of T Mississauga.
Gillespie thanked U of T Mississauga student MJ Singleton for designing the orange shirts worn by many at the event, which shows a mother holding hands and walking forward with her two children beneath the words "Every child matters."
U of T Chancellor Rose Patten described the National Day for Truth and Reconciliation as "one of the most important days in the life of our community and our country."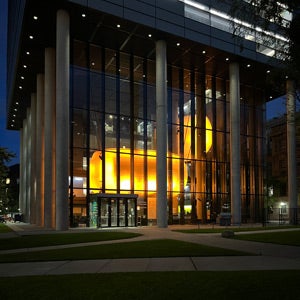 "In so many ways, Canadians have only begun to take and show responsibility for this," Patten said at the event. "And doing so requires an unfaltering commitment from all of us."
After the event, First Nations House hosted a fire for Indigenous community members in the Earth Sciences Courtyard.
Also on Friday, Professor Kisha Supernant of the University of Alberta gave a talk at New College about her research using ground-penetrating radar to identify the sites of potential unmarked graves at former residential schools and her work with Indigenous communities to preserve the sites.
Meanwhile, at U of T Scarborough Campus Farm, footage of the Indigenous Garden was livestreamed from sunrise to sunset.
Earlier in the week, Orange Shirt Beading Workshops were held at the St. George, U of T Mississauga and U of T Scarborough campuses.
Flags will be lowered to half-mast across U of T's three campuses on Sept. 29 ahead of the National Day for Truth and Reconciliation, which is formally recognized across Canada on Sept. 30.
---
Members of the Indigenous U of T community in need of support can reach out to:
The National Indian Residential School Crisis Line (1-866-925-4419)
Students:
U of T Telus Help Student Support can be accessed 24-7.
Other mental health resources, programs and supports are available through the student mental health resource page.
Staff and faculty:
Employee and Family Assistance Program (1-800-663-1142)
UTC