Anishinaabe student shares inspiration behind U of T's 2023 Orange Shirt Day design
Earlier this year, MJ Singleton won the university's Orange Shirt Day design contest, which saw submissions from Indigenous students across the three campuses
For Anishinaabe and two-spirit University of Toronto Mississauga student MJ Singleton, part of truth and reconciliation is healing through intergenerational trauma and breaking the cycle.
A lifelong artist, Singleton uses the medium of painting to express themselves and their heritage. 
Earlier this year, Singleton won U of T's Orange Shirt Day design contest, which saw submissions from Indigenous students across the three campuses to commemorate Orange Shirt Day 2023. Also known as the National Day for Truth and Reconciliation, Sept. 30 is a day to recognize the destructive legacy of the Canadian Indian residential school system.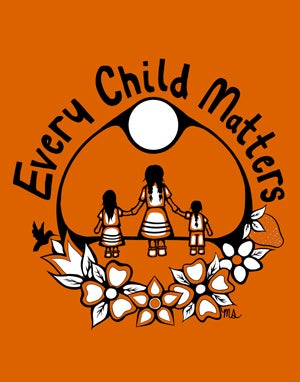 "My grandma was a residential school survivor in Kenora (Ont.) – at St. Mary's," Singleton says. 
Singleton's grandmother, along with seven other siblings, attended St. Mary's Indian Residential School. Growing up in Migisi Sahgaigan First Nation (Eagle Lake) between Kenora and Thunder Bay, Singleton recalls hearing stories of trauma and grief about their grandmother's experience and how it affected generations to follow – an idea they incorporated into their design.
"[The design] is about how someone feels for another person," Singleton says. "How intergenerational trauma can be broken and healed for future generations." 
"I wanted to showcase that even through you are hurt, you can still be strong for one another and be there for one another." 
The design is titled noojimo'iwe, which is Anishinaabemowin for "she heals." It emphasizes the importance of healing the intergenerational trauma of residential schooling by supporting and loving those around you. It portrays a mother holding hands and walking forward with her two children. Above them, a bright sun with contour lines connecting to floral patterns and designs represents all living things. 
Singleton says the design was additionally motivated by the discovery of more than 170 plausible graves at St. Mary's. 
"It's just heartbreaking to think of what my grandma would have gone through in her childhood," Singleton says. 
The image of the mother clasping the hands of her two children was also inspired by a family photo with their brother and mother. While Singleton says they weren't thinking of it while painting, the image was ingrained in their mind. 
Singleton studies criminology, law and society at U of T Mississauga, with a minor in psychology. While initially attracted to U of T Mississauga's forensic science program, Singleton grew to like the professors in the criminology, law and society program and the prospects of a law career. 
After feeling overwhelmed in first year, Singleton says they became involved at the Indigenous Centre at U of T Mississauga, made new friends – and discovered the Orange Shirt Day design contest. 
"It really was an uplifting experience," Singleton says, "especially when the [All-Nations] Powwow came to UTM – that was really exciting and all my friends were there." 
Having won a similar contest in December for the Ontario Native Women's Association, Singleton says it gave them the courage to enter U of T's contest. 
Singleton hopes to pursue Indigenous law to effect change for their community. 
T-shirts with Singleton's design are available U of T Bookstore while supplies last, with $10 from each $21.99 shirt given to the Orange Shirt Day Society. 
UTM