U of T marks National Day of Remembrance and Action on Violence Against Women with virtual event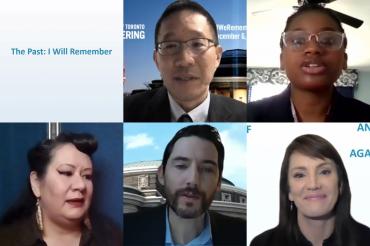 Members from across the University of Toronto's three campuses gathered virtually Friday to mark the National Day of Remembrance and Action on Violence Against Women.
On Dec. 6, 1989, a gunman entered an engineering classroom at École Polytechnique in Montreal and murdered 14 female students, injuring another 10 women and four men. The victims were targeted because of their gender. The date of the massacre has become a day of remembrance and action against gender-based violence and discrimination – and each year, the U of T community marks the day with an event at Hart House.
Friday's tri-campus virtual memorial was led by U of T's Faculty of Applied Science & Engineering and the Sexual Violence Prevention & Support Centre, in partnership with Hart House.
"Today we are here to remember the past, the 14 women who died from violence," said Marisa Sterling, assistant dean and director, diversity, inclusion and professionalism at U of T Engineering.
"We are here to acknowledge how far we have come in the present, and we are here to take actions, reimagining a future without violence or aggression towards women within the intersections of many identities."
While this year's event was held online because of the pandemic, previous commemorations have involved ceremonies and events on all three U of T campus, including the laying of 14 roses – one for every woman killed. Last year, on the 30th anniversary of the massacre U of T Engineering was among 14 engineering schools from across the country to shine a beam of light  into the sky, from coast to coast.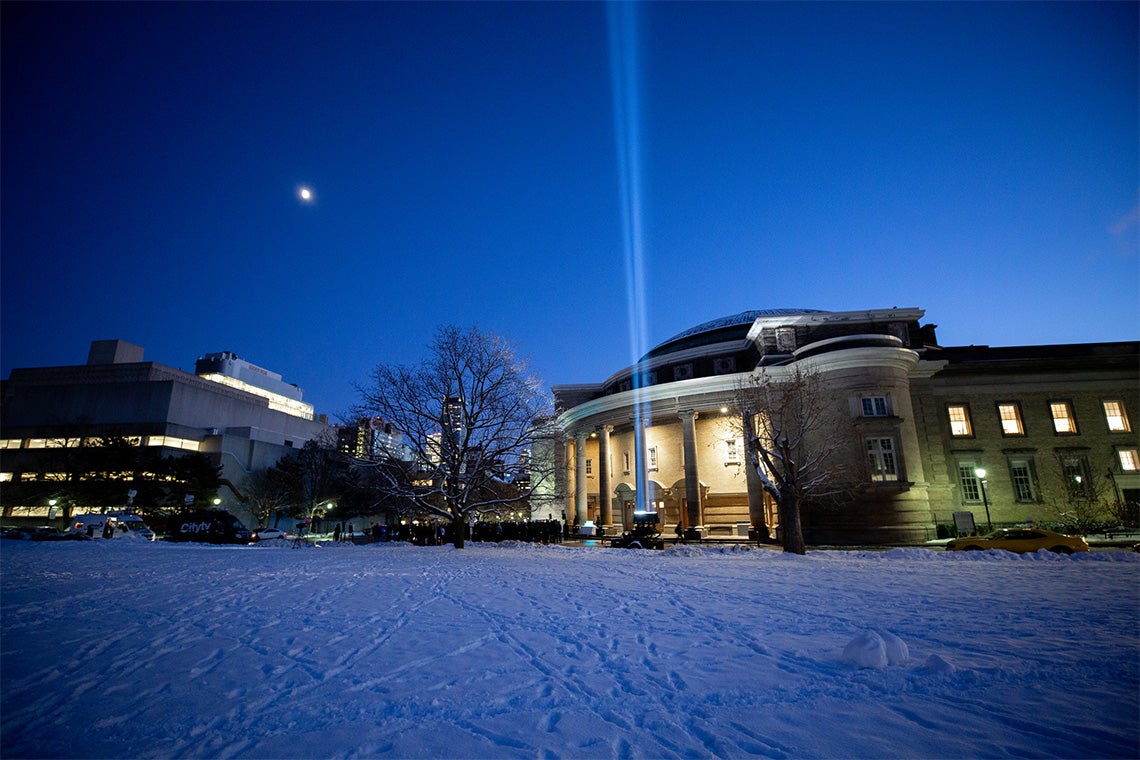 In 2019, U of T Engineering joined 13 other engineering schools from across the country in shining a beam of light into the sky to mark the 30th anniversary of the tragedy (photo by Roberta Baker)
This year's virtual ceremony included a performance by Jenny Blackbird, event co-ordinator for the Ciimaan/Kahuwe'ya/Qajaq Indigenous Language Initiative Program at the Centre for Indigenous Studies.
"This a song for all of our sisters, my Indigenous sisters, my kin, and extending out to all the sisters, including transwomen and non-binary. We have a lot of violence pushed up against us," Blackbird said. "I love you all. This is for you."
Students from across the university led in reading the names of the 14 women before a moment of silence.
Professor Micah Stickel, acting vice-provost, students, also announced this year's three recipients of the Award for Scholarly Achievement in Gender-Based Violence, in recognition of U of T students who have shown commitment on issues around gender-based violence and discrimination through research and prevention.
The recipients are:
Ferdinand Lopez of the Women & Gender Studies Institute
Rajpreet Sidhu of the department of human geography at U of T Scarborough
Kanishka Sikri of the Centre for Critical Development Studies at U of T Scarborough
The event culminated in a fireside chat, facilitated by Jennifer Flood and Bristy Chakrabarty of the Sexual Violence Prevention & Support Centre, and featuring panelists Chris Yip, dean of U of T Engineering; Alana Bailey, president of the National Society of Black Engineers U of T Chapter; Tee Duke, assistant director, Indigenous initiatives, at U of T Mississauga's Indigenous Centre; and, Andi Alhakim, intercultural programs assistant at U of T Mississauga's International Education Centre.
The conversation highlighted ways in which individuals can call out and take concrete action to end violence against women. The discussions also emphasized the need to centre the narrative around protecting racialized and 2SLGBTQ+ communities and taking steps to prevent violence against them.
"It's crazy how [violence is] happening to us, Black women, Indigenous women, the most – and yet less focus is on us," says Bailey. "People need to wake up and not be desensitized. This energy is what makes society look away. To centre the narrative, I think we need to create spaces where we have a voice, spaces where we won't be shamed, ignored and looked over."
The group also discussed how non-Black, Indigenous and people of color (Non-BIPOC) U of T students, staff and faculty can commit to taking actions, informed by the National Inquiry into Missing and Murdered Indigenous Women and Girls.
"I encourage folks to actually read the report," says Duke. "It's going to take some time. It is 1,200 pages with 231 recommendations, but it's not that we don't have a roadmap. It comes down to everyone having a responsibility in ending violence."
Angela Treglia, director of the Sexual Violence Prevention & Support Centre, closed the event with a call to action: "Today we reflect, we remember, but we need to respond. May we all find the courage and strength to take action and speak out against violence against women and may we continue to work for change."
Engineering