With light and flowers, U of T remembers the women killed 30 years ago at École Polytechnique de Montréal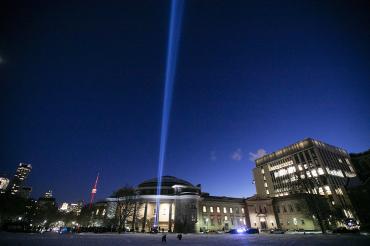 A giant spotlight illuminated the sky above King's College Circle Friday evening as the University of Toronto's Faculty of Applied Science & Engineering marked the 30th anniversary of the worst act of gender-based violence in Canada's history with a poignant display of solidarity. 
U of T Engineering was one of 14 engineering schools across the country to participate in the light-shining ceremony.
The event took place around 5 p.m. (EST), which is around the time a gunman entered École Polytechnique de Montréal on Dec. 6, 1989 and killed 14 women before taking his own life. He professed his hatred of feminists and targeted female engineering students.
The date has since come to be commemorated as the National Day of Remembrance and Action on Violence Against Women.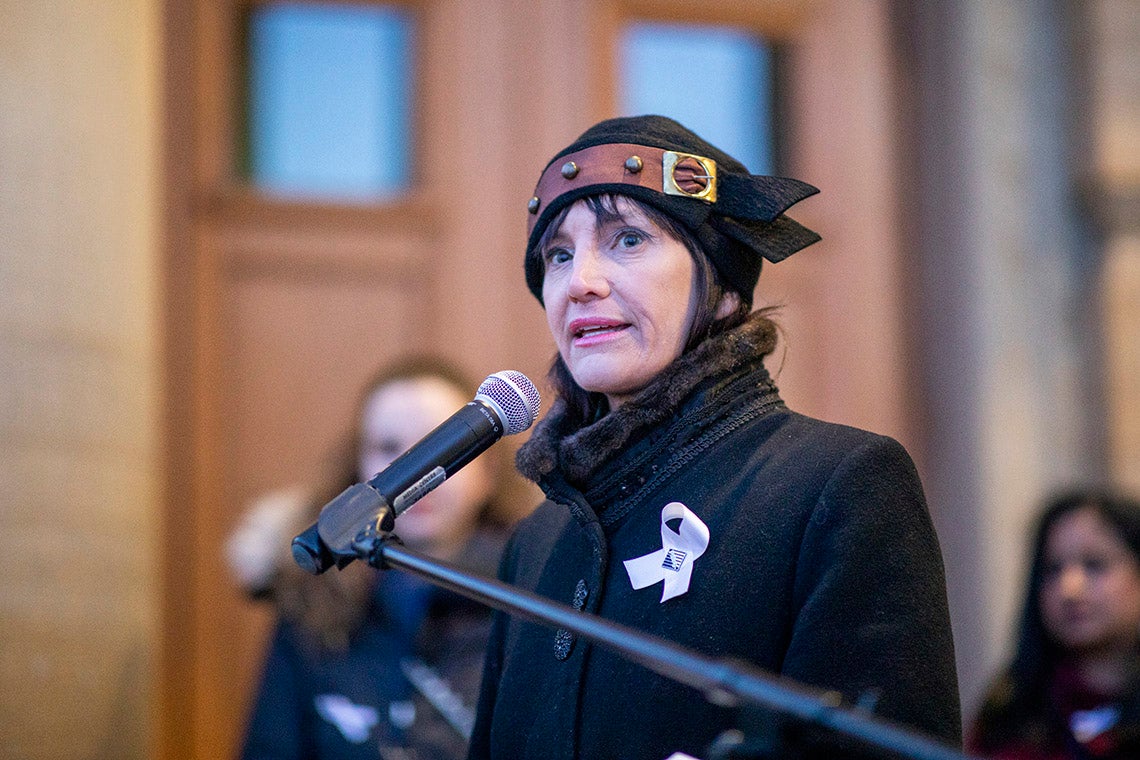 Marisa Sterling, the assistant dean and director of diversity, inclusion and professionalism at the Faculty of Applied Science & Engineering, speaks at the evening event outside Convocation Hall (photo by Nick Iwanyshyn) 
U of T President Meric Gertler attended the ceremony outside Convocation Hall. He joined Claire Kennedy, chair of Governing Council, and 12 other representatives of the university's administration, faculty, student body and members of the broader engineering community in placing 14 flashlights – representing the 14 victims of the attack – into a new memorial installation designed by the U of T Engineering Society's Blue & Gold Committee.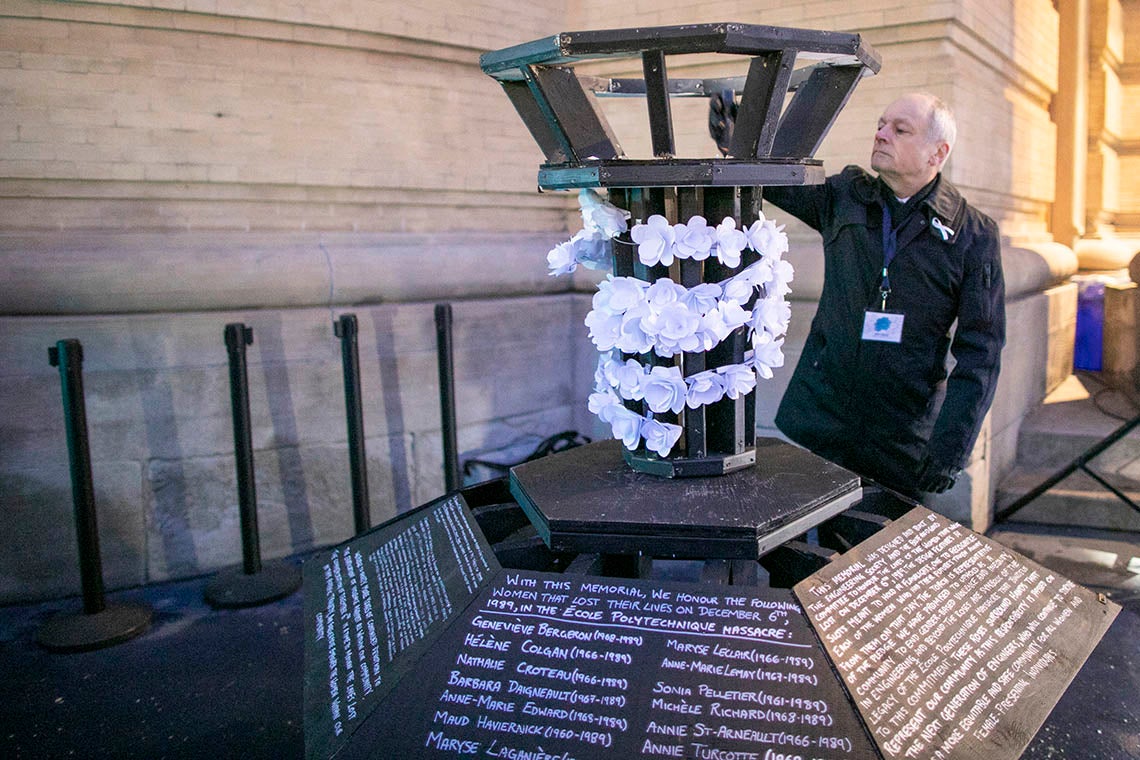 U of T President Meric Gertler places a flashlight into a memorial for the 14 women (photo by Nick Iwanyshyn)
Earlier Friday, a commemoration was also held at Hart House. The program included the presentation of the Award for Scholarly Achievement in the Area of Gender-Based Violence to Sydney Narciso Wilson, a fourth-year Victoria College student who is double-majoring in history and peace, conflict and justice.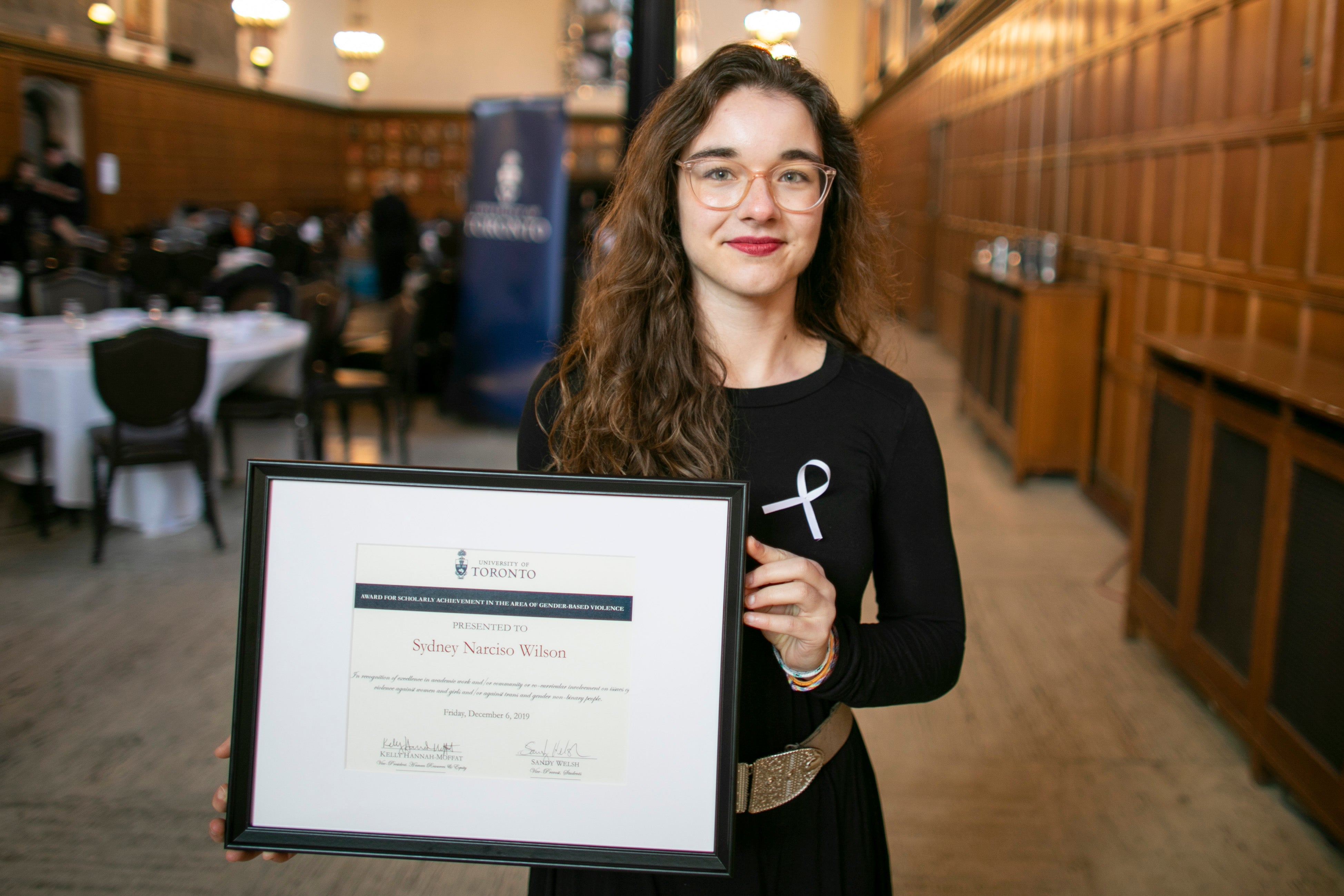 Sydney Narciso Wilson poses with her award for scholarly achievement in the area of gender-based violence (photo by Nick Iwanyshyn)
Following the ceremonies, attendees were invited to place roses on a pair of benches across from Hart House that were set up in 2009 to mark the 20th anniversary of the tragedy.
U of T Scarborough held its own remembrance event on Nov. 28 and mobilized attendees to assemble wellness kits for donation to women in need in Scarborough. U of T Mississauga, meanwhile, held a tribute on Dec. 2, with attendees putting together wellness kits to be donated to Nisa Homes, a transitional home for Muslim women and children.
See below for more photos of Friday's commemorations on the U of T St. George campus:
---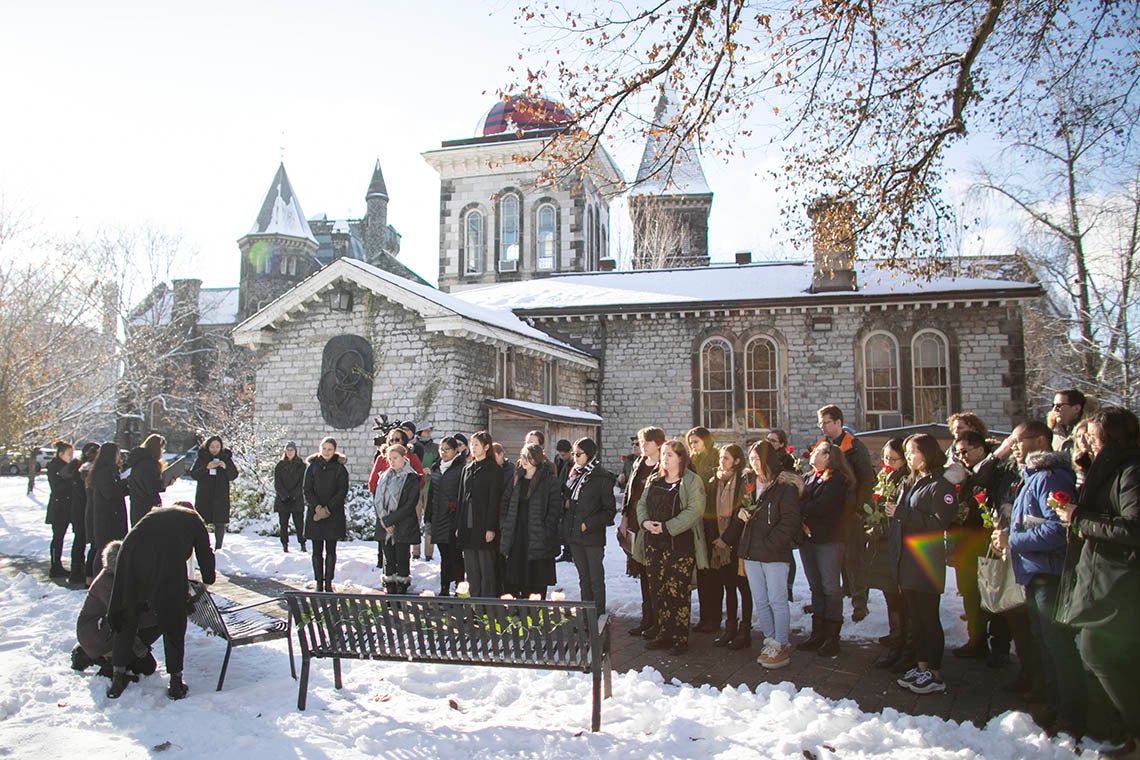 Fourteen white roses, representing the 14 victims of the 1989 massacre, are placed on benches across from Hart House (photo by Nick Iwanyshyn)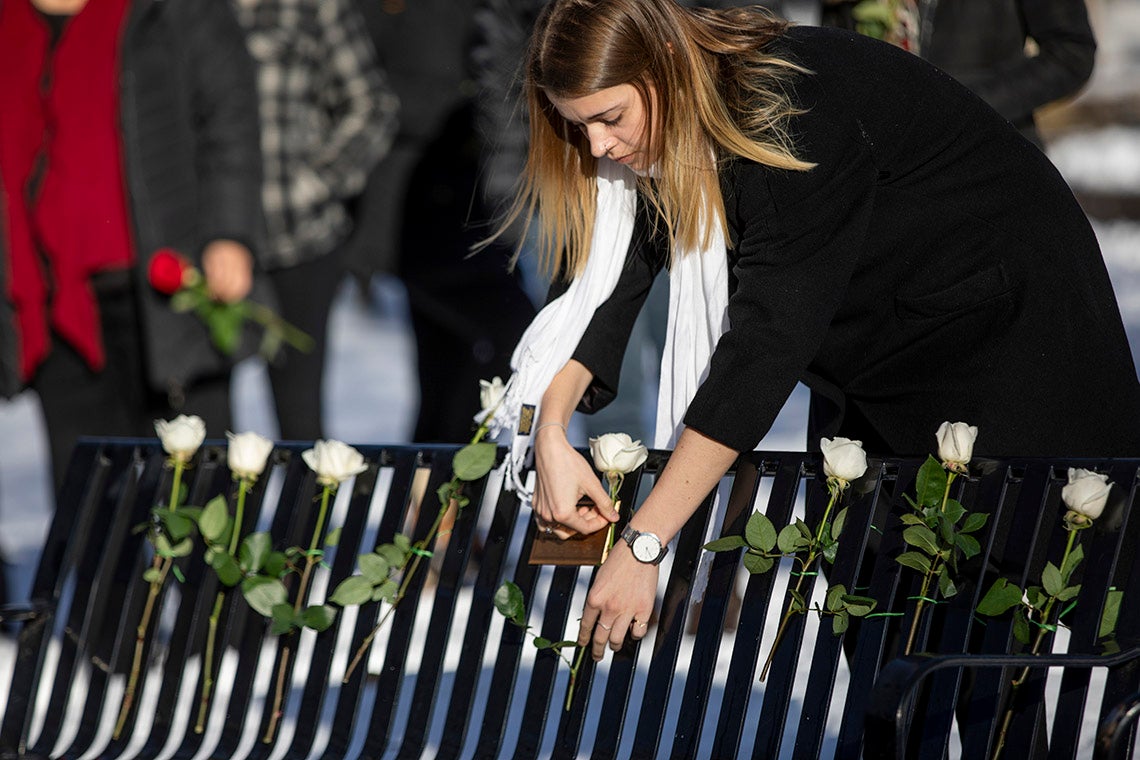 White roses are carefully laid on the benches across from Hart House (photo by Nick Iwanyshyn)
The names of the victims of the Dec. 6, 1989 massacre at École Polytechnique de Montréal are lit up on U of T's St. George campus (photo by Nick Iwanyshyn)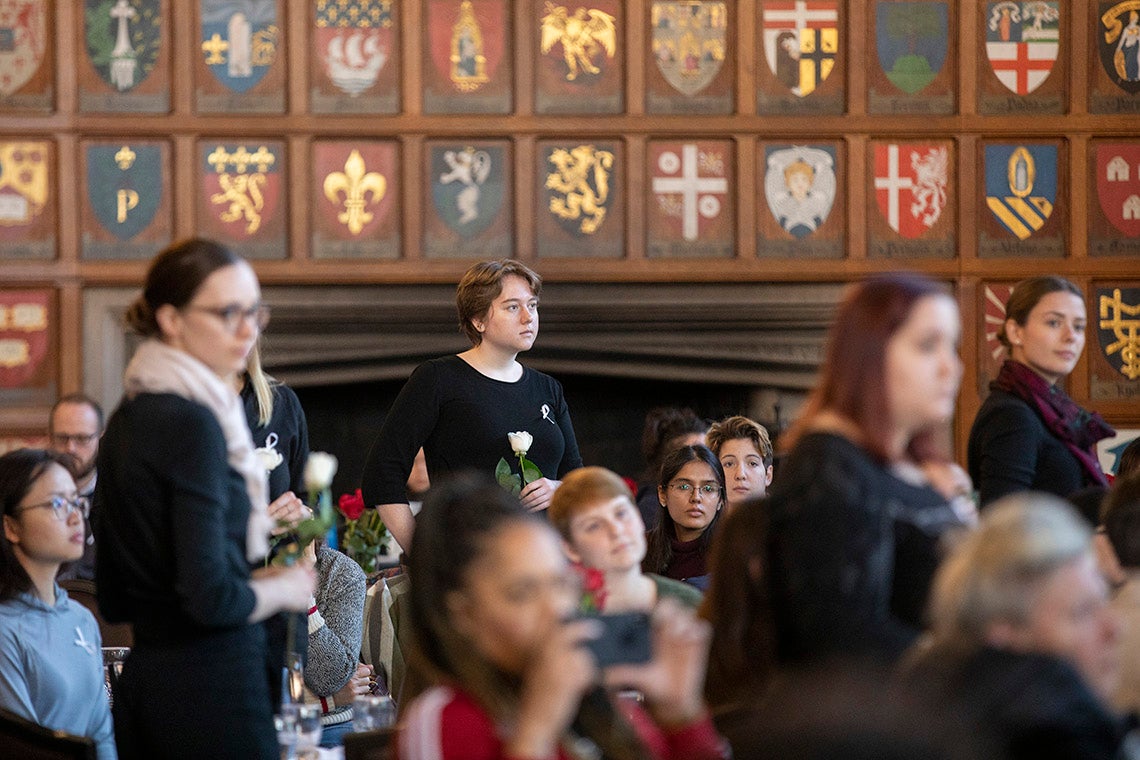 Attendees looks on during an event at Hart House to mark the 30th anniversary of the École Polytechnique de Montréal shootings (photo by Nick Iwanyshyn)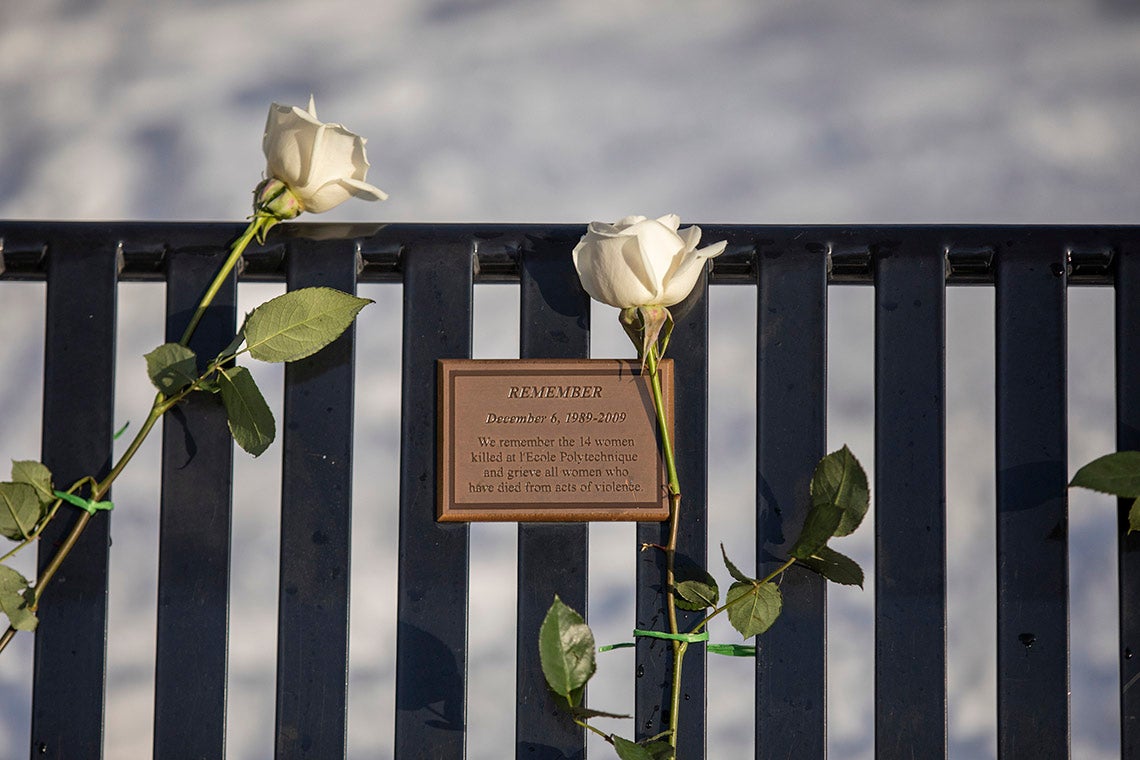 Benches were installed in 2009 for the 20th anniversary of the mass shooting at École Polytechnique de Montréal, where 14 women were killed (photo by Nick Iwanyshyn)
UTC