U of T Libraries to forgive some overdue fines for canned goods donations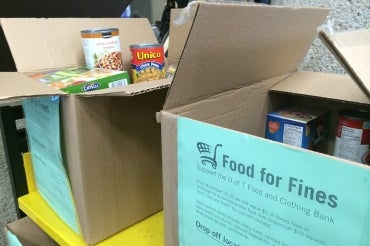 Attention library scofflaws: this week is your chance to unburden yourself of the hefty overdue fine that is weighing on your conscience – and to help the needy at the same time. 
Until Friday, University of Toronto libraries will forgive $2 of overdue fines for each nonperishable food item donated, waiving up to $20 per person. The donations are sent to the U of T Food and Clothing Bank, a year-round campus resource for students run out of the Multi-Faith Centre.
U of T libraries have participated in the Food for Fines charity drive since 2012. Last year alone, U of T Libraries waived nearly $2,600 of late fees. Students can drop off food at library branches across all three campuses: 
Criminology Library
Engineering and Computer Science Library
Gerstein Science Information Centre
Graham Library, Trinity College
Inforum
Law Library
Music Library
OISE Library
Robarts Library
U of T Mississauga Library
U of T Scarborough Library
"Many people benefit: those who use the food bank, and those who have the opportunity to contribute," said Renata Holder, access services manager at Gerstein. 
The food bank is especially in need of baby food, nutrient-rich canned foods such as fish and beans, canned vegetables, juice boxes, salad dressings and condiments.
The Food for Fines week comes just as the food bank enters its busy holiday season, said Mathias Memmel, who is part of the executive committee of U of T's Student Union. 
"I think this is really fantastic. The most exciting thing for me is it brings these sorts of issues to spaces where people are studying on campus," he said. 
More than 20 single adult students and heads of families used the food bank weekly in May this year, Memmel said.
Across the country, more Canadians are relying on food banks.  More than 863,000 people turned to a food bank in March of last year, a 1.3 per cent increase over March 2015 and a 28 per cent increase since 2008, according to a Food Banks Canada report.