U of T leaders come together to discuss challenges, opportunities around promoting equity and diversity
University of Toronto has made great strides in promoting equity and inclusivity, but there is still "a heck of a lot to do to ensure that everyone with potential can flourish and make a difference at this great institution," says Angela Hildyard, U of T's former vice-president of human resources & equity.
Hildyard was speaking at an inaugural event named in her honour, the Angela Hildyard Leadership Symposium, held at the Rotman School of Management. Monday's event brought together U of T's senior administrators from all three campuses to discuss the challenges, opportunities and successes around promoting equity, diversity and excellence at the university.
Hildyard, who served as vice-president from 2001 to 2016, played an important role in implementing policies that support the university's commitment to equity and diversity, including the creation of staff-run initiatives like Connections and Conversations, a support network for racialized staff, and enhanced services and support for students in compliance with the Accessibility for Ontarians with Disabilities Act.
At the symposium, Hildyard was joined by Kelly Hannah-Moffat, vice-president, human resources & equity, Maydianne Andrade, vice-dean, faculty affairs & equity at U of T Scarborough, and Charmaine Williams, acting vice-dean of students at the School of Graduate Studies.
The symposium is an opportunity to create a space for conversations about leadership in equity, diversity and inclusion in a post-secondary context, said Hannah-Moffat.
"Each of us is in a very different place with regard to our journeys and the understanding of privilege, whiteness and power, and what that means and what that looks like in an organizational and institutional context," she said. "When we support the skill-building that is necessary to understand, connect and create across various kinds of differences, more leaders across these spaces benefit and grow."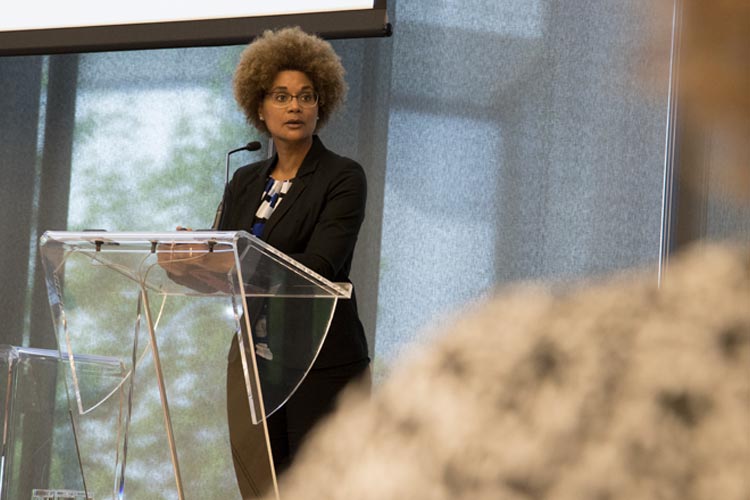 In addition to her role as vice-dean at U of T Scarborough, Andrade is a professor in the department of biological sciences, with a focus on black widow spiders. 
One of the continuing challenges for the university's leaders is improving the outcomes for women, and racialized and Indigenous faculty and staff who are often underrepresented, particularly in leadership positions.
"It was increasingly clear there was a massive disconnect between our equity, diversity, and excellence statement and our employment equity data," said Hildyard.
The university is moving in the right direction, said Andrade, who cited the increase in the proportion of female faculty, particularly in disciplines that had a hard time recruiting them. But she said "it requires constant attention to have these kinds of results and have them stick."
There are resources that members of the U of T community can access online that can help people work towards a goal of enhancing diversity and equity, said Andrade, but there needs to be a willingness to commit to structural change.
"We're talking about rearranging the furniture in the room that people felt quite comfortable in for quite a long time," she said. "It's going to be challenging. Leadership has to learn and understand how to engage in a dialogue that's open and how to engage all members of the university community in that dialogue."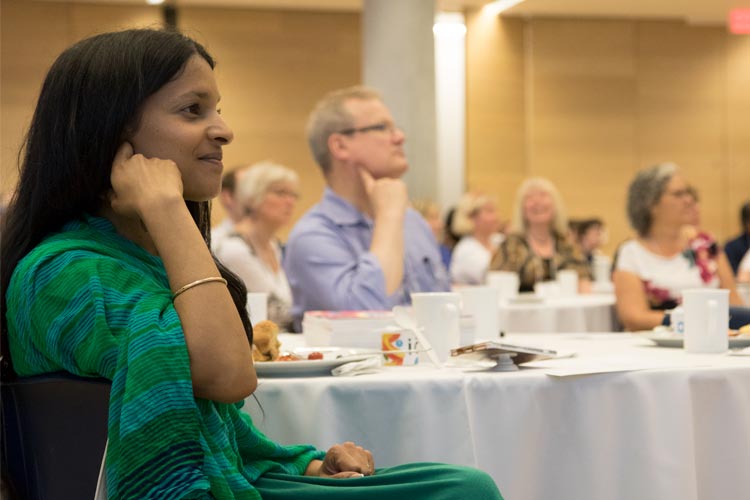 "The topic [of the symposium] is really important to me – I'm a person of visible minority and a leader in the organization in a management role… The university has spent a lot of time putting the structures into place, but without leadership being properly engaged in the topic and the information, it's difficult to make any change," said Nadia Taylor (pictured above), operational manager, curriculum of the MD program in the Faculty of Medicine. 
Speakers at the symposium recognized that with change comes pushback in many forms, including conflicts that arise when promoting both equity and freedom of expression.
"We vigorously need to promote the views around equity, diversity and inclusion, and we need to be very cautious of the harms that can happen as a consequence of speech and the way in which those can lead to systemic issues and barriers and reinforcing exclusion," said Hannah-Moffat. "Sometimes as leaders it's deeply challenging on a personal level because you find things to be particularly offensive to your own ways of viewing the world, but you have to look at the larger goals and principles at play."
Freedom of speech also gives people a "tool in the trenches," said Andrade. "People are expressing things that others are thinking as we engage in education, restructuring. Sometimes having it spoken allows us to engage more fully with dissenting views."
You learn to have a "pretty thick skin" in leadership roles, said Hildyard. "Some of the feedback and critiques you receive can be quite painful at times," she said, citing the abuse many faculty members, particularly women, receive through social media, "challenging us for our desire for bringing about change."
It's important in those moments to focus "on the principles as to why something is the right thing to do," she said. "And then you cope with the negative reactions [the situation] can create by knowing who your allies are and seeking support from them.
"And you don't give up."
UTC