U of T law students help local startups achieve lift-off through hands-on course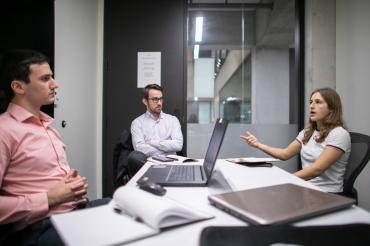 Emma Weiss has a busy schedule. Each week she meets with entrepreneurs at six different Toronto technology startups to discuss thorny legal questions and then hammers out potential solutions at the offices of a Bay Street law firm.
But Weiss isn't a lawyer – at least not yet.
She's a student in the JD program at the University of Toronto's Faculty of Law who is taking a brand new course that immerses students in Toronto's booming startup scene – and the legal services that support it – for a period of eight months.
"In addition to learning legal questions, I'm learning so much about what goes on in a business even when they don't have legal issues," says Weiss, who is working with law firm Norton Rose Fulbright and U of T's Entrepreneurship Hatchery, a startup accelerator based at the Faculty of Applied Science & Engineering.
"I'm also learning about client management, talking to people – that's been really useful and fun."
The "externship" is designed to give law students the real-world experience they need to become successful lawyers while simultaneously providing U of T's budding entrepreneurs with the legal guidance they need to get their transformative ideas off the ground.
 "A key pillar of the law school in recent years has been to expand opportunities for students to engage in experiential learning with a significant academic component," says Faculty of Law Dean Edward Iacobucci, who leads the seminar.
"We're in the centre of the startup boom in Toronto. We have the lawyers who provide advice to these startups just down the street and people love working with our terrific students. So it's really taking advantage of some important strengths of this university and city."
Faculty of Law Dean Edward Iacobucci teaches the course, which immerses students in Toronto's booming startup scene for eight months (photo courtesy of Michelle Yee)
Iacobucci, an expert on corporate, competition and securities law, says the law school's partnership with the Hatchery builds on previous efforts to link the talents of law students and tech entrepreneurs.
In 2018, two JD students were hired as "law connectors" at the Hatchery in summer positions. They were asked to communicate complex legal information to engineer-entrepreneurs and sit on startup advisory boards. 
The number of positions was doubled to four in 2019, with the law connector program credited with giving budding lawyers invaluable experience in legal communication, knowledge translation, client management and other real-world skills – and paving the way for initiatives like the new externship.
Students enrolled in the course are exposed to legal questions surrounding everything from intellectual property and venture capital to corporate structure and human resources. The externship is paired with a seminar designed to help students bridge their practical experiences with theoretical frameworks and readings.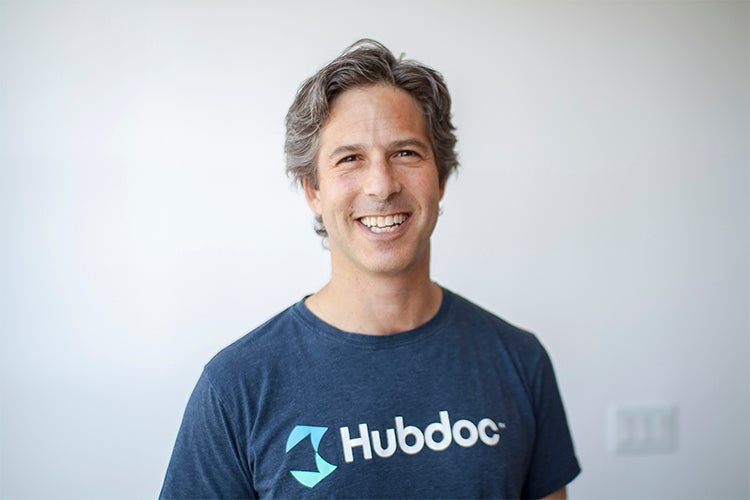 Jamie Shulman, who co-teaches the seminar and worked for years as a lawyer advising startups and venture firms in Toronto and Silicon Valley, says every step of a startup's journey comes with legal considerations (photo courtesy of Jamie Shulman)
Iacobucci co-teaches the seminar with tech entrepreneur and lawyer Jamie Shulman, who worked for years as a lawyer advising startups and venture firms in Toronto and Silicon Valley before co-founding and selling two successful software startups – the online marketing firm Sparkroom and document management platform Hubdoc.
"We really like this combination where you have both the academic who can provide the theoretical frameworks that may underlie a particular area of law, and the person with the practical experience who can speak about how those frameworks relate – or in some cases, don't relate – to the real world," says Iacobucci, who first met Shulman during law school at U of T back in 1993.
"I figured I'd be able to bring the perspectives around contracts and corporate governance, while Jamie, who has been an entrepreneur with two successful startups, can bring that practical side to bear."
For his part, Shulman says every step in a startup's journey – creating a product or service, securing intellectual property protection, landing customers, attracting funding, hiring employees – comes with legal considerations that entrepreneurs may not fully appreciate.
"Startup founders don't necessarily know what they don't know," Shulman says. "For example, how to set your company up from a corporate organization standpoint. They might say, 'It's just me and my friend starting a business together and working on a prototype,' but how are they splitting up the work and the ownership?"
He points to the origins of social media giant Facebook as one particularly high-profile example.
"As you saw in the movie The Social Network, there were several founders and it ultimately ended in a dispute because someone thought they were entitled to own more than the others."
For law students, it's an invaluable experience to be exposed to startups and their growing pains, according to Shulman.
"These are real-life situations with real clients working on real matters that are very important to them. That practical experience and exposure to people who are running businesses is something you can't get in a classroom," he says.
"I would have loved to have taken a course like this."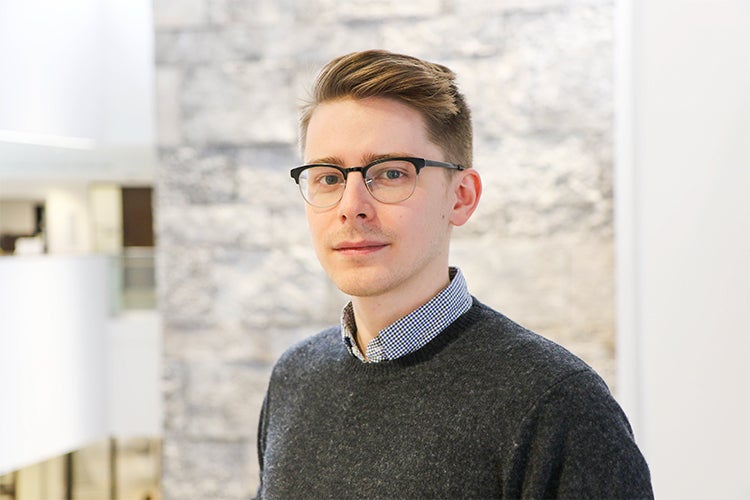 Samuel Mitchell is working with law firm Blake, Cassels & Graydon, which provides subsidized legal services to emerging tech companies through its Nitro program (photo by Rahul Kalvapalle)
It's not unlike the program that the Creative Destruction Lab has forged with U of T's Rotman School of Management, which embeds MBA students with startups that move through the seed-stage accelerator for scalable technology companies.
"Normally, business schools use Harvard Business School cases to provide examples in the classroom," CDL founder and Rotman Professor Ajay Agrawal explained in a 2018 interview published in the school's magazine.
"We replaced those with real companies. Working with founders, fellows and associates provides students with an opportunity to roll up their sleeves …They experience the messiness of the real world and the reality of having to make decisions without having full information." 
For second-year law student Samuel Mitchell, the promise of real-world experience was a major draw to the Faculty of Law's course.
 "When I realized in first year that I was interested in corporate work, I wanted to find any opportunity to learn more about that world, and find out if it was the right fit," Mitchell says.
Mitchell is with law firm Blake, Cassels & Graydon's Nitro program, which provides subsidized legal services to emerging tech companies.
"I've been lucky enough to work on service delivery, public legal information from startups and how Nitro can structure its internal knowledge about the way deals have been put together in the past," Mitchell says.
"I have also had the privilege of tagging along with the Nitro program's founder and head partner Mark Shewchun … I get to sit in on meetings, and they'll explain the business relevance and legal context that I can take away."
Mitchell adds that the experience is giving him exposure to a diverse array of legal issues.
"The startup space is very unique legally because it transcends the traditional boundaries of a legal department in a company, where you might work in, say, the tax group or employee group – a startup will have issues that span all those disciplines," he says.
"As an extern student, I'm placed in the centre of the orbit for a company and can see how all those different disciplines are integrated."
As for Weiss, the externship helped her decide to sign on for a summer job next year with a boutique law firm advising startup clients.
 "It's partly the externship that made me want to work there," Weiss says.
"People's eyes lit up when they saw that I did this course, and they wanted to know everything about it."
UTC