U of T launches second fall-winter collection with OVO: Hypebeast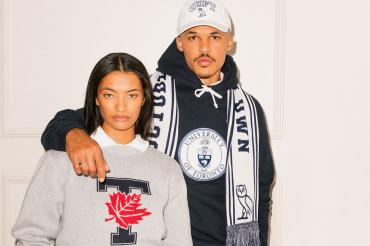 The University of Toronto and OVO are set to drop their second fall-winter capsule collection for students who want to showcase their pride in the university – with U.S. rapper and singer Lil Yachty brought in to help model the latest line.
The OVO / University of Toronto collab puts a fresh spin on classic varsity clothing including rugby shirts and crewnecks, as well as accessories like ball caps, according to Hypebeast, with all the pieces co-branded with the U of T emblem and OVO's famous owl logo. The apparel will be available for purchase at noon ET on Oct. 14 at OVO's stores and online, and at the U of T Bookstore on the St. George campus.
OVO announced the 2022 collaboration on an Instagram post featuring photos of hip-hop star Lil Yachty modeling several pieces of clothing including a varsity jacket and navy blue sweater. The brand also teased two caps in a separate post.
In a press release, OVO said the collection is inspired by the fall season in Toronto and celebrates a university "with a long history of challenging the impossible and transforming society."
The unique collaboration between Canada's top-ranked university and OVO, a Toronto-headquartered global lifestyle brand, was first launched in August 2021, with four-time Olympic medalist and U of T alumna Kylie Masse starring in the campaign video. Kristina Kazandjian, U of T's trademark licensing manager, described it as "two iconic Toronto brands" coming together.
"We want this collection to showcase an affiliation with our wider community and the many within it," she told U of T News at the launch. "We hope it will be seen as an extension of the U of T lifestyle."
UTC