U of T: It's greener here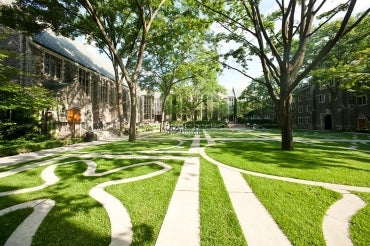 The University of Toronto's official colour might be blue, but it's actually a very green place to be.
How green? On the day before Earth Day, U of T was named one of Canada's Greenest Employers.
"Being named as one of Canada's Greenest Employers for the fourth year is fabulous news," says Ron Swail, chief operations officer of property services and sustainability at U of T. "It once again confirms the university's commitment and deeply embedded culture of sustainability."
Check out a few of the ways U of T is contributing toward a more sustainable future for the city:
Plants, plants, plants: in the heart of the city, the downtown Toronto campus offers more than 3,000 trees and hundreds of green spaces such as gardens, green roofs and green or living walls on the downtown Toronto campus alone.
Ditching the lawnmower: Since 2004, U of T Mississauga has stopped mowing 20 locations and instead planted them with native species of trees and wildflowers – appreciated by students, faculty and staff, not to mention squirrels, groundhogs, possums, raccoons, rabbits, and the deer that are commonly seen on campus.
Conserving energy: U of T's downtown Toronto campus uses less energy and water than it did in 2000 – despite a 50 per cent increase in the student population and the construction of 25 new buildings that added more than 3 million square feet to campus. The University's Green Revolving Fund is one of the largest in North America, providing funding for significant energy reduction projects and building retrofits. "Through hundreds of sustainability-related projects and initiatives like these, we have been able to avoid over 50,000 metric tons of greenhouse gas and saved approximately $40 million in utility expenses over the past decade," Swail said.
The Green Roof Innovation Testing (GRIT) Laboratory is located on the roof of John H. Daniels Faculty of Architecture, Landscape, and Design. A platform for multidisciplinary collaboration, researchers at GRIT Lab are investigating the environmental performance associated with 'green' and 'clean' technologies such as green roofs and green walls.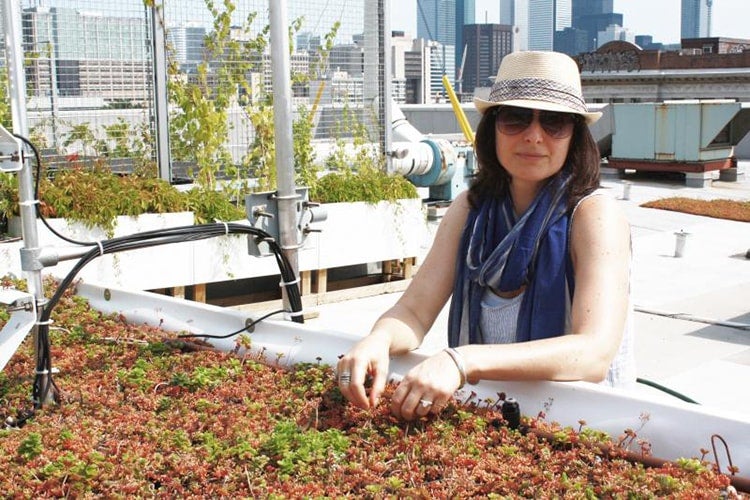 Liat Margolis an assistant professor in the John H. Daniels Faculty of Architecture, Landscape and Design, is the principal investigator of GRITlab
The downtown Toronto campus has one of the most comprehensive recycling programs and one of the highest waste diversion rates of any post-secondary institution in North America. 
Smart moves: UTM's Deerfield Hall features a rainwater reuse system, a green roof, low-flow washroom fixtures and energy-efficient mechanical systems.
There are 12 LEED-certified buildings (Leadership in Energy and Environmental Design) at U of T, including the Exam Centre on the downtown campus, which recently installed new solar panels.

Ron Swail (left) and colleagues from the solar panel project on the exam centre roof (photo by Jonathan Sabeniano)
UTC