U of T's official guest book includes signatures from the G7 foreign ministers and the EU representative who met in Toronto for a two-day summit (photo by Lisa Sakulensky)
Wondering about the black motorcades, the security detail and the media blitz around the University of Toronto's downtown Toronto campus?
The G7 foreign ministers were in Toronto on Sunday and Monday, with U of T being the principal site of closed-door meetings. The foreign ministers and security ministers from the world's leading industrialized countries – Canada, France, Germany, Italy, Japan, the United Kingdom and the United States – met over two days in the runup to the G7 leaders' summit in June in Charlevoix, Que.
G7 foreign ministers had a host of concerns on the agenda, including the conflict in Syria, the nuclear standoff with North Korea, political problems in Venezuela, the Rohingya refugee crisis, and Russia's suspected involvement in the nerve agent attack in Britain and alleged interference in the U.S. and French elections.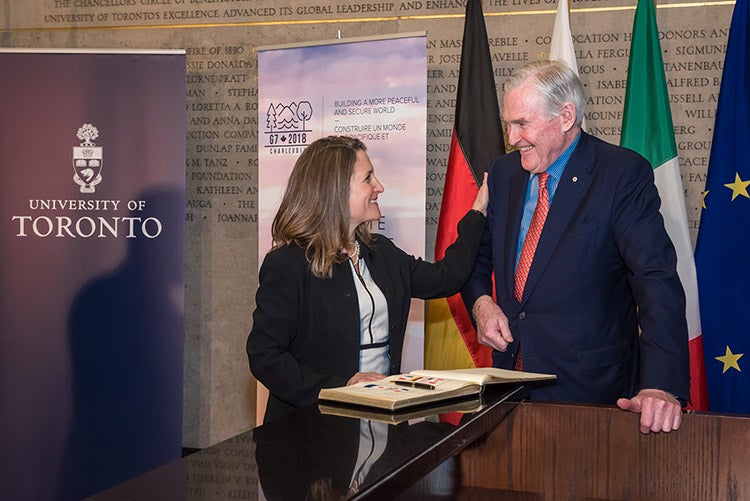 Canada's Foreign Affairs Minister Chrystia Freeland with U of T Chancellor Michael Wilson on Sunday (photo by Lisa Sakulensky)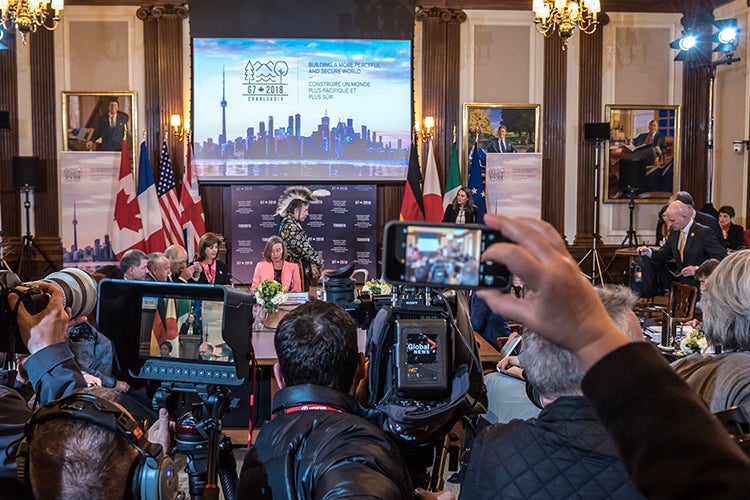 Elder Garry Sault, Ojibway Elder of the Mississaugas of the New Credit First Nation, begins with a blessing for Sunday's session of the G7 foreign ministers in Governing Council Chambers (photo by Lisa Sakulensky)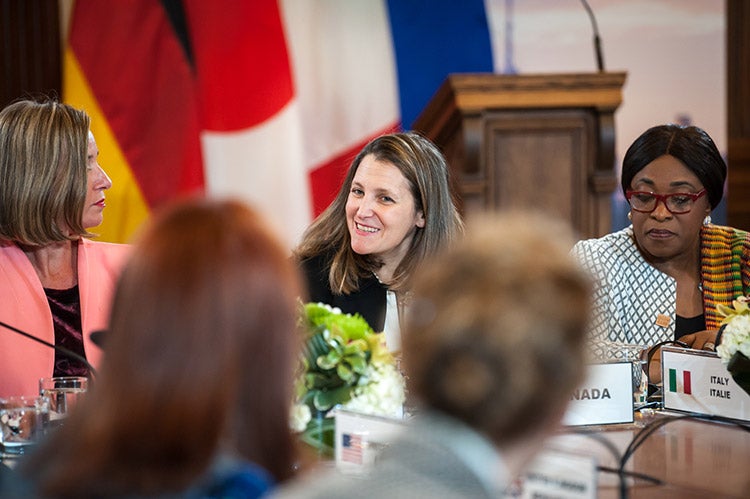 Canada's Foreign Affairs Minister Chrystia Freeland (centre) sits alongside Federica Mogherini (left), high representative of the European Union for Foreign Affairs and Security Policy, and Shirley Ayorkor Botchway (right), Ghana's minister of foreign affairs, during a G7 outreach session with non-G7 women foreign ministers  (photo by Lisa Sakulensky)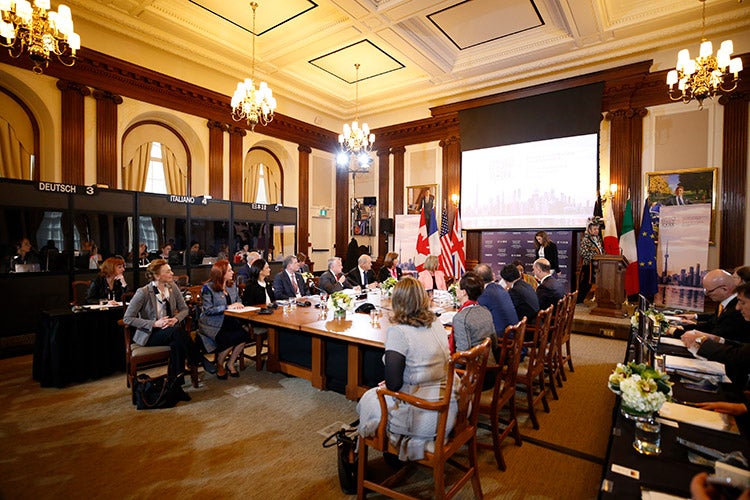 G7 foreign ministers in the Governing Council Chambers at U of T. The foreign ministers included Canada's Chrystia Freeland, Acting U.S. Secretary of State John J. Sullivan, Germany's Heiko Maas, Italy's Angelino Alfano, France's Jean-Yves Le Drian, Britain's Boris Johnson, Japan's Taro Kono and the European Union's High Representative Federica Mogherini (photo courtesy of #G7Charlevoix via Flickr)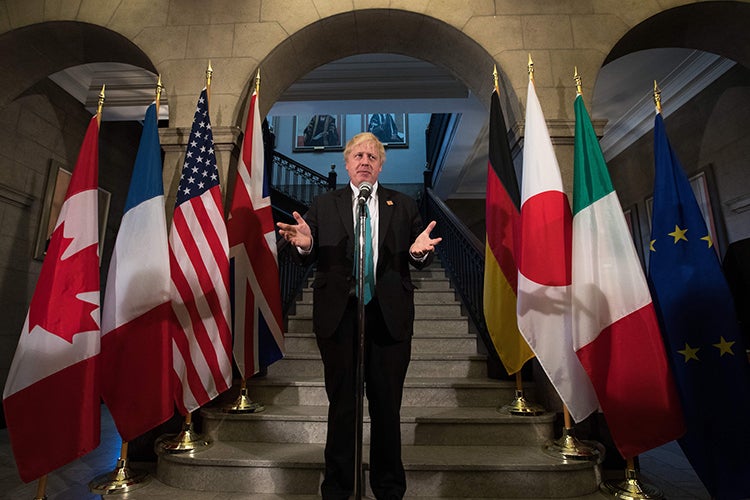 British Foreign Secretary Boris Johnson holds a press conference at the main staircase of U of T's Simcoe Hall on Monday (photo by Lars Hageberg/AFP/Getty Images)

A motorcade along King's College Circle Monday for the G7 foreign ministers' meeting (photo by Noreen Ahmed-Ullah)