U of T hosts Toronto Community Housing track-and-field meet for 300 kids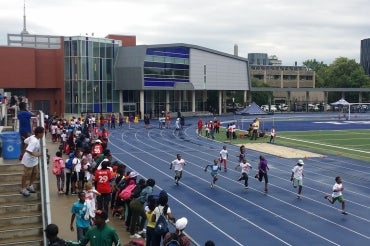 About 300 children spilled out of school buses for a day of long jumps, ball toss and racing at Varsity Stadium last week as the University of Toronto welcomed children from 40 Toronto Community Housing (TCH) communities.
The event, a track-and-field-meet, was an expansion of a partnership between U of T's Faculty of Kinesiology and Physical Education and TCH that brought Midnight Madness basketball to TCH youths in the fall and will welcome another 300 children for a swim meet on August 10.
"We look forward to opportunities to assist our community partners in projects that make a real difference in the lives of young people," said Beth Ali, executive director of KPE's co-curricular athletics & physical activity programs. "The use of sport to provide leadership and educational development opportunities for young people is a perfect fit for our faculty and the University of Toronto."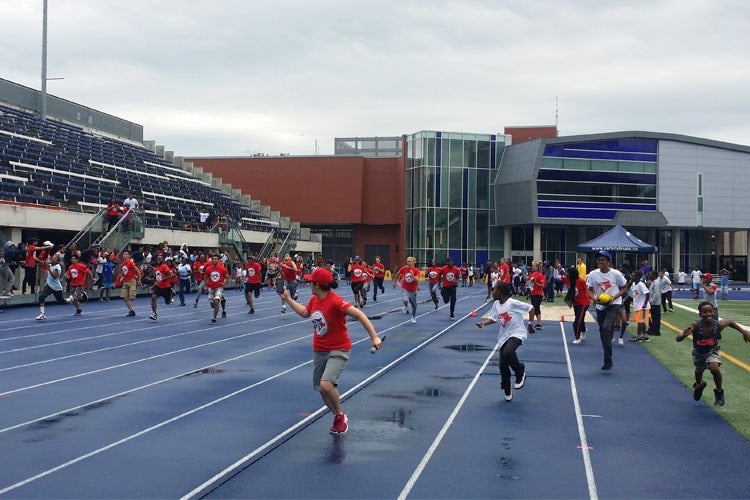 Event staff racing at the track-and-field-meet (photo by Jelena Damjanovic)
The track-and-field event was part of a seven-week free summer camp for TCH residents ages six to 12, called Rookie League camp, which is run in partnership between TCH and the Jays Care Foundation.
"We've been running the Rookie League camp for 29 seasons, helping buil​d strong communities by teaching children life lessons about teamwork, leadership and fair play, on and off the field," said Husein Ladha, supervisor for active living and centralized programs for TCH. "This year, U of T very graciously offered to host a track and field meet for the kids (free of charge), and we were delighted to add it to the program.
"To get them out of their communities, have them visit a world class facility like the Varsity Stadium is an experience that they're going to remember for a lifetime."
In her welcoming address, Ali shared with the crowd that the track they were about to run on is the same track where U of T Olympians like Gabriela Stafford and Sarah Wells once trained.
Cheered on by an enthusiastic crowd of fellow campers, the children took turns running 100 and 400 metres and then quickly returning to the stands to join the cheering squad.
Jahmiya, 8, and Ameerah, 6, said their favourite part of the day was eating pizza and cheering each other on.
"I really want my cousin to win," said Ameerah.
KPE