U of T hosts graduation ceremony for Asia-Pacific region in Hong Kong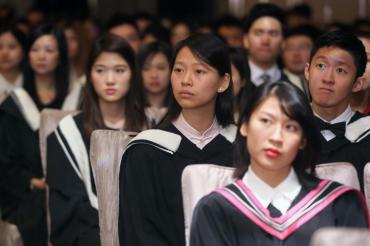 When Ka Wing Kelvin Chu completed an honours bachelor degree from the University of Toronto two years ago, his parents travelled from China to attend convocation but not his grandmother.
A 15-hour flight at her age was not feasible, he says.
So, a separate ceremony hosted by U of T in Hong Kong later that year allowed the international student's 82-year-old grandmother to see him be the first in the family to receive a university degree.
U of T organizes the graduation ceremony in Hong Kong every two years for students and families from the Asia-Pacific region. In 1996, the university was the first in North America to offer a regional graduation ceremony, and now it's become a mainstay. 
On Sunday, U of T will host the 11th Asia-Pacific Graduation Ceremony in Hong Kong for students who graduated this year or the year before. About 430 students and their families are expected to attend from Hong Kong, China, Taiwan, Singapore and India, to name a few.
"We felt it was important to give the graduating students from that part of the world the opportunity to celebrate and mark this important milestone at a ceremony that was closer to home," said Barbara Dick, assistant vice-president of alumni relations at U of T's Division of University Advancement.
"This is a way that they can celebrate their achievements with their family and friends."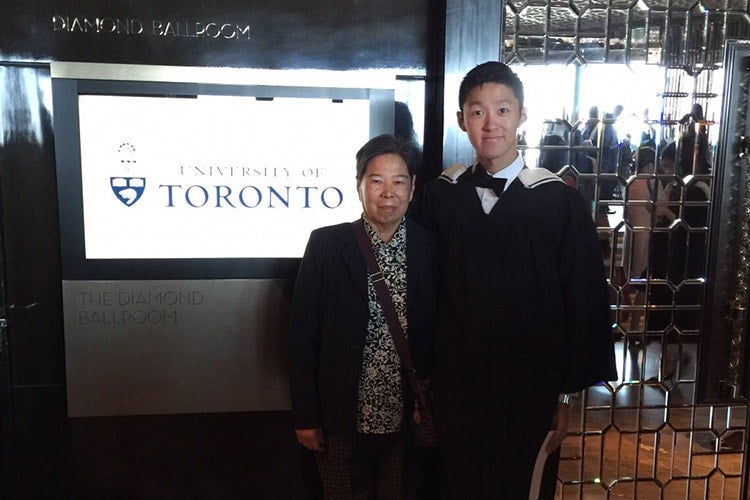 Ka Wing Kelvin Chu (right) brought his 82-year-old grandmother to the 2015 Asia-Pacific Graduation in Hong Kong (photo courtesy of Kelvin Chu)
In the case of alumna Rae Ruixin Ma, the ceremony offered the next best thing to getting her degree at Convocation Hall. She completed a specialist program in management and finance at U of T Scarborough but couldn't attend the Toronto graduation in 2015 because she had just started a new job in Singapore.
The Hong Kong ceremony was her chance to experience what convocation feels like – the robe, the certificate, the photos – and it was an opportunity for her family who lives in Singapore to celebrate with her.
"The Hong Kong graduation ceremony enabled me to experience 'graduation' because I couldn't make it to the one in Toronto," said Ma, who is currently president of U of T's alumni group in Singapore. "When I was at the 2015 Hong Kong graduation ceremony, I spoke to other attendees – mostly residents of Hong Kong, China, Singapore, Malaysia and other Asian countries – and they told me they were at the Toronto convocation, but their parents were unable to attend due to long distance, scheduling conflicts, health conditions etc. …The Hong Kong ceremony gives international graduates and family members an alternative option."
For U of T, which considers international partnerships a top priority, the ceremony also allows it to elevate its profile in the region. The university's ties to China, for example, date back to the 1930s when surgeon and alumnus Norman Bethune became a national hero.
There's been a long history of collaboration with researchers at institutions across the region and student exchanges. In 1996, the university hosted its first Asia-Pacific Graduation Ceremony with a total of 58 students. Today, the event attracts about 100 students, and is attended by both President Meric Gertler and Chancellor Michael Wilson – both of whom take photos with grads.
"You see how meaningful it is to students, and how honoured people are that the university is doing this," Dick said.
For example, two years ago a PhD student from India who couldn't fly in her family to Toronto chose to bring them all to Hong Kong instead.
U of T also invites leaders from universities and secondary institutions in the region to the ceremony.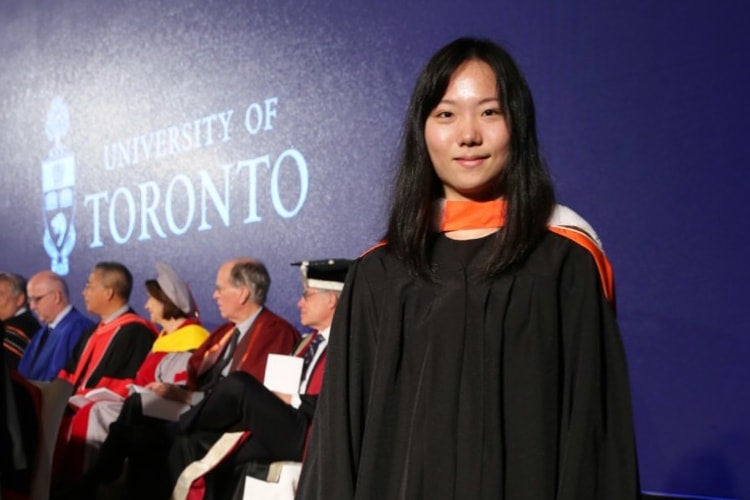 Rae Ruixin Ma is now president of U of T's alumni association in Singapore. After missing convocation in Toronto, she attended the Asia-Pacific Graduation Ceremony in Hong Kong in 2015 (photo courtesy of Division of University Advancement)
In the week following the ceremony, the president and chancellor attend various alumni events across the region: Nov. 27th in Hong Kong and Nov. 30th in Beijing for the president, and Nov. 28th in Singapore for the chancellor. The events will feature a talk by Alex Mihailidis, professor of occupational science and therapy in the Faculty of Medicine and the Institute of Biomaterials & Biomedical Engineering, who will be discussing the latest in technology for societies with an aging population.
U of T's Division of University Advancement, which has had an office in Hong Kong since 1995 to serve the entire Asia-Pacific region, says alumni in the region are among the university's most active. U of T graduates from Hong Kong number about 3,200 – the second-highest grouping of U of T alumni outside Canada and the U.S., and the University of Toronto Alumni Association (UTAA) of Hong Kong is the largest U of T alumni association outside Canada. In China, there are about 1,400 alumni with three distinct groups in Beijing, Shanghai and Shenzhen. And, Singapore has almost 600 alumni.   
"As U of T seeks to raise its profile around the world, the people who can best help us do that are our alumni," Dick said. "Having an engaged alumni who can speak well of the university and actively represent the university – that is really foundational to our profile raising ability in key markets.
"It's important for our graduates, in terms of their own career trajectories and life trajectories to be part of a university that actually does have a local profile. It's not good enough for them to know how great U of T is, they need people in their broader communities to know how great U of T is. It helps them with their employability. It helps us overall with our reputational rankings."
Hong Kong's alumni group has also played an instrumental role in giving back to U of T.
The University of Toronto (Hong Kong) Foundation, started in 1995, raises funds to provide scholarship opportunities for undergraduate students from Hong Kong to study at U of T.
In Chu's case, the scholarship helped him attend U of T, where he majored in English and minored in French and Italian. He has fond memories of U of T's downtown campus, experiencing the city and the university's student exchange offerings through which he studied English literature for a semester at University College London and French literature at Université Sorbonne Nouvelle Paris 3.
He's currently doing a master's at the University of Hong Kong and will be attending law school next year. He says without the Hong Kong foundation's scholarship, U of T would not have been within reach.
"The scholarship turned an opportunity into a reality for me," he said.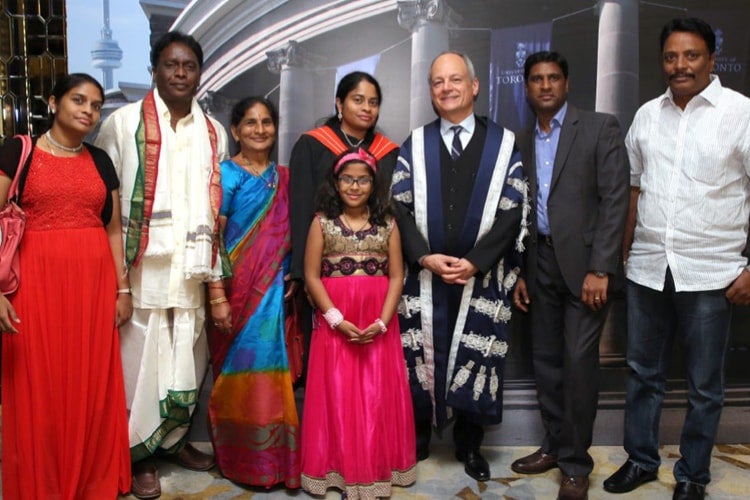 The Asia-Pacific Graduation Ceremony brings in U of T students from across the region, including India, Taiwan and Singapore. Alumna Jyothsna Chitturi, who received a PhD, flew in her family from India, and they all took a photo with U of T President Meric Gertler (photo courtesy of the Division of University Advancement)
UTC