U of T home to some of best architecture in the city: Globe and Mail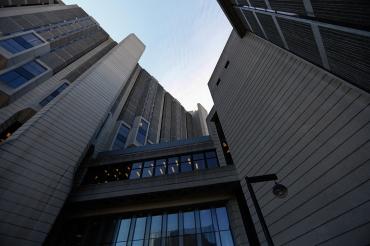 University of Toronto students have to look no further than their own downtown Toronto campus to see some of the finest architecture in the city, according to a book excerpt published by the Globe and Mail. 
The newspaper's architecture critic and U of T alumnus Alex Bozikovic praises five buildings on the downtown Toronto campus. The article is an excerpt from Toronto Architecture: A City Guide,  originally written by architectural journalist Patricia McHugh and updated by Bozikovic. 
1. John P. Robarts Research Library
Canadian architect Ronald Thom – who designed one of the other campus buildings on Bozikovic's list, Massey College – called Robarts Library a "dictionary of architectural miseries." 
But in the 50 years since it was built, the Brutalist behemoth nicknamed "Fort Book" has inspired a new appreciation among the younger generation, Bozikovic writes. The central atrium in the Thomas Fisher Rare Book Library "is one of the best modernist spaces in the city," he adds. 
An in-progress expansion of the library, designed by Diamond Schmitt Architects, is expected to add 1,200 study spaces.
2. Joseph L. Rotman School of Management
"A fascinating assemblage," Bozikovic says. "First, Zeidler's 1990s ersatz loft, sliced up by deconstructivist zinc shrapnel; then KPMB's made-to-measure black boxes wrapping a Victorian house." 
He reserves special praise for the 2011 expansion by KPMB, with its central stairs and hot-pink accents. Bruce Kuwabara, a founding partner of KPMB, told Rotman magazine that the project was about "taking the school to another level in an urban context, in a creative city," while providing the necessary space and resources for 21st-century classrooms.
3. Woodsworth College
The college was originally housed in a series of Victorian houses on St. George Street. Barton Myers and their former associates integrated the older buildings into a single complex with a distinctive red brick and ashlar granite façade.
"What makes the place remarkable, though, is the artful linking of indoor and outdoor spaces, old and new architecture, found façades and artfully wrought interventions," Bozikovic says. 
4. Goldring Centre for High-Performance Sport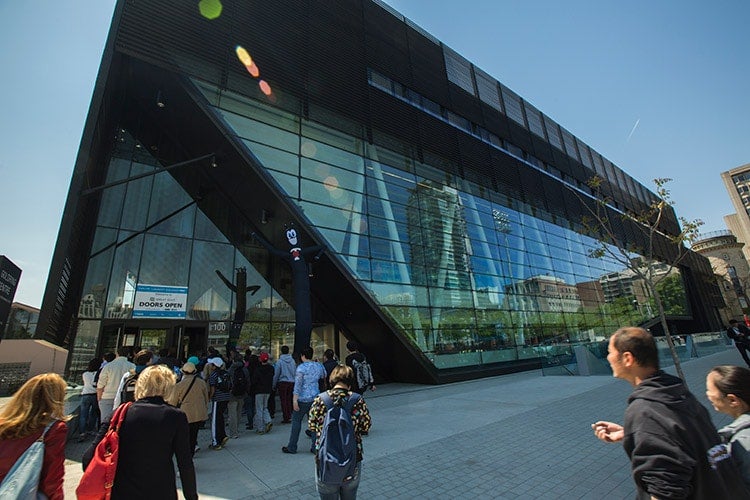 Ted Watson, a partner at MacLennan Jaunkalns Miller Architects, which designed the centre with Patkau Architects, described the building as an "iceberg" because there is so much going on under the surface. The Kimel Family Field House below ground offers space for basketball, volleyball and other court sports with seating for 2,000 people. A state-of-the-art strength and conditioning centre is visible above ground through street-front windows. 
5. Massey College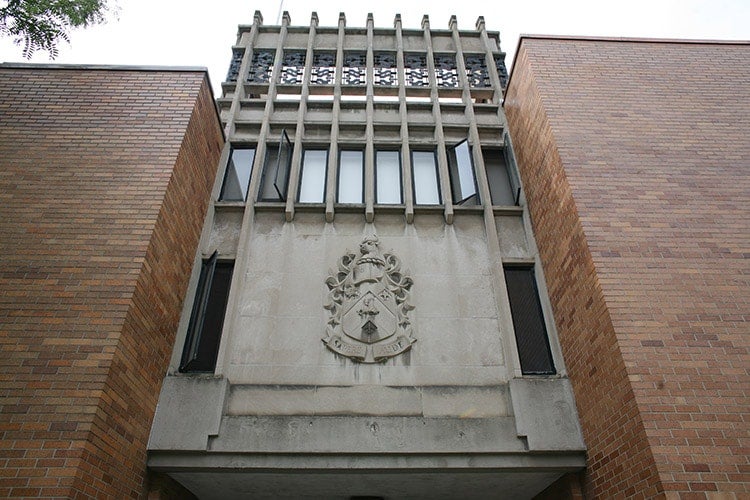 "Arguably the greatest Toronto building for the 20th century," Bozikovic says.
Designed by Ron Thom and constructed in 1962, the building harks back to the Dutch de Stijl modernism and Frank Lloyd Wright, Bozikovic writes. 
"It was, and remains, gorgeous," he says. "The low, multilevelled Junior Common Room and the dining room, Ondaatje Hall, are among Toronto's finest rooms. Mr. Thom's manipulation of light and space and fusion of gothic grammar with a very personal modernism create the qualities the Masseys asked for: 'dignity, grace, beauty and warmth.'"
UTC