U of T home to new hub that will strengthen Canada's pandemic preparedness and increase biomanufacturing capacity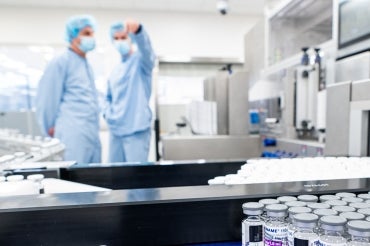 A new national hub focused on enhancing Canada's ability to respond quickly, effectively and equitably to future pandemics has become a reality with $2 million in funding from the Canada Biomedical Research Fund.
Led and anchored by the University of Toronto, the Canadian Hub for Health Intelligence and Innovation in Infectious Diseases (HI3) is a collaborative, multi-disciplinary and multi-sector coalition of more than 80 partners. It will provide a powerful network to support a robust domestic pipeline of life-saving vaccines and therapeutics targeting existing and emerging infectious threats.
Linking the innovation engine and resources of eight Ontario universities and six research hospitals with regional and national commercialization, biomanufacturing and pharmaceutical partners, the HI3 hub will enable the country to be more prepared, resilient and independent in facing future health challenges.
The hub is led by co-directors Jen Gommerman and Scott Gray-Owen, professors of immunology and molecular genetics, respectively, in the Temerty Faculty of Medicine at U of T. Gray-Owen is also the academic director of the Emerging and Pandemic Infections Consortium (EPIC) and the Toronto High Containment Facility.
"While it's human nature to be reactive, we must strive to be proactive to prevent and limit the impact of future pandemics," said Gommerman. "We need an approach that centres on co-operation, unity, a pooling of resources, a free and open sharing of data and a commitment to serve those most at risk – this is the Canadian way."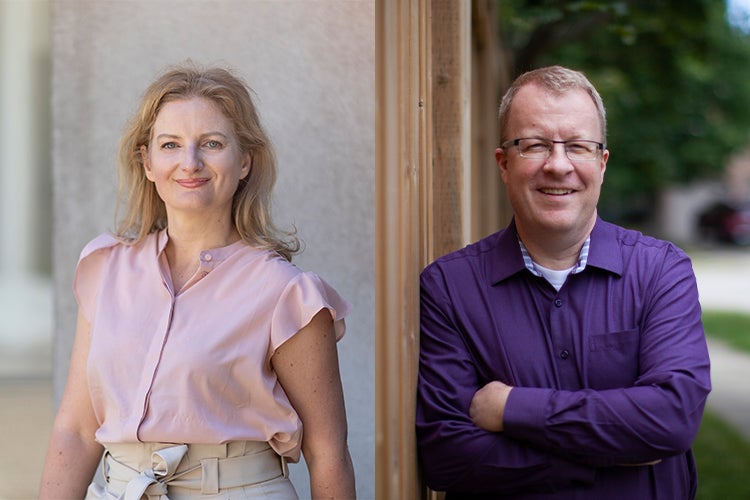 Temerty Faculty of Medicine Professors Jen Gommerman and Scott Gray-Owen will co-lead the HI3 hub (photos by Nick Iwanyshyn)
The HI3 hub grew out of the lessons of the pandemic. The network will mobilize the resources of each partner in the collaboration, strengthening the country's and Ontario's biomanufacturing ecosystem and pandemic readiness.
Once fully operational, the hub will facilitate a rapid response network that will begin with identifying a new pathogen, developing diagnostics and treatments that can be manufactured domestically and working with public health authorities to engage the public and target at-risk populations where necessary.
The result? Faster, more equitable access to effective and tailored interventions, fewer people dying and suffering from long-term side effects of infection, and decreased social, economic and health system impacts.                                                                                         
"This investment from the federal government to establish the HI3 hub builds on the robust research and innovation ecosystem at U of T and on the strength of our partnerships across sectors," said Leah Cowen, U of T's vice-president, research and innovation, and strategic initiatives. "By bringing together an unprecedented number of partners from universities, hospitals, industry and other fields, the hub is poised to expand and invigorate the innovation-to-product pipeline and protect the health of all people living in Canada."
Precision interventions, process innovation and health intelligence
As one of five newly created hubs established with support from the Canada Biomedical Research Fund, HI3 partners/teams will compete for $570 million in research and infrastructure federal funding. The hub will enable high-risk, high-reward collaborative research projects focused on three themes: precision interventions such as vaccines and therapeutics; process innovations that leverage the power of AI to make biomanufacturing processes more streamlined and easier to implement in areas of need; and health intelligence, which pulls data from multiple sources to determine how well interventions work and guide the effective and equitable delivery of pandemic countermeasures.
The hub links industry and academic partners, including colleges, to create training opportunities and programs that attract, develop and retain the highly skilled workforce needed to drive innovation and growth in Canada's biomanufacturing and life sciences sector.
Anchoring the hub at U of T means the significant expertise and infrastructure in life sciences research, advanced manufacturing, entrepreneurship and clinical care in the Greater Toronto Area and southern Ontario can be harnessed to make the hub a success. The Ontario region represents 47 per cent of Canadian pharmaceutical research and development expenditures and the Ontario pharmaceutical sector generates $43 billion in revenue.
"To continue to protect Canadians and to build a resilient biomanufacturing ecosystem, our government is taking every action possible to be equipped with the best tools. We're proud to foster the research needed to produce cutting-edge discoveries and products in our very own labs that will help us build a stronger, more robust life sciences sector that responds to the needs of Canadians for decades to come," said François-Philippe Champagne, minister of innovation, science and industry for Canada.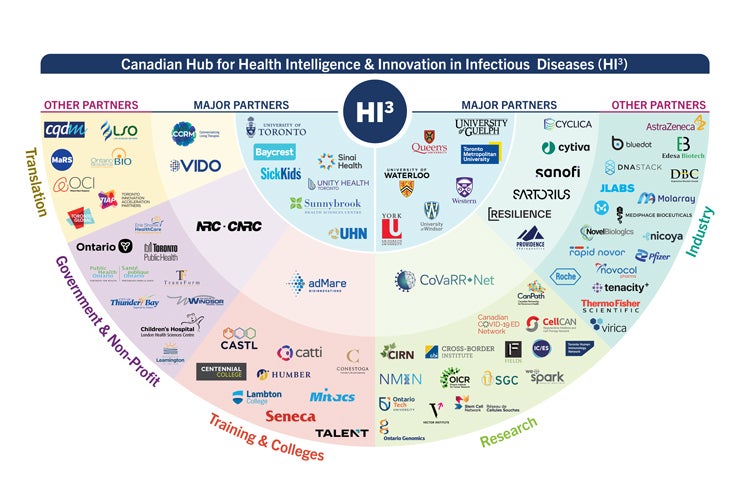 Funding for the HI3 is part of a larger investment in Canada's Biomanufacturing and Life Sciences Strategy. The strategy aims to grow a strong, competitive domestic life sciences sector with cutting-edge biomanufacturing capabilities and to improve national pandemic preparedness. Through the strategy's Biosciences Research Infrastructure Fund, U of T received $35 million in 2022 to revitalize the Toronto High Containment Facility, which played a pivotal role in accelerating research breakthroughs that guided the COVID-19 pandemic response in Ontario and Canada.
Among the hub's major partners are six research hospitals from the Toronto Academic Health Sciences Network – Baycrest, the Hospital for Sick Children, Sinai Health, Sunnybrook Health Sciences Centre, Unity Health Toronto and University Health Network – and eight Ontario universities, including University of Guelph, Queen's University, Toronto Metropolitan University, University of Waterloo, Western University, University of Windsor and York University.
In addition to its academic partners, the HI3 hub draws on the strengths of numerous major partners in industry and the public and not-for-profit sectors – adMare Bioinnovations, the Centre for Commercialization of Regenerative Medicine, CoVaRR-Net, Cyclica, Cytiva, the National Research Council of Canada, Providence Therapeutics, Resilience, Sanofi, Sartorius and the Vaccine and Infectious Disease Organization at the University of Saskatchewan.
The hub also leverages U of T's experience in and capacity to support large-scale, high-impact interdisciplinary research, most notably through its Institutional Strategic Initiatives (ISI) program. Several ISIs – Acceleration Consortium, Centre for Research & Applications in Fluidic Technologies, Data Sciences Institute, Emerging and Pandemic Infections Consortium, Institute for Pandemics and Medicine by Design – are lending their expertise and providing support to help HI3 achieve its goals.
EPIC