U of T has 'key role to play' in developing and implementing new AI technologies, Ontario Economic Summit will hear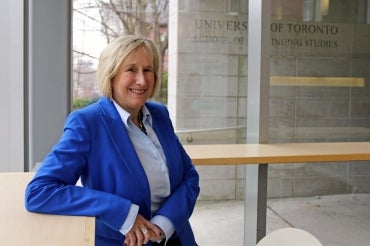 The University of Toronto can play a key role in not only developing economy-boosting automation and artificial intelligence technologies, but ensuring Ontario workers are in the best possible position to reap the rewards.
That's the message Maureen MacDonald, the dean of U of T's School of Continuing Studies, intends to deliver during a "great debate" on AI and the workforce at this week's Ontario Economic Summit, an annual gathering of cabinet ministers, CEOs and post-secondary education leaders.
MacDonald, one of several university representatives at the three-day event in Niagara-on-the-Lake, says U of T is well-equipped to work with the province and employers to improve workers' skills and education so they can succeed in the knowledge economy.
"It's really in our wheelhouse – supporting our employers and workers as they start to navigate the implications of AI and other changes," she says.
"AI can do the work, but someone still has to manage around the process. I think that's where universities and, specifically, continuing education units can add value."
The debate, presented by U of T, is one of several scheduled discussions about the future of work at this year's summit, organized by the Ontario Chamber of Commerce. Also on the agenda: presentations on AI's potential impact on the labour market, strategies for businesses to respond to labour market changes and potential solutions to maintain Ontario's global competitiveness.
Ontario Premier Doug Ford will wrap up the event Friday with remarks that follow a roundtable with delegates and provincial cabinet ministers.
The development and implementation of AI technologies in a range of fields, from medicine to transportation, is predicted by some to create a US$100-billion global industry by 2025. And since Ontario has emerged as a hub of AI research – thanks in part to the work of deep learning "godfather" and U of T University Professor Emeritus Geoffrey Hinton and his students – the province is in a unique position to benefit from what many are calling a transformative technology.
"With universities, employers and other stakeholders working together, Ontario has the opportunity to seize the tremendous economic potential offered by AI," says Vivek Goel, U of T's vice-president of research and innovation.
"The University of Toronto has a key role to play when it comes to both developing and implementing these new technologies, and ensuring students are equipped with the necessary knowledge and skills to succeed in the jobs and industries of tomorrow."
U of T's contributions to the AI phenomenon go well beyond producing world-leading research. For example, the Creative Destruction Lab, a seed-stage accelerator program affiliated with the Rotman School of Management, this week held its annual Machine Learning and the Market for Intelligence conference, which is designed in part to educate business leaders about the power of AI and how it can be adopted by their businesses. At the same time, U of T is supporting scores of AI-powered startups through its network of nine incubators and accelerators.
Last year, U of T worked with scores of partners to help establish the Vector Institute for Artificial Intelligence, which is emerging as one of the leading centres of its type globally and helping to attract significant talent and investment to Ontario. As well, in  2012 U of T co-founded SOSCIP, which has become a key player in boosting innovation in Ontario. The consortium, funded by the federal government, the Ontario government and industry, marries research-minded companies with leading academics, and then supercharges the partnerships with the latest in computational power.
U of T is also emerging as a place to understand how AI and automation technologies will affect our lives. Just last month, Professor Brian Cantwell Smith, a philosopher and cognitive scientist, was named the Reid Hoffman Chair in Artificial Intelligence following a $2.45-million donation to U of T's Faculty of Information from the LinkedIn co-founder. The Centre for Ethics, too, has developed programming that focuses on the myriad ethical questions posed by AI development.
As for AI's impact on jobs, Mowat Centre Director Andrew Parkin recently embarked on a three-year project that aims to better understand how prepared Ontarians are to adapt to employers' shifting needs.
So far, Parkin says, there's a mix of good and bad news: Ontario remains on par with other leading jurisdictions, but there's already evidence of "skills polarization" emerging in the labour force, with some groups set to reap the rewards of technology-driven changes while others are at risk of falling further behind.
"Ontario is in as good a position as almost any other society to take advantage of these technologies," says Parkin, who is also an associate professor at the Munk School for Global Affairs & Public Policy and will be delivering an overview of some of the project's early findings at this week's economic summit.
"But that doesn't mean each and every Ontarian is well-positioned."
Case in point: The majority of the 21,000 students who took continuing education courses at U of T last year already had post-secondary degrees, according to MacDonald. Hence, a key challenge is finding novel ways – from online courses to condensed certificate programs – to encourage those without a post-secondary degree to continue investing in education.
 "As post-secondary institutions and continuing educations units, we have to be flexible enough to accommodate people who can't take big chunks of time out of their work days for education," says MacDonald.
She adds that, for the province, "It's really about creating a cultural of life-long learning. It's ultimately up to the individual to embark on it, but we can support it financially and in other ways."
UTC