U of T graduate Dede Akolo, a writer and poet, on why it's 'important to find a community'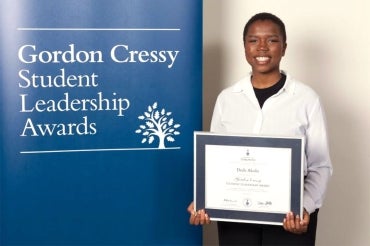 Originally from Vancouver, Dede Akolo graduated from the University of Toronto this week with a double major in equity studies and literature and critical theory. A member of University College, Akolo was also the recipient of a 2019 Gordon Cressy Student Leadership Award and editor-in-chief of the University College newspaper The Gargoyle.
Akolo is also an avid writer, with a particular interest in composing and performing poetry. 
"University College has open mics every month and I used to perform readings there all the time," Akolo says.
We spoke to Akolo about their experiences at U of T, plans for the future and the importance of finding one's community – in school and in life. 
---
What has been your most memorable experience at U of T? 
I think it was my first year and everyone I met while living in residence. Moving across the country from Vancouver, Toronto was so different in so many ways. So, I think having a good foundation of relationships was important. 
In my second year, I befriended some [senior] people as a younger student, and then when I became a fourth- and fifth-year student, I started mentoring younger people myself, through The Gargoyle and as a don in residence. 
Tell us a little bit about your major in equity studies and what your plans are after graduation. 
It was really cool to see a lot of mature students in equity studies – people who worked in the field, in non-profits and with certain communities. It's very interdisciplinary in that way. There are so many people coming from different backgrounds.
I know I want to do something of service to people. I think I want to go to graduate school, but I don't know yet. I'm taking this year off and applying to schools for next fall. 
My family is still in Vancouver and I do miss them. I have a lot of roots and a really huge support system there, but I also have a community here, so I think I'd like to stay in Toronto and figure out how to build my roots here. While I love Vancouver, it doesn't have the same opportunities that I'm looking for as Toronto does, such as in the arts or non-profit worlds.
Toronto is a very diverse city. What has your experience living and studying here been like?
Toronto's different from Vancouver in a lot of ways. In Toronto, people walk faster, they've got places to be. The transit system works so differently. Toronto's just bigger and faster and has more concrete!
Also, while I wouldn't call myself an activist necessarily, it definitely comes into the kind of work that I want to do – for social justice and for the betterment of people. And there's a real hub for that in Toronto, as well as such a history of really amazing social movements because of the city's diversity. And from within Toronto, you can make big connections to all across the world.
How did you develop your interest in writing? What role does writing play in your life, and what do you hope to keep doing with writing?
I got interested in writing at a very early age, so I've been writing for a really long time. My parents really believed in making us into citizens of the world, so they put us in a lot of arts programs and we did a lot of travel. So, when I was a kid, they really encouraged my writing.
Writing has been an expressive creative outlet for me. It's a way to put my thoughts into imagery and make them more concrete. It plays a huge part in how I process emotions and it's a way for me to express my views on the world.
Writing is actually a big part of why I want to stay in Toronto. The writing community here is really beautiful and blossoming. University College has open mics every month and I used to perform readings there all the time.
As editor-in-chief of The Gargoyle, there was actually a lot of office stuff to do as opposed to writing – like payments, budgeting, managing people, making sure that editors were doing things on time. 
If you had any pieces of advice for younger students, what would it be for them to get the most out of their U of T experience?
It's important to find a community. Find the people who can help you with advocating for yourself. You have to know your rights as a student.
Mental health is important. I personally had good experiences with some of the services that I've sought, but that's not the case for everyone. I want people to know that while there are systems that feel like they bog you down, there are also communities and people in place that want to change those systems and want to do so much good.
Mental health ties into things like financial security, housing security and accessibility, so organizing a community around yourself is so important for dealing with those things. You'll find a community if you look. 
I also think it's important to be purposeful with the people you want to see, the things they say and do, and the communities that you want to be a part of – in order to create the goodness that you want to put out into the world.
Organizing with students around issues that are meaningful to you can give you a sense of agency in an atmosphere like a big university that can sometimes be isolating.
It's so much more fruitful to build a community that is purposeful. 
Arts & Science