U of T grads seek out Toronto jobs as Canada's 'brain gain' gathers steam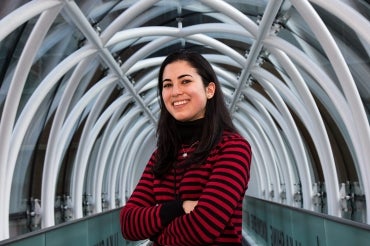 Juliana De La Vega may not care for Canada's winters or our bland imported fruit, but the University of Toronto graduate from Colombia says she can't think of a better place to launch a career.
While De La Vega initially flirted with the idea of working in Silicon Valley, she ultimately decided to focus her job hunt in Toronto while completing a master's degree in applied computing with a focus on machine learning. 
She's now employed as a deep-learning engineer at Toronto-based Surgical Safety Technologies. The startup uses artificial intelligence to comb through video and other operating room data to try and make surgeries safer.
"Basically, what we do here is, after the surgery happens, we will analyze [video and other data] to detect specific parts in the procedure where the surgeon may have made a mistake or an area that can be improved on," says De La Vega, who did her undergrad in Colombia in biomedical engineering and spent eight months working at Surgical Safety Technologies as part of her degree. 
De La Vega, who graduates June 14, adds that the quality of AI research being done at institutions like U of T was a major factor in her decision to stay in Canada.
"We have amazing researchers who I would die to work with – they are incredible," she says before rattling off a long list of U of T's star researchers in the field, from deep learning  "godfather" Geoffrey Hinton to self-driving car guru Raquel Urtasun. 
"In that aspect, Toronto is not far behind Silicon Valley – maybe in the number of companies we have here, but that's growing too."
De La Vega is one of a growing number of STEM (science, technology, engineering and mathematics) graduates in high-demand fields who are increasingly opting to stay on in the country to launch their careers. 
While the allure of Silicon Valley and other U.S. tech hubs is ever present, Toronto's growing status as an innovation hub means the trend is increasingly being offset by a "brain gain" phenomenon that's attracting talent from across the globe.
A survey earlier this year of 100 high-growth companies in the Toronto region found more than half reported a rise in international applications in 2017 over 2016. The study, done by the MaRS Discovery District, also found that 45 per cent of those companies had hired international employees – mostly from the U.S., India, China and Brazil.
"For the first time in my life, the North to South brain drain is flowing in the opposite direction," MaRS CEO Yung Wu said in a release accompanying the MaRS survey's results. 
"Top talent will go where they can work with the best and make the biggest impact and Canada has emerged as the obvious destination."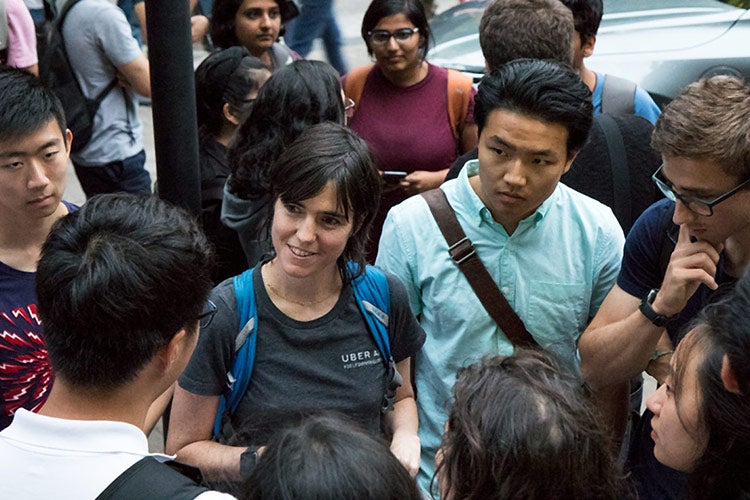 Canada is home to some of the world's top AI researchers, including Raquel Urtasun, an associate professor of computer science and the head of Uber's self-driving car lab in Toronto. Urtasun is pictured here at an Uber on-campus career event fielding questions from students (photo by Chris Sorensen)
The surge in foreign interest is attributed to the convergence of several factors, ranging from Canada's more open immigration policies targeting skilled workers to the country's emerging reputation as a hotbed of innovation activity. The AI field in particular has drawn intense interest – and investment – from some of the biggest tech companies on the planet. In just the past couple of years, Toronto alone has seen the arrival or expansion of research labs affiliated with Google, Uber and Samsung, to name a few. 
At the same time, Toronto has witnessed an explosion of innovative startup companies – supported by a growing network of incubators and accelerators at U of T and its partners – in industries that range from health care to satellite communications. That, in turn, provides a range of new employment options for graduates who are keen to get in the ground floor of a firm with the potential to be the next Google or Facebook. 
One example is ROSS Intelligence. Now headquartered in San Francisco, the startup co-founded at U of T by three alumni uses AI to assist lawyers with legal research and counts some of the world's biggest law firms as clients. ROSS opened an R&D office in Toronto last June in a bid to be closer to U of T talent and has so far hired about a half dozen U of T graduates for its 30-person Toronto operation, according to ROSS's CTO and co-founder Jimoh Ovbiagele.
David Acuña, another graduate of U of T's applied computer science program, is among those working at a Toronto office of a U.S. tech heavyweight – in this case, Santa Clara, Calif.-based Nvidia Corp., which makes graphics processing units, or GPUs, used for both gaming and machine learning applications. 
While Acuña had originally planned to split his eight-month internship requirement between Nvidia and Apple's Cupertino, Calif. headquarters, a delay in getting his U.S. visa processed later forced him to back out of the coveted offer from the iPhone-maker. 
"I was devastated," he recalls, as he sips an espresso at a hip downtown Toronto cafe. "Honestly, I've been an Apple guy – using iPhones, Macs and whatever – and then you secure that internship, but you can't go because the visa doesn't come in time?"
But what Acuña describes as a "very tough moment in my life," turned out to be a blessing in disguise. He says Matt Medland, an assistant professor, teaching stream and director of U of T's computer science department's professional programs and external relations, helped him work out a deal that saw him replace the Apple portion of his internship requirement with four months working in the lab of Sanja Fidler, a top computer vision researcher. 
"It was fantastic," says Acuña of working with Fidler, an assistant professor at U of T Mississauga's department of mathematical and computational sciences. 
"We ended up publishing the paper at CVPR [Conference on Computer Vision and Pattern Recognition], the biggest computer vision conference in the world."
Fast forward a year and Acuña recently received an offer to do his PhD at U of T under Fidler, which he may try to complete while working part-time. If he does, Acuña will join a growing number of U of T researchers who are splitting their time between academia and industry, reaping the advantages each has to offer. 
"Now I'm so happy this happened to me – it opened the door to so many possibilities by giving me the opportunity to work with a superstar in the field."
David Acuña is currently working at the Toronto office of U.S.-based Nvidia, one of several American tech giants that have expanded their presence in Canada in recent years
It's not only Canada's booming tech sector that's encouraging grads to stay here.
Chandini Chandrabalan is graduating on June 19 with a bachelor of applied science in electrical engineering, and is seeking to build a career in the power generation sector. Now employed at a local green energy company, Chandrabalan says Ontario, which has taken bold steps to modernize its grid and develop renewable energy sources like wind and solar, is an exciting place for someone in her field.
"You don't have to leave the country, or even the province, to find innovative research ideas," says Chandrabalan, whose studies included a 16-month stint at Hydro One and placements with U of T researchers who were working on everything from solar cell manufacturing to designing robots to conduct inspections of large power generators.
"Canada has a long-term commitment to climate change and staying within the various accords – things like that matter in the power industry."
De La Vega, meantime, says she found the prospect of living and working in the U.S. over the long-term dicey. "When I go to the U.S., I feel very different," she says. "I feel like my background matters a lot – and I don't mean what I've studied, but where I'm from. I get asked for random drug tests all the time. It's not fun."
But does she feel like she's selling herself short?  "No, definitely not,"  De La Vega says, adding that she's landed at an innovative company with the potential to make a big difference. "Actually helping improving the way surgeons work and helping to save some people's lives indirectly – that really makes my work mean something.
"It makes me want to go to work every day and tackle these problems."
UTC