U of T grad Shalice Coutu brings social justice to architecture and design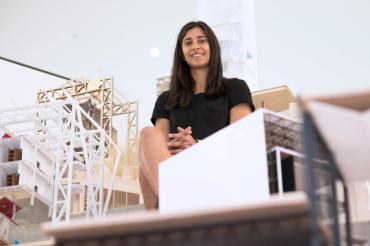 Toronto continues to grow, with sky-high condo developments, and pricey boutiques and restaurants sprouting up in neighbourhoods across the city. But amidst the revitalization and gentrification are groups of people – low income residents and new immigrants, for example – driven out of their neighbourhoods by rent hikes and expensive shops.
Though understanding and supporting the city's most vulnerable residents is traditionally in the realm of disciplines like social work and anthropology, Shalice Coutu is bringing social justice to architecture.
Coutu, who is part Métis, graduates Thursday from architectural studies at University of Toronto's John H. Daniels Faculty of Architecture, Landscape and Design. She is hoping to improve the lives of Canadians through built environments.
"I'm not in it necessarily for the building and the art form of architecture, but more in it to make people's lives better," says Coutu, who will be continuing her studies at U of T, pursuing a master's in architecture.
Coutu grew up in Prince Albert, Sask., a city of about 35,000 people. There, she cultivated an understanding of what inequality looks like.
"Coming from a small town in Saskatchewan that definitely has its share of poverty – I'm not oblivious to poverty around me, and I make a point to help those people," says Coutu, who spent many summers helping her brother run a volleyball camp in rural areas and First Nations reserves in Saskatchewan.
Though she was always interested in architecture, Coutu began her university career in Saskatoon where she studied psychology.
"Our opportunities in Saskatchewan are a little less available," she says.
But once she found out about the Daniels architecture program, she put the wheels in motion to transfer to U of T.
When she arrived in Toronto to start her studies at U of T, she hit the ground running – joining the Architecture and Visual Studies Students' Union (AVSSU), the D-league volleyball team and the faculty's mentorship program, later becoming the co-ordinator.
Coutu says getting involved played a big role in shaping her experience at U of T. She encourages current and future students to do the same.
"You can choose as little or as much as you want to take part," she says. "Looking back, I couldn't imagine going to school and going home – it would have been such a different experience."

Shalice Coutu in One Spadina's graduate design studio, where she'll be spending a lot of her time next year while doing her master's in architecture (photo by Romi Levine)
In class, Coutu says many of her professors were very supportive – going above and beyond, especially during stressful studio courses that called for late nights on campus.
"I couldn't believe how incredible every single one of my profs was," she says.
Erica Allen-Kim, assistant professor, teaching stream, at Daniels, says she was inspired by Coutu.
"She brings a critical awareness particularly of issues of inequality and the potential negative impact of planning, architecture and design on vulnerable populations' psychological and physical well-being," she says. "The way she balanced her artistic, creative energy with a real moral compass I thought was very striking."
Allen-Kim was particularly impressed by the work Coutu did in her history of urbanism course around safe injection sites.
"She wanted to understand the safe injection sites not just in terms of health protocol but also where they're specifically located and how they're designed – trying to really understand these as built designed spaces that are interwoven in the city, and to see how we can potentially design cities that are more diverse and more inclusive for lots of different kinds of people," she says.
Coutu says she was drawn to that topic because she wants to understand the tensions created by gentrification, arguing in the papers she wrote that safe injection sites will reduce the overdose rates.
Allen-Kim says Coutu's work in her course made her rethink the way she teaches about urbanism – altering her curriculum for future semesters to include different perspectives.
"She really pushed my comfort zone on what is design, what is architecture," says Allen-Kim. "She brought the topic to me, and I thought that when I'm talking to students, it's something they should be aware of as well."
Coutu has seen firsthand the impact inclusive architecture can have on people. She spent her previous summer working at an architecture firm in Saskatchewan where she helped with the design of a daycare for children who had complex medical needs.
"We showed the [daycare's] CEO the rendering, and she actually started tearing up… it was such an amazing moment that made me realize why I was in architecture," says Coutu.
At the same firm, she worked on the design for a school located on a First Nations reserve – piquing her interest in Indigenous architecture.
Coutu says she would like to eventually return to the prairie provinces to design for Indigenous communities.
"Going to U of T definitely wouldn't have been possible without the amount of scholarships I got – especially Métis scholarships – so I really want to go back and give back to that community," says Coutu.
In Canada, Indigenous architects are severely underrepresented. According to Métis architect David Fortin, there are only 18 registered Indigenous architects in Canada out of 10,000 – a number that prompted the Royal Architectural Institute of Canada to launch an Indigenous Task Force, which is looking at ways to promote and foster Indigenous architecture and includes incoming U of T master's of architecture student James Bird.
Coutu says that being a part of the trailblazing new cohort of Indigenous architects could be advantageous.
"It's exciting because since the number is so low, it's not a field that has readily been searched and worked in," she says. "You can set the tone – opportunities are endless, and you're becoming the role model for future generations."
UTC