Indigenous U of T students represent Canada at the Venice Biennale of Architecture
James Bird's "pinch me" moment came when he was sitting in a baroque room in a fancy hotel in Venice with 18 Indigenous architects, Ontario's lieutenant-governor and the Canadian ambassador to Italy.
"I was struck by the moment – thinking that this is a bit of history being made here," says Bird, who is about to begin his master's of architecture in the John H. Daniels Faculty of Architecture, Landscape, and Design.
The event was held to launch Canada's entry into the prestigious Venice Biennale of Architecture, an international event showcasing architecture and design from all over the world.
The entry, Unceded: Voices of the Land, puts a spotlight on the work of the 18 Indigenous architects from Canada and the U.S. Led by famed architect Douglas Cardinal, Unceded delves into the rich cultures and traditions of Indigenous peoples on Turtle Island (North America).
The exhibition includes storytelling elements, incorporating themes of Indigeneity, resilience, sovereignty and colonization, says Bird, who is Nehiyawak (Cree)/Métis from Fort Smith, N.W.T.
"It would be interpreted through Indigenous ideas and architecture using the cosmology and the world views of Indigenous people," he says.
For many of the exhibition-goers, who come to Venice from all over the world, Unceded is their first introduction to Indigenous culture, says Bird.
"We have a book at the end of the Biennale where people are signing and adding their comments – a lot of it is new knowledge to them," he says. "They don't really know of they history of colonization in Canada, how Indigenous people were colonized, the residential school system – that was all new to them."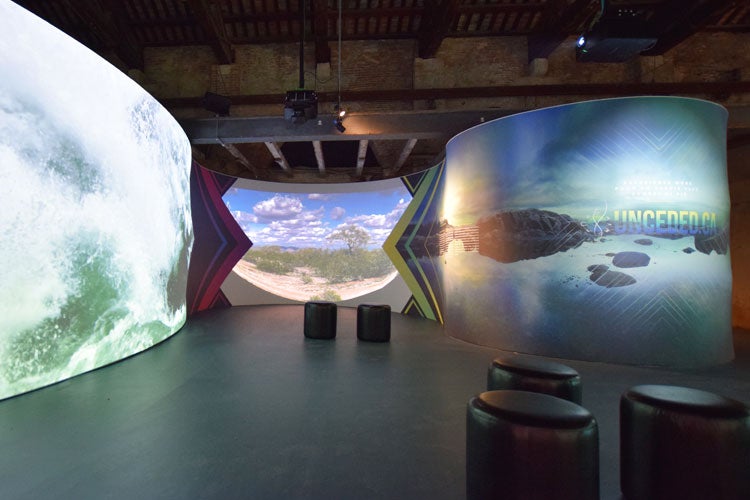 The Unceded exhibition consists of curved walls with projected images, allowing Indigenous architects to tell their stories in their own words (photo by Cueyo Laux)
Nine Indigenous architecture students from across Canada have been selected to come to Venice this summer to participate in the Biennale. They will help with the programming and offer insight to attendees into what it's like to be Indigenous in Canada. Their universities are helping to fund their stay.
As the student co-ordinator, Bird is facilitating the student trips and assisting with their travel arrangements. He says participating in the Biennale is a chance to learn from the best.
"It's an honour to be amongst these big names in international architecture," he says. "It's influenced how I work with design, how I interpret form and space – it's an incredible opportunity."
Kateri Lucier-Laboucan, an undergraduate architecture student at U of T, is one of the students selected to attend the Biennale. Lucier-Laboucan, who belongs to the Little Red River Cree Nation, became interested in architecture with the intent on improving the housing on her reserve, Fox Lake, in northern Alberta.
"It's been something I've been so passionate about for a long time," she says.
Lucier-Laboucan says the Biennale will introduce people from around the world to Indigenous history and how it can apply to architecture.
"This is the first time where there's been a platform that showcases Indigenous architecture and what it means, and it's actually really exciting for me to be a part of it," she says.
Student participation in the Biennale is also an indication that universities across Canada are on the path to reconciliation, says Bird, who was on U of T's Truth and Reconciliation Commission steering committee.
"This really represents real action because each one of these universities that has sent their students, has sponsored their student – it's quite a hefty contribution each school has made," he says. "To see these schools step up is a really encouraging sign to see that reconciliation is being taken seriously, at least in academia."
UTC