U of T grad seeks to make care for traumatic brain injury patients more equitable
Samira Omar's research was inspired by her experience caring for her brother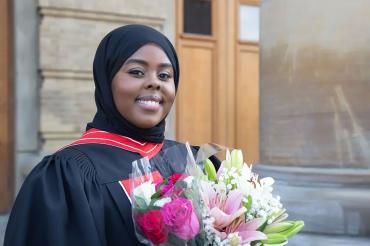 Samira Omar, who recently graduated with a PhD in rehabilitation sciences from the University of Toronto's Temerty Faculty of Medicine, is driven by care and curiosity.  
Her research lies at the intersection of equity, rehabilitation science and racism – with a focus on rehabilitation care for Black-identifying people with traumatic brain injuries (TBI).  
Omar's work is inspired by her experience caring for her brother, who experienced a traumatic brain injury nine years ago.  
"My brother was an in-patient for over three years," Omar says. "During that time, I spent 18 hours a day at his bedside making sure he had a voice and that people treated him like a human being who had a life to look forward to after he left the hospital.
"I was disappointed with the quality of care he was receiving, which I was convinced was based on our appearance and other people's perceptions and assumptions about our background." 
While Omar had been planning to become an occupational therapist, she says she shifted her focus once she saw the potential to make rehabilitation care more equitable for people who identify as Black.  
She says she soon realized there was very little academic literature addressing either racism in rehabilitation care or quality of life for Black people who live with a TBI.
In one of her first studies, a scoping review to map existing literature, Omar recalls discovering that Black people were often omitted from research, or included but with an emphasis on their underperformance. She says few people interpret those findings as racist, pointing only to the components of systemic racism and failing to name the causes that perpetuate the problem.
Today, Omar studies institutional racism and its manifestations in TBI rehabilitation research and practice. In a recent project, Omar looked at the qualitative experiences of Black people with TBIs and their family caregivers – and how their care could be improved. 
"Throughout my dissertation, I've had multiple opportunities to work with students, faculty and people within the TBI community to break the ice on ideas of race, racism and intersectionality, and on the importance of these structural factors in peoples' rehabilitation experiences and trajectories," Omar says. 
In addition to her research, Omar has advocated for changes to reflect greater equity, diversity and inclusion within rehabilitation curricula. She has also contributed to Temerty Faculty of Medicine's Summer Mentorship Program, which offers high school students of African or Indigenous ancestry an opportunity to explore the health sciences at U of T.  
And she continues to provide full-time support to her brother.  
Omar has been recognized with several awards over the course of her studies, including the Change-Maker Award from Neurological Health Charities Canada in 2021. The award recognizes people or organizations that make meaningful differences to improve the quality of life for Canadians with brain conditions.  
"I do not know of any other person with lived experience of neurological disability who has addressed anti-Black racism in such a profound way both through advocacy and science," says Angela Colantonio, director of the Rehabilitation Sciences Institute and a professor of occupational science and occupational therapy at Temerty Medicine. "Samira has been incredibly generous with her time to illuminate others with her insights that are so badly needed right now."  
Omar has been recognized with the Brain Injury Society of Toronto's Vetter Volunteer of the Year Award and honorary membership in the Canadian Association of Occupational Therapists, and is a recipient of U of T's Gordon Cressy Student Leadership Award and the inaugural Temerty Faculty of Medicine Excellence in Professional Values Award.   
Upon completion of her PhD, Omar plans to train at U of T to become an occupational therapist and to inspire future generations to consider the rehabilitation needs of all populations.  
"We all have a responsibility to understand the role we play and how big a difference we can make to one person, whether as a practitioner or through the questions we ask in research," Omar says. "We need to ask, 'Who are we missing?' And we need to consider those who might not be served by a one-size-fits-all approach." 
Medicine