From U of T grad to Rory's dad: actor David Sutcliffe on the 'Gilmore Girls' revival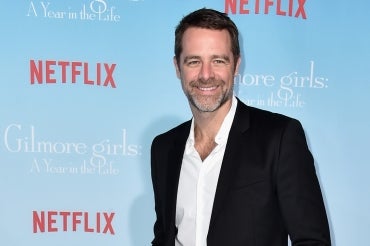 The Gilmore Girls revival premieres on Netflix Friday night, and University of Toronto students are waiting for the much-anticipated return of Lorelai and Rory. 
As U of T super fans host Gilmore Girls marathons on campus and get ready to watch the new season, U of T News tracked down a U of T connection. 
David Sutcliffe, who plays Rory's sometimes-absent father and Lorelai's on-again-off-again boyfriend, graduated from U of T in the early nineties. The 47-year-old actor – born in Saskatoon and raised in Grimsby and St. Catharines – was recruited to play basketball at University of Toronto. 
He reminisced about his university years and chatted with U of T News about the new season and what's ahead for his character, Christopher Hayden. 
---
What was your major at U of T? 
I was an 'English lit' major at Victoria College. 
I actually stayed in the same residence house as Donald Sutherland, whom I just worked with (on Milton's Secret), which is kind of an interesting piece of trivia. 
I was told when I moved in – even before I thought of becoming an actor – that the most famous resident was Donald Sutherland. So when I worked with him, we talked about it a little bit. 
I read once that you were on the Varsity Blues basketball team but that a back injury led you to take up acting 
Exactly. I was on the Varsity team at U of T, but in my second season, I started having a lot of back pain. I was diagnosed with a herniated disk. And it just became chronic. 
I was living with a guy who was a playwright, and he won this writing contest. Now, I had all this free time – this time that I had used for practicing and sports. I was looking for other things to do. He asked me to audition for a play. I did, and he gave me a small part. 
I was hooked right away. I did all kinds of theatre around U of T, at Victoria College and Trinity College.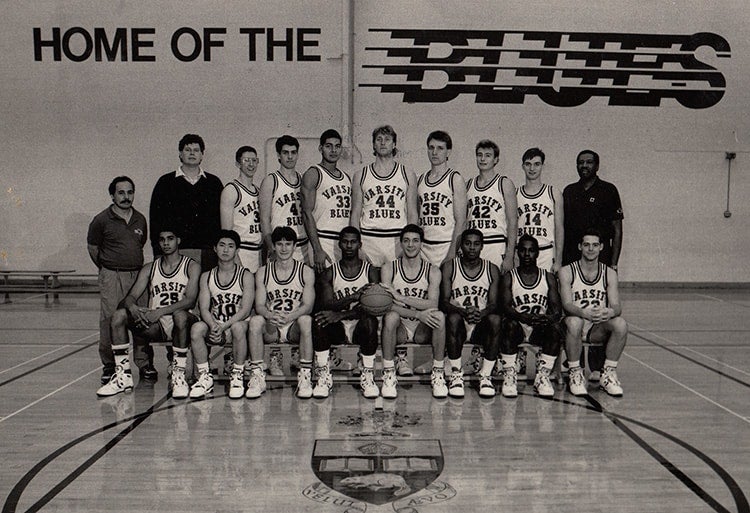 Actor and U of T alumnus David Sutcliffe (seated at the bottom right) played on the Varsity Blues basketball team during the 1989-1990 school year (photo courtesy of Varsity Blues)
What's your fondest memory here? 
We had some great parties. I'm not really a party guy, but we were the house that threw the best, wildest, craziest parties. It was fun to be part of that university experience. 
The two years I played for the basketball team were really exciting. I met a lot of good guys there and feel sad I wasn't able to continue. And of course all the theatre I did at U of T. I did tons of shows all around. I directed shows. It was exciting. You're with people – everybody's young, you're trying to figure it out, and you're discovering things together – it's a special time. 
I want to ask you a very serious hypothetical question now: If Rory chose to go to university in Canada – no bias here, but assuming she'd go to U of T – what college would she be in? 
I don't know, man. (Laughs) I hoped she'd go to Vic, where I went. But I don't know, she's a smart kid – she would probably go to Trinity, right? If you go to Yale, like she did in the show, then probably she'd go to Trinity. 
Do you have any advice for young aspiring Canadian actors? 
You've got to follow your own path and be in it for the right reasons. You have to be really good, and you have to be honest with yourself if you have the raw talent. The people who are in television and movies, and work consistently, every single one of them is a really, really, really good actor. There are so many good actors who work in Los Angeles, and it's extremely competitive. 
How does it feel to come back and be part of the revival? 
I don't have a big part in it, but the show was a big part of my life and my career. I don't think any of us really understood at the time what it was or what it was going to become. 
It's nice to revisit it with the ability to have an appreciation for what it is. When you're working on it, it's work, right? It's 12, 14 hour days. You just kind of get through it. And the show wasn't that popular when it was on the air. It had a very passionate and loyal fan base, and it was well-reviewed, but it wasn't like, you know, CSI or something. But it stayed, and it became a part of the cultural fabric. It became a classic. 
It's nice to know you are a part of something that touched a lot of people's lives, and that it was meaningful. 
How do you explain that it's become such a cult phenomenon? 
That's a good question. If people knew the answer, they'd be making these kinds of shows all the time. It's kind of like lightning in a bottle. It starts with (show creator) Amy Sherman-Palladino. She's a visionary. You combine that with perfect casting with Lauren Graham (who plays Lorelai Gilmore) and Alexis Bledel (Lorelai's daughter Rory). And then all the townspeople were just great. Something magical happened. 
Beyond that, I think there's something about the show that was about a return to a simpler time, about family and community. In our fast-paced world filled with technology and complications, there's something soothing and grounding about those ideas. 
What kind of direction did you get while playing Rory's father? 
Amy Sherman-Palladino is pretty specific. She has a vision, for sure – more than a lot of other showrunners I worked with. In terms of the language, we couldn't go off script at all. Every "and," "but" and "if" had to be in there. It was like doing Shakespeare, and I understood because the language was specific and had a rhythm to it.
What did she tell me? In terms of the overall arc of the character, mostly that he was in love with Lorelai – always was and always would be – and wants her back. That's his objective throughout the series. 
Even in the new season? 
We're at a different point. I think that'll always be there for him. But at a certain point, life kind of moves on, and you have regrets. I think he's reconciled to where it's at right now. I think there's sadness there for him, some loss. Probably for her too because the chemistry was there. We all have those relationships that are filled with emotion, passion and love, and they're complicated. But you have this feeling, like it's not meant to be. 
I crowdsourced a few questions from Gilmore Girls' fans: Are you on Team Luke? A lot of fans have mixed feelings about Christopher. How do you feel about the character? 
It's funny. I have mixed feelings too. It's hard to separate myself obviously, but it's been years. When you're playing a character, you tend to root for your character. I love Luke. I think he's amazing on the show. (Actor) Scott Patterson is so funny. He's so smart. Their chemistry is amazing, but there's something – I don't feel it all the way in terms of their relationship. I actually feel Christopher and her are a hotter couple. 
With that said, Chris is a nightmare. It depends what you want. If you want stability, a nice guy, you go Team Luke. If you want fire and passion, I think you go Team Chris. 
Next crowdsourced question: What was your most memorable moment working with the late Edward Herrmann (who played Lorelai's dad)?
The scene I remember is in the first episode I was in, in the first season – "Christopher Returns." There was a big scene where our parents get into a fight. My parents and Lorelai's parents get into a fight in the drawing room of their house. That scene took about a whole day to shoot. I didn't know who Ed Herrmann was, but by the end of that day, listening to him tell stories – he has worked with everyone and had been in so many amazing movies. It was fun to be around a Hollywood legend. 
Donald Sutherland was the same way. He's 81 years old, and the guy's on fire every day. He can't wait to get to set. He's so passionate. 
Amy Sherman-Palladino is rumoured to have planned the show down to the last four words. What are the last four words? Can you at least say if fans will get a happy ending? 
I can't say. (Laughs) I don't know anything about the last four words. I know nothing. I know nothing. I do know. I will say that – but I'm not saying [anything]. 
Will there be more episodes after this season? 
I will say I think people are hopeful. I don't think it's a definitive "no." I think it's very possible that there could be more.