U of T-founded Creative Destruction Lab receives $25 million from Canadian government
The federal government is investing $25 million in the Creative Destruction Lab, a seed-stage startup program first launched at the University of Toronto. 
The investment, announced today at U of T's Rotman School of Management, will spur research and development into science-based startups, attract investment in Canadian companies and encourage more young women to pursue opportunities in STEM (Science, Technology, Engineering and Mathmatics) fields.
"Creative Destruction Lab's exciting project promises to unleash a new wave of startup innovation across Canada, creating thousands of middle-class jobs and further securing Canada's position as a world leader in the AI field," said Navdeep Bains, Canada's minister of innovation, science and economic development. 
"Our government is proud to make investments that will help turn hundreds of innovative ideas into the good jobs and companies of tomorrow." 
The investment, by the government's Strategic Innovation Fund, will flow over four years, helping CDL back a number of upcoming initiatives. They include scaling up more than 1,300 science-based startups across the country – a move expected to create up to 22,000 jobs. CDL will also launch a new program aimed at encouraging young women to pursue STEM fields, opening up spots at future CDL sessions for up to 1,500 female high school students.
"This is a tremendous moment," said Professor Tiff Macklem, who is Rotman's dean. "Thank you Minister Bains, the Government of Canada and everyone that saw the vision and the opportunity of the Creative Destruction Lab."
Founded in 2012 at Rotman School by Professor Ajay Agrawal, CDL focuses on building science-based companies. Over the years, it has helped grow more than 500 science-based ventures through mentorship and access to entrepreneurs and angel investors who help founders set measurable, focused objectives. CDL itself has also expanded significantly and now operates out of five universities across Canada, as well as New York University.
"First-time founders of science-based companies, while fully committed to the success of their venture and possessing deep knowledge in their technical domain, often lack the business judgment required to prioritize among the almost infinite list of to-dos required to successfully build and scale their business. Our structured and rigorous program helps them with that prioritization process," said CDL executive director Sonia Sennik. "While we fully leverage market forces to provide prioritization guidance from individuals who themselves have built successfully scaled businesses, the coordination of those market forces requires non-market support.
"That is why we are so grateful to the Government of Canada for supporting our mission that will drive economic impact and create jobs, learning opportunities, and global leadership for deep-tech and science-based companies across Canada."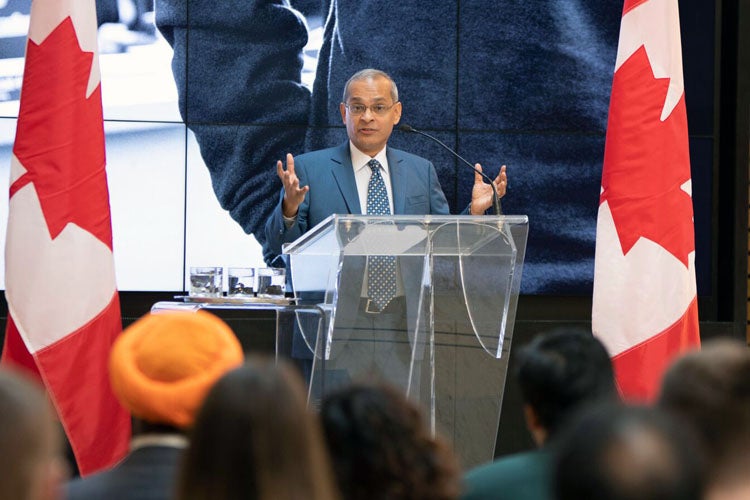 Vivek Goel, U of T's vice-president of research and innovation, said CDL itself is an example of a startup that's now scaling globally (photo by Eugene Grichko)
CDL supports ventures that specialize in artificial intelligence, blockchain, cities, energy, health, quantum machine learning and more. Companies that have participated in CDL have created more than $3 billion in equity value to date. Alumni of the program include Thalmic Labs (Waterloo), Atomwise (San Francisco), Deep Genomics (Toronto) and Kyndi (Palo Alto).
Earlier this year, CDL launched a new stream designed for supporting entrepreneurs interested in breaking into space-related markets. 
The new investment "will not only help the Creative Destruction Lab continue to do business here in Toronto, but at its sites across the country and around the world," said Professor Vivek Goel, U of T's vice-president of research and innovation.
"The Creative Destruction Lab is an example of a startup that is now scaling globally." 
Rotman