Students attend the launch of the Black Future Lawyers (BFL) program at U of T's Faculty of Law on Jan. 15 (photo by Muna Khalil/View in Lens Photography)
The University of Toronto's Faculty of Law is hosting the Black Future Lawyers conference this weekend – now an annual event that aims to provide attendees with the information they need to apply to, and succeed in, law school.
The free, full-day undergraduate student conference will be held on Feb. 29 and comes on the heels of the launch of the Black Future Lawyers (BFL) program earlier this year.
"We've received an overwhelmingly positive response from across U of T and the legal community at large," says first-year law student Asha Gordon, an organizer of this year's conference.
"Currently, 251 undergraduates have signed up to participate in BFL programming and 47 lawyers are volunteers."
Inspired by the U of T Faculty of Medicine's Black Student Application Program, BFL engages and supports prospective and current Black-identified law students and offers opportunities for BFL members to participate in special lectures and events, as well as mentorship and job shadowing opportunities.  
"An essential part of the BFL initiative is creating a community of support and so we've added two new segments to this year's conference," says Gordon.
"Attendees will have access not only to application strategies, they'll also have the opportunity to receive direct guidance on their legal career aspirations from Black lawyers and students at this year's networking lunch and conference reception."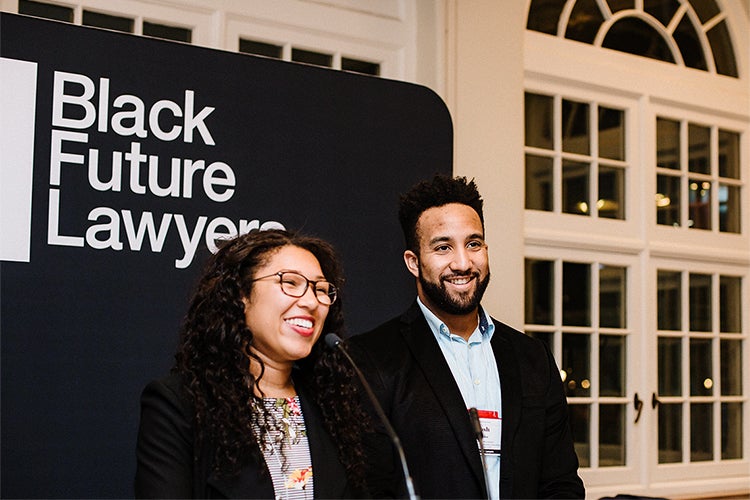 Black Students' Law Association President Rebecca Barclay Nguinambaye and Treasurer Joshua Lokko give opening remarks at the BFL launch event, Jan. 15. Both are co-founders of Black Future Lawyers and part of the organizing committee for this year's conference (photo by Muna Khalil/View in Lens Photography)
Talks will include a keynote address on diversity in the legal profession by U of T law alumna Atrisha Lewis, an associate at McCarthy Tétrault and bencher for the Law Society of Ontario.
U of T Law Adjunct Professor Abdi Aidid, who is also vice-president of U of T startup Blue J Legal, will discuss how artificial intelligence is changing the law.
The conference, which was first held in 2019 and is now an annual event, is supported in part by Toronto firms Blakes, Dentons and Torys LLP.
Linc Rogers, a partner at Blakes, feels programs such as BFL are critical to diversifying the legal profession and promoting inclusion.
"In my experience, pipeline initiatives are some of the most effective ways of inspiring interest, encouraging engagement and fostering long-term success," says Rogers. 
"They can be an effective means of demystifying the practice of law at an early stage, thus making it more accessible. This benefits not only students, but the profession itself."
Attendees will get the chance to interact with U of T's Black Law Students' Association members – who took home the Small Chapter of the Year Award from the Black Law Students' Association of Canada earlier this month – at an "ask me anything" panel.
BFL mentor Konata Lake, a partner at Torys, says there's a growing recognition that the legal community needs to focus on increasing representation from communities not traditionally seen in the legal profession.
"That's how you get the best out of people," he says. "If you can say you're valuable for who you are, you're valuable for your perspective, your diversity – the experience becomes enriched."