U of T faculty and staff to highlight teaching and learning projects at annual symposium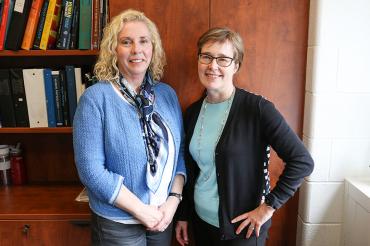 One initiative uses an app that encourages active learning. Another wants to help students reframe how they think about failure. Yet another enhances knowledge of science by developing materials for high school students.
As University of Toronto faculty gather for tomorrow's Teaching and Learning Symposium at the Rotman School of Management's Desautels Hall, the U of T Teaching Academy and colleagues from across the university will highlight how these and other projects are contributing to enhancing the student experience. 
The academy, composed of past President's Teaching Award winners, is an advisory group that offers expertise and advice to U of T's Office of the Vice-President & Provost and the Centre for Teaching Support & Innovation, or CTSI.
"All three ideas represent innovation and experimentation of how to enhance our student experience and how to focus on things that we know make a difference for our students and the meaningfulness of their time at the University of Toronto and the kind of skills and knowledge that they're developing that are going to serve them well in life," says Carol Rolheiser, CTSI's director and an academy co-chair.
"Part of what CTSI and the Teaching Academy are all about is we're trying to influence the great teaching culture we have here, knowing we can always continue to improve." 
The CTSI is U of T's hub for teaching and learning development. The centre serves instructors, graduate students and teaching assistants on all three campuses with leadership and support on all teaching related and student engagement issues – including through the teaching academy. 
Professor Carol Rolheiser (photo by Perry King)
The highlighted projects will open opportunities for further collaboration and encourage innovation, adds Rolheiser, a professor in the department of curriculum, teaching and learning at the Ontario Institute for Studies in Education (OISE).
One of the initiatives is a learning app called Team Up!, which has already been used by thousands of students. Invented by Melody Neumann, an associate professor, teaching stream, in the department of cell and systems biology, the game-like app was initially created to enhance a second-year, webinar-style course.
"I wanted the students to work in groups, in their virtual breakout rooms, together on some kind of problem set," says Neumann, who thought of the app as a "low-stakes" approach to developing teamwork skills and a connection to the course material. "I wanted [the students] to get immediate feedback while they were working on a problem set, and I wanted them to work together to build consensus before they would choose an answer."
Funded through internal grants, Team Up! was recently showcased to U of T President Meric Gertler and Vice-President and Provost Cheryl Regehr by Michelle French, an associate professor, teaching stream, in the department of physiology. Now available on mobile, tablet and desktop devices, the app is supported by the university's online teaching and learning environment Quercus and fosters collaboration among students. It was used in 10 undergraduate courses by about 6,000 students this past school year. 
"We don't know of any other app that allows this dynamic grouping function plus the immediate feedback," says French, who won a President's Teaching Award in 2017.
In addition to building connections and workplace skills, French and Neumann emphasize that Team Up! also delivers cost savings since it's an alternative to educational services like Top Hat and devices like clickers.  "As someone who has used it in a few courses now, the financial savings [are] huge," says French, who noted students collectively saved about $250,000 over the last school year alone.
"As an instructor at the university, we all want to include more active learning in our classes and there are many different ways you can do it. This is one way where the barriers are really low," added Neumann.
Neumann and French want to build the app's bandwidth capacity, expanding question types and opening the platform to more social sciences and humanities courses.
It's an app that Fiona Rawle says could come in handy as her own teaching project takes its next steps. 
Rawle (pictured right), an associate professor, teaching stream, in the department of biology at U of T Mississauga, has been developing an undergraduate course about failure. Her course, titled "Productive Failure: Teaching Students the Value of Failure in Science," seeks to inform students about embracing failure, learn and bounce back from failure and recognize the value of failure in science and everyday life.
"Failure is such a crucial component of science. To be a good scientist, you need to be good at failing, and that hasn't been taught before in the concept of science," says Rawle, who won a teaching award from the Ontario Confederation of University Faculty Associations and a President's Teaching Award in 2018.
"Sometimes when we teach science, we teach how science was done, we teach about past experiments. I want to teach students how to think like a scientist and that means you have to be open to failure."
After an initial pilot was embedded within an introductory biology course at U of T Mississauga, Rawle has reframed the course for this coming fall semester to include material on failure. Instead of an initial lecture on biology content, students get a lecture on the science of learning, including how we learn from failure and why embracing failure is important. Rawle will be weaving in new case studies for students, unveiling a podcast – which will explore historical examples – and bringing in personal narratives of failure. 
Rawle hopes her students take away valuable practical skills. "When students graduate, we don't want them to regurgitate a list of facts," she says.
"We want to ask good questions, seek out answers, to be critical thinkers and resilient learners."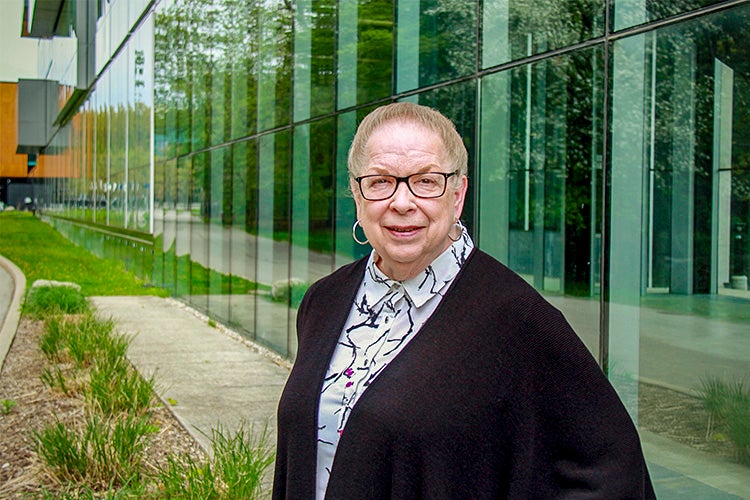 Professor Judith Poë (photo by Drew Lesiuczok)
Judith Poë, professor, teaching stream, in the department of chemical and physical sciences at U of T Mississauga, hopes her Science Pedagogy Research Opportunity Program (ROP) participants – second- to fourth-year students – also learn key skills and teaching knowledge.
In her initiative, Poë's ROP students are challenged to pay attention to detail as they develop learning materials for Grade 11 and Grade 12 STEM (Science, Technology, Engineering and Mathematics) courses and facilitate in-class lessons.
"Their attitude toward this work is quite different because it's their creation and it's going out there for the world, on the web, and it's going to be used in real schools by real students," says Poë, who won a President's Teaching Award in 2007.
Within the ROP, after her students learn about problem-based learning pedagogy, they select a topic, define their learning objectives and create a real-world scenario for their students to solve, which may include an accompanying experiment. They then work with a teacher, either in the high school or at the U of T Mississauga labs, to facilitate the high school students' work on the problem.
The high school students also prepare their problem for publishing on Poë's pedagogy website.
The program has built a stronger relationship between U of T Mississauga and local high schools, Poë says, and the feedback from her students and high school teachers has been positive. "A measure of the success is the fact that the [high school] teachers keep coming back for more," says Poë.
"They're seeing increased interest in the subject and increased critical thinking in the classroom."
Poë  is considering expanding the program's scope to include environmental science, and possibly transform the program into a full course.
In the short term, because the ROP program is labour intensive, with much more "one-on-one" interaction compared to a standard lecture course, Poë wants to increase teaching help to accommodate the growing demand.
"With appropriate personnel," she says. "We could accommodate a great many more students." 
UTC