U of T extends Scott Mabury's term as vice-president, operations and real estate partnerships, and vice-provost, academic operations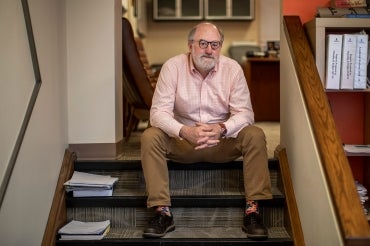 Professor Scott Mabury, a renowned environmental chemist, will serve as University of Toronto vice-president, operations and real estate partnerships and vice-provost, academic operations for another three years. 
At a meeting on Dec. 15, the university's Governing Council approved an extension of Mabury's term until June 30, 2026. 
"Professor Mabury's visionary leadership of this large and complex portfolio has had a profound impact at the University of Toronto," President Meric Gertler said. "The extension of his term ensures that the university maintains momentum and maximizes opportunities to complete the major initiatives currently underway. 
"I am deeply grateful to Scott for his outstanding service to the university, and for his willingness to continue in this key leadership role." 
Mabury was already serving as vice-provost, academic operations, when he became U of T's inaugural vice-president, university operations in 2012. 
From the start, Mabury says, the idea of putting a professor in charge of this vast portfolio was to better align the university's operations with its academic mission. 
Mabury says as he watched Ron Saporta, chief operating officer, property services and sustainability, present the President's Advisory Committee on the Environment, Climate Change and Sustainability's 2022 report to Governing Council, it was clear how much progress had been made toward this goal. 
"We're talking about operations and research and courses and students in this very integrated way," he says. "The premise in the origin story of the portfolio has come to pass." 
Mabury has led several key initiatives to make U of T's campus more sustainable. Among his recent accomplishments: 
The Landmark Project, slated for completion in 2023, that will transform the historic core of the St. George campus into a greener, more accessible park-like setting, and make Front Campus home to Canada's largest urban geoexchange field. 
But even as U of T's leadership in sustainability wins recognition, there's more work to be done, Mabury says. 
His vice-presidential role was expanded in 2019 to include the newly created real estate partnerships portfolio, a reflection of his leadership in establishing U of T's "four corners" strategy to develop on-campus housing, innovation space and other services. 
In his extended term, Mabury says he hopes to further develop U of T's real estate assets to advance the university's mission while generating an economic return. To achieve this, Mabury says, he plans to leverage what he sees as one of his greatest assets: his team.
"I'm blessed with exceptional and talented leaders in my portfolio and, paraphrasing Steve Jobs, we've hired smart people so they can lead the way.   
"Our priorities include delivering thousands of units of university housing, to help attract and retain faculty, staff and students, and complete the vision that is the Schwartz Reisman Innovation Campus by building the second phase building with over 400,000 square feet of bioscience labs critical to advancing the innovation economy in Toronto and Canada."
Mabury's portfolio oversees about 1,800 people across the three campuses and departments ranging from design and engineering to food services. Key responsibilities include campus and facilities planning, project development and information technology and cybersecurity. 
He also supports the provost on budgetary matters to secure the long-term financial health of the university. 
A fellow of the Royal Society of Canada, Mabury is among the most highly cited scholars in his field. His research interests remain primarily focused on the environmental chemistry of fluorinated organic chemicals.
UTC