U of T experts and Friesen Prize winner debate gene editing, AI and other disruptive medical technologies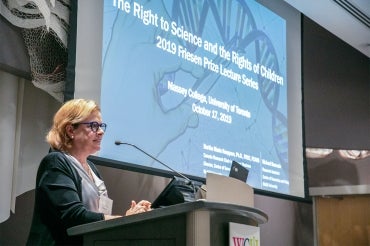 Gene editing represents a promising new pathway to treat disease-causing mutations and other medical conditions. But as with other powerful emerging technologies, it also raises many ethical and legal concerns. 
On Thursday, a panel of distinguished University of Toronto experts and McGill University's Bartha Knoppers, a world-leading expert on the issues surrounding biomedical research in genetics and genomics, grappled with the ethical dilemmas posed by gene editing and other disruptive new technologies, as well as their potential to revolutionize medicine. 
Knoppers said gene editing raises difficult questions involving the rights of children and future generations – questions that erupted into public consciousness last year after a Chinese scientist claimed to have used the powerful gene-editing tool, Crispr, to alter human embryos, which were then implanted in the womb of a woman who gave birth to twin girls.
News of the experiment, intended to protect the girls – whose father is HIV-positive – from the virus, was greeted with outrage and even calls for a moratorium on gene editing research. 
But Knoppers said a ban would be the wrong approach since it would "silence debate" and wouldn't cover "outlier" scientists. Instead, she argued for emphasizing the rights of children and patients, while taking into account existing laws and international obligations.
"Let's see whether there's some sort of road map for translation as we move to perhaps one day having germline editing under certain conditions," she said. 
Knoppers, the winner of the 2019 Henry G. Friesen International Prize in Health Research, made the remarks during a Friesen Prize lecture at Women's College Hospital that was co-sponsored by U of T's Schwartz Reisman Institute for Technology and Society, a new interdisciplinary home for scholars studying the impact of technology and innovation on society. Other sponsors included U of T's Joint Centre for Bioethics, Massey College and Friends of the Canadian Institutes of Health Research.  
In the panel discussion that followed experts, including U of T President Emeritus David Naylor, picked up on the theme of disruptive technologies and their impact on medicine, focusing on big data and artificial intelligence. 
Panelist Gillian Hadfield, inaugural director of the Schwartz Reisman Institute for Technology and Society, as well as a U of T professor of economics and law, remarked on the role of universities in developing governance systems for introducing algorithmic decision-making in all kinds of fields, including health care. 
Alan Bernstein, president and CEO of CIFAR (the Canadian Institute for Advanced Research) spoke about AI's untapped potential to provide new diagnostic tools and treatments.
Meanwhile, Ronald Cohn, the president and CEO of the Hospital for Sick Children and chair of U of T's department of paediatrics in the Faculty of Medicine, described how AI and data are already being used in the hospital's intensive care unit to save young lives. The unit gathers millions of data points every second – "the amount of data we collect per patient, per second, is the same amount that falls down, in terms of water, Niagara Falls," Cohn said.
The wealth of data has helped the hospital create an algorithm predicting with 75 per cent accuracy whether a child will have a cardiac arrest, according to Cohn. "If you have an algorithm in place that tells you five minutes ahead of time the worst case scenario, you're at least all assembled around the bed and you can act when it happens … or maybe you can actually prevent it from happening."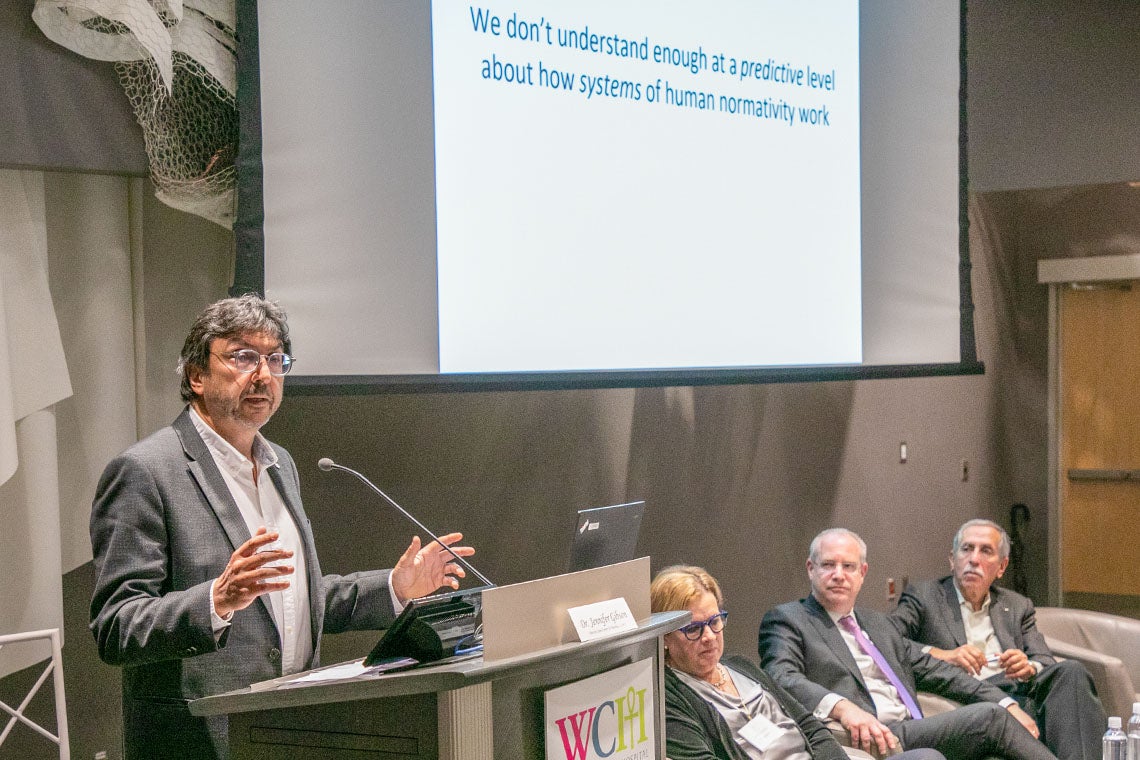 U of T President Emeritus David Naylor, an expert in health-care policy, said the university has the "firepower" to lead multidisciplinary debates "about where science and society are going, and how health care will evolve" (photo by Johnny Guatto)
For his part, Naylor, an expert in health-care policy who served as U of T's president from 2005 to 2013, said we now "live in a very different era" – one in which ethical, regulatory and governance issues will cause people to rethink how they do science. 
Just over a year ago, he teamed up with U of T's Geoffrey Hinton, a pioneer of the sub-field of AI known as deep learning, to write companion pieces for the world's most widely circulated medical journal about how AI can be harnessed to improve health care.
Naylor, who received the Friesen Prize last year, said Thursday's panel discussion is exactly the kind of conversation that needs to continue to generate ideas and policy recommendations.
"We have the firepower – between the Joint Centre for Bioethics and the [Schwartz Reisman] Institute and all of the people who are interested in these issues in the city – to begin to have these important multidisciplinary debates about where science and society are going, and how health care will evolve," he said.
UTC