U of T expertise helps drive two supercluster bids to success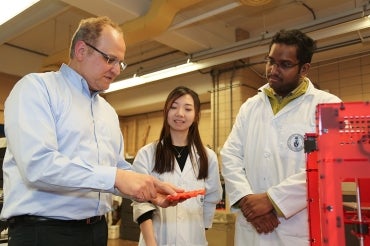 Cutting-edge expertise at the University of Toronto in advanced manufacturing and artificial intelligence is helping to propel two of the Canadian government's newly announced innovation superclusters.
The superclusters are among the five successful innovation proposals announced Thursday in Ottawa by Navdeep Bains, minister of innovation, science and economic development. They will share $950 million in funding by 2022.
"The University of Toronto is incredibly excited by today's news and is proud to play a key role in harnessing the incredible depth and breadth of our expertise in advancing these critical areas for Canadian economic growth and innovation," said Vivek Goel, U of T's vice-president of research and innovation.
"In particular, the advanced manufacturing cluster is a fantastic opportunity to grow industry-university collaborations, as well as the overall reputation for innovation in the Greater Toronto region," Goel said. "This will in turn accelerate the region's attractiveness as a global destination for talent, innovation and industry."
Superclusters –  collections of companies, academic and research institutions and other innovation actors – are part of the federal government's broader innovation strategy to invest in industries where Canadian companies have a chance to emerge as global leaders.
Smart textile firm Myant, which was one of the industry backers of Ontario's advanced manufacturing proposal, is an example of this type of partnership, Goel said.
Company CEO Tony Chahine has worked closely with several researchers from U of T and the University Health Network, including Professor Milos Popovic of Toronto Rehab, to integrate sensor and computer technology into garments that can track heart rates, breathing rates and hydration.
U of T researchers with the Toronto Institute of Advanced Manufacturing (TIAM) and the Institute for Robotics and Mechatronics are involved in the cluster, which is designed to use "3D printing and robotics to create next-gen manufacturing capabilities," Bains said.
The sector, which currently accounts for nearly 15 per cent of Ontario's economy, is tapping more than 100 partner organizations to collaborate on areas like autonomous vehicles, wearable electronics and advanced biomedical devices.
Hani Naguib, TIAM's founding director and an internationally recognized researcher in designing and developing electroactive polymers used for flexible and wearable electronics in biomedical and energy applications, is among professors from U of T's Faculty of Applied Science & Engineering involved, as is Goldie Nejat, Canada Research Chair in Robots for Society and associate professor of mechanical engineering.
U of T President Meric Gertler is also joining the board of the newly incorporated Next Generation Manufacturing Canada (NGM Canada) that is arising from the successful proposal.
Linda Hasenfratz, CEO of Linamar, a multibillion-dollar global manufacturing company based in Guelph, is the chair of the new entity after leading the supercluster bid. Former Canadian Manufacturers and Exporters head Jayson Myers is CEO.
As a globally renowned powerhouse in deep learning and founding partner of the Vector Institute, U of T is also supporting the creation of the Quebec-based SCALE.AI supercluster to build intelligent supply chains through artificial intelligence and robotics.
Supply chains governing the transportation, storage and delivery of goods are a major Canadian industry. By leveraging tools such as demand forecasting, product customization and process optimization, this supercluster will bolster Canadian leadership in artificial intelligence and data science to revolutionize the retail, manufacturing and infrastructure sectors.
"This truly is a great day, not only for our superclusters but for all Canadians," Bains told an Ottawa audience made up of innovators from across the country. "Fundamentally, superclusters are a jobs magnet . . . This [initiative] places Canada front and centre in the global innovation race."
The five superclusters – Oceans (Atlantic Canada), SCALE.AI (Quebec), Advanced Manufacturing (Ontario), Digital Technologies (British Columbia) and Protein Industries (the Prairies) – represent 60 post-secondary institutions, more than 450 businesses and 180 other participants in sectors covering 78 per cent of Canada's economy.
The government said it expects they will create tens of thousands of jobs across Canada.
UTC