U of T expert on NAFTA negotiations: Two's company, three's a crowd?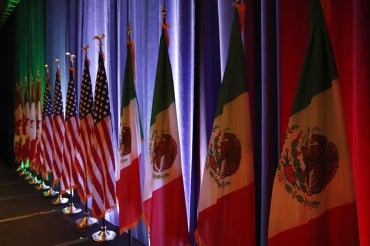 Two's company, three's a crowd. The third wheel. There's no good term for someone who jams a couple, seemingly invited out of pity.
Is that the position Canada finds itself in with the United States and Mexico, brought back into the negotiations to conclude a new continental trade pact at the 11th hour after Washington and Mexico City have made a deal of their own?
And, if so, how did it get to the point that the United States' most important trading partner appears to be essentially an afterthought in talks fundamental to Canadian national interests?
The Trudeau government said for weeks that Ottawa wasn't frozen out of the negotiations. It was normal for two parties in a three-way negotiation to huddle and work on issues fundamental to them alone, Ottawa said.
Fundamental issues
But the U.S.-Mexico agreement initialed this week didn't deal solely with bilateral issues, but with issues fundamental to Canada too, such as the dispute-resolution mechanism that was Canada's most important trade objective when Ottawa first signed a free-trade pact with the United States in 1987.
If anyone traditionally worried about being the third wheel in the North American relationship, it was Mexico.
Mexico was only invited to negotiate its way into the free-trade zone after Canada and the United States had done their deal and put it into effect. Once those trilateral negotiations began in 1991, the three parties were scrupulous in ensuring they remained three-way talks.
Certainly, there were issues that concerned Canada only, such as cultural protections. And there were issues that concerned Mexico only, such as protections for its energy industry. But Canada and Mexico maintained a common interest in engaging the United States. And Washington didn't try a divide-and-conquer strategy, recognizing that NAFTA involved continent-building as much as trade facilitation.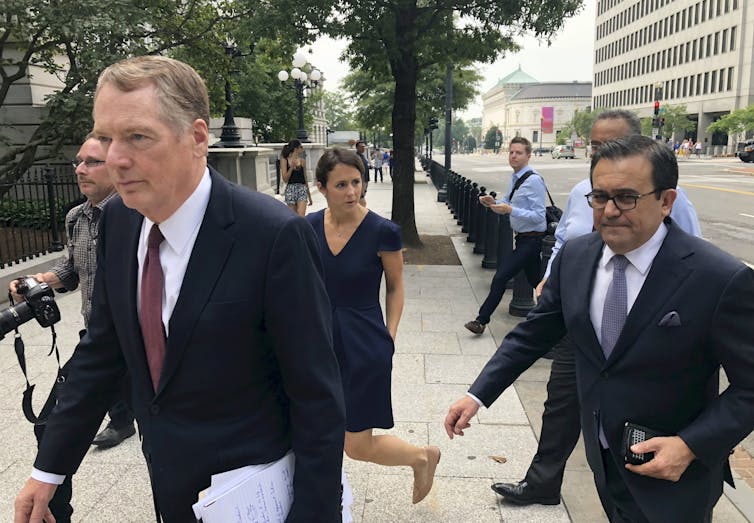 Behind the eight ball
Not so now. Canada now finds itself behind the eight ball in these negotiations, possibly faced with a choice between a bad deal and no deal at all, precisely what the Trudeau government was determined to avoid.
In particular, the price of signature may include a humiliating climb-down on protections for the supply-managed dairy and poultry sectors.
Much of this is the fault of the Trump administration. The White House has been singular in its contempt for its trading partners and in its dismissal of any concept of a North American community.
Canada and the United States have fought over trade since before Canada was a country (the first dispute over softwood lumber trade dates to shortly after the American Revolution), but Ottawa and Washington always sought to make those disputes about those disputes alone.
U.S. President Donald Trump, in contrast, talks as if Canada's dairy tariffs are symptomatic of Canada's trading practices rather than the exception.
Unrealistic expectations
But Ottawa deserves plenty of blame too. The Trudeau administration went into the NAFTA talks with unrealistic expectations.
Its demand for a progressive pact, worthy as that goal might have been, simply turned off the White House, just as it did the Chinese government in putative trade talks last year.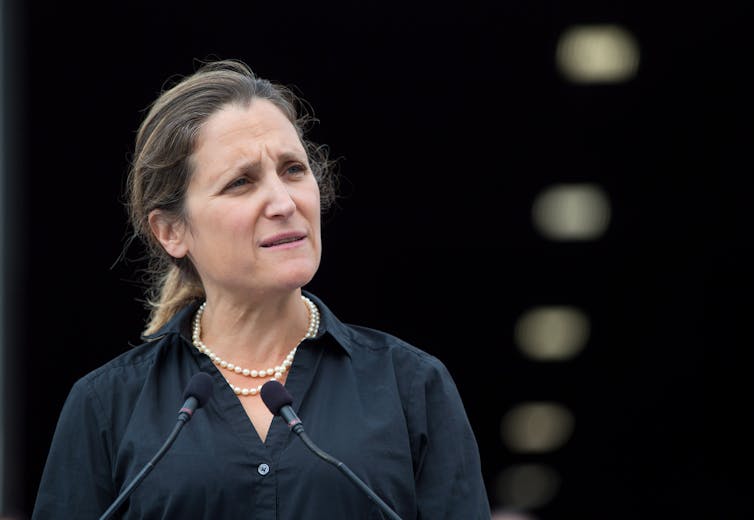 More costly still was Ottawa's determination to show no flexibility on supply management. More than one prime minister over the past three decades has wished quietly for an opportunity to reform this protectionist throwback, even as they mouthed fealties to it.
This negotiation was the opportunity to act but, instead of doing it proactively and strategically, the Trudeau government may be forced into it as the price of saving Canada's most important trade pact.
It's now widely accepted that Canada is too dependent on the U.S. market given the wave of protectionism washing over U.S. politics. But, if anything, it may be more accurate to say that Canada didn't do enough to protect its North American advantage by building a community of interest and institutional ties in the United States.
Instead, Canada took the U.S. market – as big as the entire European Union and right on our doorstep – for granted.
The White House, having finally grabbed Ottawa's attention, may now agree to a deal that Ottawa can live with. Or it may work to drive a very hard bargain with the clock ticking. If so, another European comparison comes to mind: Canada just might have been sleepwalking to its own Brexit.

Drew Fagan is a professor of public policy at the University of Toronto's Munk School of Global Affairs and Public Policy.
This article was originally published on The Conversation. Read the original article.
The Conversation