U of T event to highlight biotech's potential to improve health care, drive post-COVID-19 economy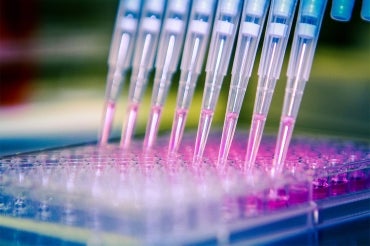 PRiME, a University of Toronto-led precision medicine initiative, is working with partners across Canada to generate support for the creation of a network of biotechnology research hubs across the country that would transform health care and propel the post-pandemic economy.
"Growing our talent base and creating a constellation of new companies launched from universities will be essential to realize the economic development and societal impact that the growth of the biotechnology industry can deliver," said Shana Kelley, University Professor in the Leslie Dan Faculty of Pharmacy and director of PRiME.
To highlight the high-growth potential for biomedical innovation and biotech in Canada, PRiME is hosting a virtual showcase on Feb. 17 called Building Biotech: Science and Talent Accelerating Biomedical Innovation. It will feature a panel of biotechnology leaders, scientists, entrepreneurs and investors who represent Canada's three main biotechnology ecosystems in Vancouver, Montreal and Toronto. The panelists will explore how investment in academic science can create societal impact and health security, while also helping to drive post-pandemic economic growth.
"Canadian biotech is a small industry with most of our graduates drawn to opportunities in the world-class U.S. biotech sector," said Molly Shoichet, a University Professor in the Faculty of Applied Science & Engineering who is a member of the PRiME steering committee and a serial entrepreneur. 
"It doesn't have to be this way. We have homegrown talent with strengths in basic science fundamentals, drug discovery and therapeutic development. What's missing is meaningful government investment along the continuum of research to commercialization to transform Canadian biotech from a fledgling industry to a true powerhouse of Canadian economy."
Kelley, Shoichet and colleagues across U of T say discussion is critical in the context of the pandemic. The global rush to deploy a COVID-19 vaccine – with Canada effectively being out of the game due to the lack of biomanufacturing capacity – highlights how a thriving biotechnology industry could improve the country's pandemic response while also providing jobs for graduates and significant economic benefits.  
There is already evidence the Canadian biomedical community is gaining momentum given recent successes including Repare Therapeutics, a therapeutics company that was based on discoveries made by Dan Durocher, a professor in the Temerty Faculty of Medicine and a researcher at the Lunenfeld-Tanenbaum Research Institute, part of the Sinai Health System. Repare raised more than US$250 million through an initial public offering last year on on the NASDAQ stock exchange. Fusion Therapeutics and AbCellera are two other spinoffs from Canadian universities that also had successful IPOs over the past six months.  
Kelley will kick off the event with her talk, "Tackling Disease with Precision Therapeutics and Diagnostics: PRiME and the GTA Ecosystem." She will be followed by four speakers representing Vancouver's and Montreal's biomedical innovation centres – all of whom lead translational and commercialization-focused organizations.
Following these sessions, Andrew Casey, CEO of BIOTECanada, will moderate a panel of entrepreneurs and investors discussing how to build momentum in the biotech sector. He believes that the social and economic impact of the pandemic has increased awareness of the important role the biotech sector can play in delivering innovative solutions.  
"It will be biotech-based solutions – including vaccines and therapeutic drugs – that will facilitate the ability of society and the economy to return to normal," said Casey. "The biotech sector can also play a foundational role in the significant economic rebuild that lies ahead.
"To maintain a globally competitive biotech sector, it is critical that Canada invest now in manufacturing capacity, research institutes, scientific and entrepreneurial talent and companies." 
Kelley said that establishing a network of biotechnology hubs in Canada could be crucial for post-pandemic economic recovery.
"It's time to transform Canada from a resource-based economy to a knowledge-based economy," Kelley said. "With government investment, we can work quickly to build infrastructure, gather talent and create a breakthrough-to-commercialization pipeline of made-in-Canada discoveries that will address the needs of today and the unmet needs of tomorrow."
Christine Allen, U of T's associate vice-president and vice-provost, strategic initiatives, said investing in the future is important.
"The biomedical sciences at U of T and across Canada are an area of significant strength and a critical national resource that must be cultivated," said Allen, a professor at the Leslie Dan Faculty of Pharmacy. "We must invest in our future and support growth of our ecosystem in this area."
pharmacy