U of T event celebrating Rosalie Abella to bring together current, former international high-court justices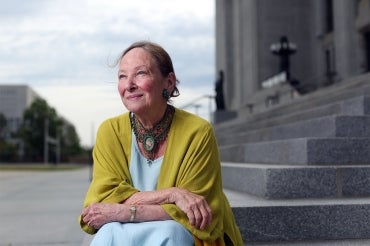 The University of Toronto's Faculty of Law will celebrate the contributions of retired Supreme Court Justice Rosalie Silberman Abella, who served for 17 years on Canada's highest court, at an event that brings together leading judicial figures from around the globe.
The Sept. 22 event at the Isabel Bader Theatre – Justice Beyond Borders: Justice Abella's Global Legacy – will recognize Abella for her contributions to legal thought around the world and as an ambassador for Canadian values and jurisprudence.
Abella will take part in a conversation with current and former international supreme court justices: Justice Susanne Baer of the Federal Constitutional Court of Germany; Lord John Anthony Dyson, former Master of the Rolls and Head of Civil Justice (2012 – 2016) and a former Justice of the Supreme Court in the United Kingdom (2010 – 2012); and Associate Justice Elena Kagan of the United States Supreme Court.
"We are honoured and delighted to host Justice Abella and her international peers," says University Professor Jutta Brunnée, dean of the Faculty of Law and James Marshall Tory Dean's Chair. "The law is responsive to its global context. We have seen on many occasions how decisions here at home impact broader thinking about legal issues elsewhere, and vice versa."
"We look forward to a lively and thoughtful discussion." 
The event will be moderated by international law Professor Stephen Toope, vice-chancellor of the University of Cambridge and a former director of U of T's Munk School of Global Affairs & Public Policy. In-person or live-stream tickets are $17 – one dollar for every year Abella served on the Supreme Court of Canada.
"International legal scholars are deeply interested in Abella's work," says Toope.
"Her judgments are always attuned to developments in other jurisdictions, and she has consistently shown an interest in connecting Canadian law to the international legal system."
Abella, whose parents survived the Holocaust, was born in a displaced persons camp in Stuttgart, Germany in 1946. She came to Canada as a refugee in 1950.
Her legal career has been marked by a series of firsts: she was the first Jewish woman appointed to Canada's top court; the first pregnant woman appointed to the judiciary in Canada; and the first refugee appointed to the bench in Canada. She graduated from University College in 1967, earned her law degree at U of T in 1970 and received an honorary degree from U of T in 1990.
Among her many accolades, Abella was presented with the Rose Wolfe Distinguished Alumni Award in 2019 in recognition of her outstanding contributions to U of T, Canada and the world. In 2020, she was honoured with Germany's Commander's Cross of the Order of Merit (with badge and star), one of the country's top national decorations for non-civilians, in recognition of the lessons she has from drawn from the Holocaust about the need to protect minority rights and the rule of law.
Since her retirement in 2021, Abella has been appointed a distinguished visiting jurist at U of T Law and the Pisar visiting professor of Law at Harvard Law School.
Faculty of Law