U of T Engineering outreach program helps Black high school students access STEM programs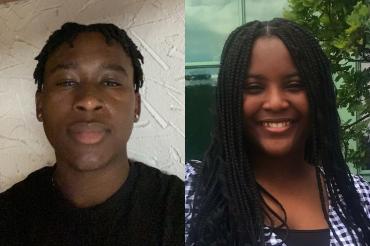 For Stephen Laditi, engineering is all about change.
"The jobs that engineers do are always for the betterment of society," says the first-year civil and mineral engineering student in the University of Toronto's Faculty of Applied Science & Engineering. "Whether it's about making roads safer or designing sustainable buildings, engineering touches almost everything around us.
"This is something that I want to be part of."
Despite Laditi's certainty about what he wanted to do, as a Grade 11 student he was a little less sure about how to make it happen.
That's where Blueprint came in. The U of T Engineering program, which launched last summer, engages Black students in Grade 9 to 11 who have a love of science, technology, engineering and math (STEM).
"Blueprint let me see what the engineering world would look like, through projects such as programming robots and optimizing a gardening space," Laditi says. "But on top of that, it helped me show the admissions evaluators that I know how to work collaboratively to solve problems, which is a vital skill both in university and in any engineering workplace."
"There is a real need in this country to ensure that Black high school students know that they are not only welcome, but wanted and needed – at universities, and in engineering in particular," says Dawn Britton, associate director of engineering outreach at U of T Engineering. 
"For too many years we've watched the number of Black students entering STEM studies stay at very low numbers," she says. "Blueprint was developed to specifically and intentionally work to change that."
Engineering Outreach Coordinator Cassandra Abraham was one of Blueprint's key architects. She says it was clear from the beginning of the program that it would extend beyond the end of the summer and continue offering mentorship to participants throughout the school year, particularly those in their last year of high school.
"In one of our sessions, we asked students if they felt like they were getting the support they needed to successfully complete their university applications," she says. "Most said they were not, so we created My Academic Planning Sessions, or MAPS."
The sessions helped students write a statement of interest, build a resume and obtain recommendation letters, as well as identify their personal learning styles. Blueprint students met with current engineering undergraduates, recruitment officers and learning strategists to develop successful university applications.
This fall, five graduates of the inaugural Blueprint program are beginning undergraduate studies at U of T – four in engineering and one in life sciences.
Laditi is among them, as is Favour Nwanna, who is entering TrackOne, a general first-year program that leads to a bachelor's degree in one of eight engineering disciplines.
"Blueprint played a huge role in my being accepted into U of T Engineering," Nwanna says. "I met with other students currently enrolled in engineering programs who could provide advice, and I got my questions answered by the people involved in the admissions process. It really helped me be mentally prepared for what was to come."
Nwanna says she's currently most interested in computer engineering, with an eye to a possible career in the tech industry – but she's keeping her options open.
"Before Blueprint, I had a stereotypical view of what engineers were and what they do," she says. "This program helped open my eyes to the many sectors of engineering. I think that TrackOne will allow me to explore many fields while developing a solid foundation, so that I will be able to make a well-informed decision once the time comes."
In addition to those accepted to U of T, many other Blueprint participants have joined STEM programs at other institutions. Others have gotten their first jobs as a result of the program's job-preparedness and resume-building workshops.
This summer, Blueprint received more than 190 applications from high-achieving Black students from across Canada – more than double last year's total.
"I know that this is just the beginning, and I hope that this number grows every year," Abraham says. "My wish is that these students, after their first year, become mentors for our Blueprint program. There's a whole network of Black people behind the scenes, making sure that we try to touch every Black student interested in STEM."
Outside of U of T, Abraham is a member of Black Youth in Technology, Engineering and Science (BYTES), a network of organizations supporting Black youth in STEM in Toronto and other municipalities.
"We all can do our part to make sure that Black students are being reached," she says. "My most memorable moment is when a parent called my cell phone to personally thank me for the work I was doing. After that call, I was flooded with tears because of her kind words and encouragement. I realized that we had created a space where students felt truly supported and loved."
For Laditi, what matters most is the coming semester. He is excited about the return to in-person learning, and the new connections he will be able to form.
"Being here at U of T Engineering will open many doors for me, enabling me to choose my own path," he says. "My current plan for after graduation is to either pursue a master's degree or start my own civil engineering firm. But, in all honesty, I can see this degree taking me anywhere I want to go."
U of T Engineering