Roses are attached to benches outside of Hart House, each dedicated to a victim of gender-based violence (all photos by Laura Pedersen)
"Recognizing the long reach that violence against women can have through our lives"
 University of Toronto students, staff and faculty paid tribute to victims of gender-based violence on Wednesday at all three campuses.
Today is the National Day of Remembrance and Action on Violence Against Women, an event marking the anniversary of the murders of 14 women at the École Polytechnique de Montréal in 1989.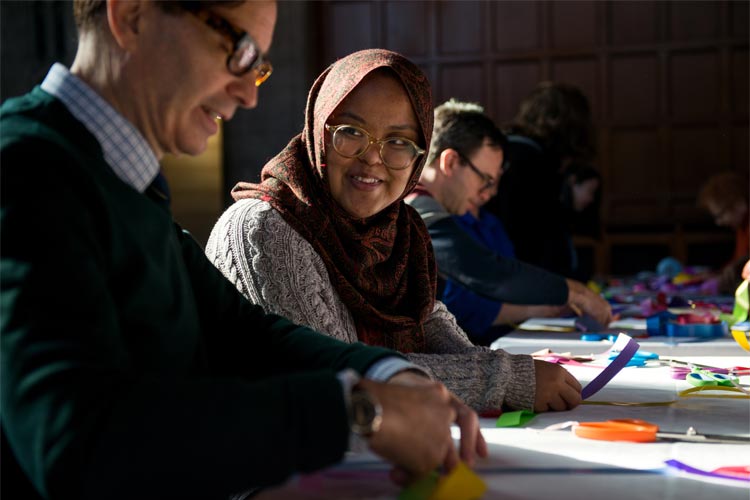 U of T's downtown Toronto campus held a ceremony at Hart House's Great Hall. Before the event, attendees were encouraged to create a woven star out of ribbon to contribute to the One Million Stars to End Violence project. People all over the world are creating stars to be sent to Brisbane as part of the 2018 Commonwealth Games, to be put on display at the Museum of Brisbane.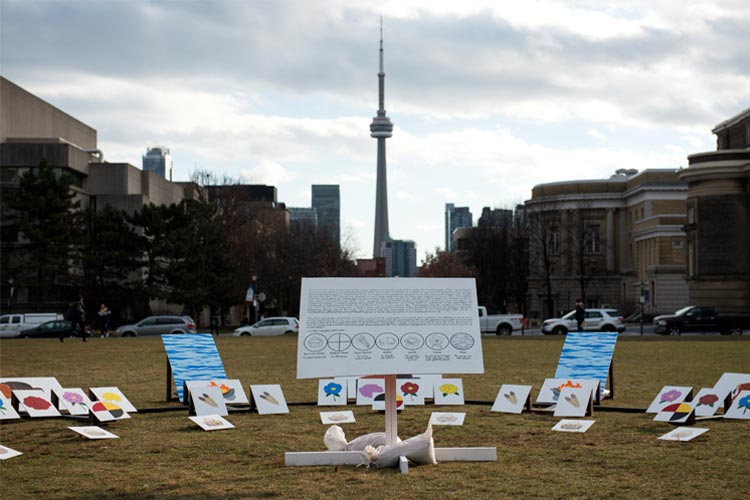 A memorial honouring missing and murdered Indigenous women (pictured above), built by U of T engineering students, was also on display on King's College Circle.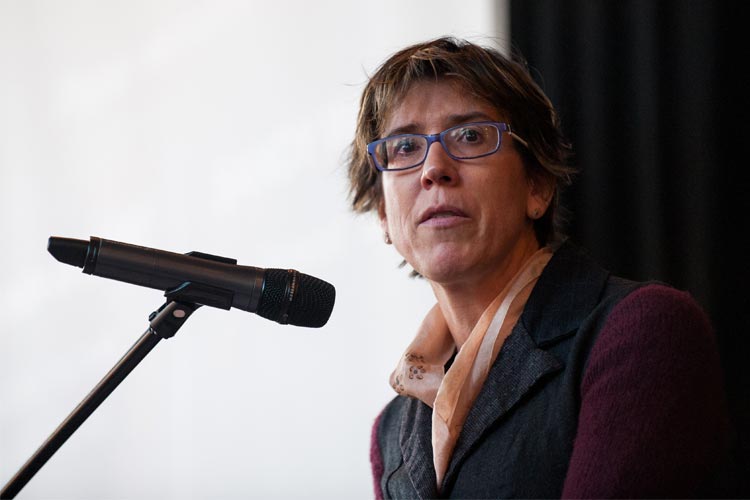 Sandy Welsh (pictured above), U of T's vice-provost, students, gave an emotional address at the ceremony.
"Some December 6s hit you harder than others and I'm having a hard time today," said Welsh.
"We're here to... recognize the long reach that violence against women can have through our lives, through our friends' lives, through someone you have a conversation with as you're walking here and they find out where you're going and they tell you about something that's happened to someone they love dearly."
Welsh and Kelly Hannah-Moffat, U of T's vice-president, human resources and equity presented two students, Ashley Major and Kristina Nikolova, with the inaugural award for Scholarly Achievement in the Area of Gender-Based Violence. 
The award is an opportunity to advance the conversation about gender-based violence, said Welsh.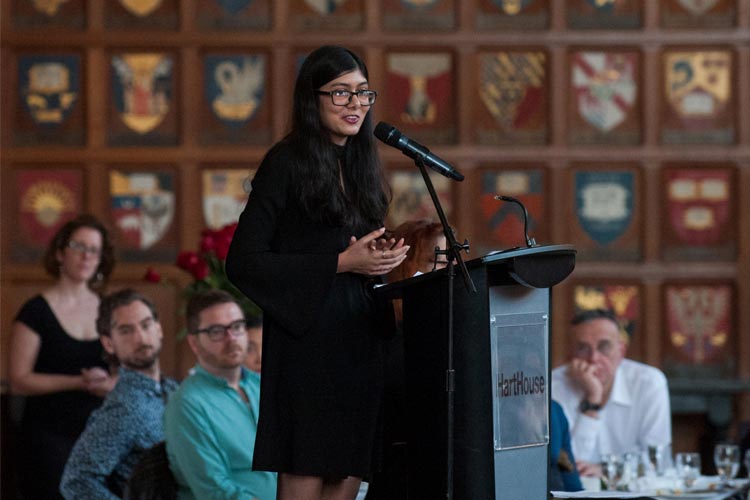 Shivani Nathoo (pictured above), vice-president, professional faculties for the U of T Students' Union (UTSU), spoke about the sexism she has experienced as an engineering student.
From being stereotyped as a "clueless" woman to overhearing male engineering students discussing women's looks, she said these instances left a lasting impression on her.
"We can do everything in the world to lift a woman up, tell her that she's powerful, that she is worthy, that she is smart, that she is amazing, but until we tell men to see women in the same light, nothing will change," she said.
Chimwemwe Alao, vice-president equity, at UTSU, suggested ways men can take action to end violence against women.
"It should not be women exclusively who are taking action on this," he said.
Men can support campaigns that combat gender-based violence, listen to women and hear their concerns, believe survivors' stories of violence and harassment, and have conversations with other men about the damage caused by toxic masculinity and rape culture, Alao said.
Attendees also heard about research by Laura Derksen, an assistant professor at Rotman School of Management who studies how to overcome barriers to access to health care, and Bri Olson, a graduate student at the Factor-Inwentash School of Social Work, who specializes in Indigenous trauma and resiliency.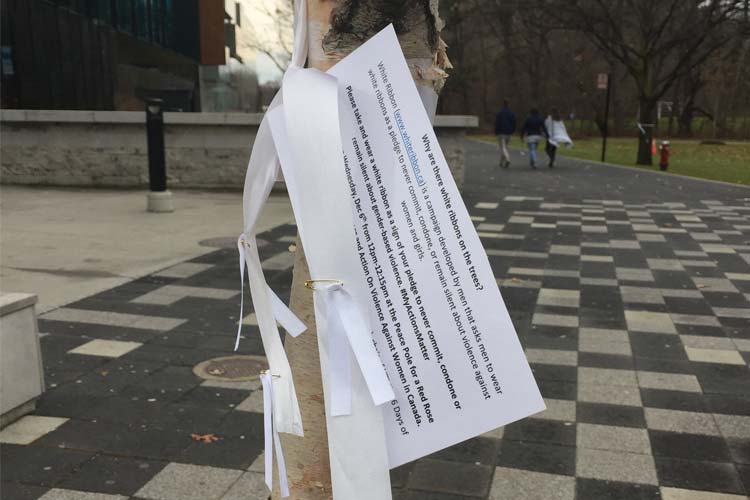 At U of T Mississauga, the Day of Remembrance events included a white ribbon campaign, encouraging men to take and wear a white ribbon as a promise to never commit or condone gender-based violence. On Dec. 1, U of T Scarborough paid tribute to missing and murdered Indigenous women with red feathers.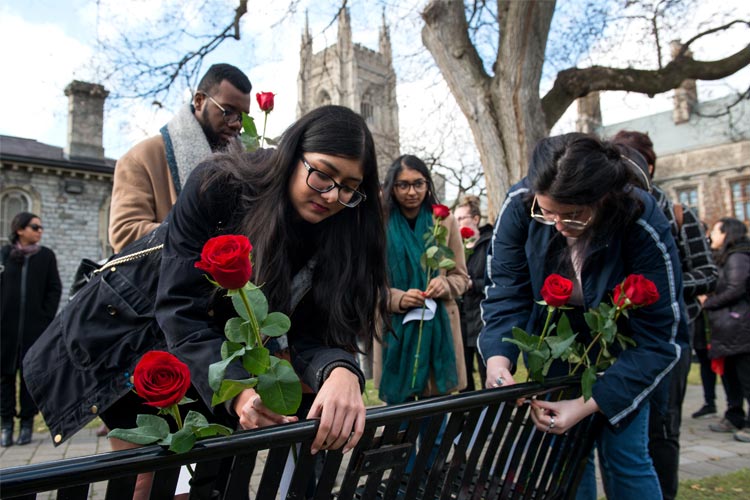 Following the ceremony at the downtown Toronto campus, attendees were encouraged to take one of the roses provided and attach a note, dedicating the flower to a victim of gender-based violence.
Outside Hart House, the roses were placed on two benches dedicated to those victims.
"We honour those who continue to work to end violence against women," the plaques on the benches read.
"Make a commitment to end the violence."