U of T community members mobilize aid for Türkiye and Syria earthquake survivors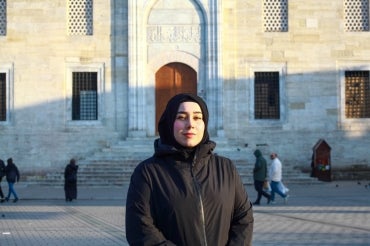 When a catastrophic series of earthquakes hit Türkiye and Syria, graduate student Ayşenur Ince knew she had to do something to help alleviate suffering in the wake of a tragedy that has now left more than 50,000 people dead, thousands injured and millions more without homes and other necessities.
Ince, who is in the first year of a master of pastoral studies program offered conjointly by U of T and Emmanuel College at Victoria University, is currently living in Istanbul. Seeing shock and grief all around her, she decided to put what she was learning about spiritual care and counselling into immediate practice.
"The devastation is so widespread that even though the government is exhausting all the power they have, we still need civilian help," Ince said by phone from Istanbul. "I started doing counselling for people, including those who have worked in the rescue operations, because they're really unwell – these are people who had to triage; to pick and choose who they saved. Many others have earthquake nightmares – there's a lot of post-traumatic stress right now because they're constantly scared that an earthquake will happen again."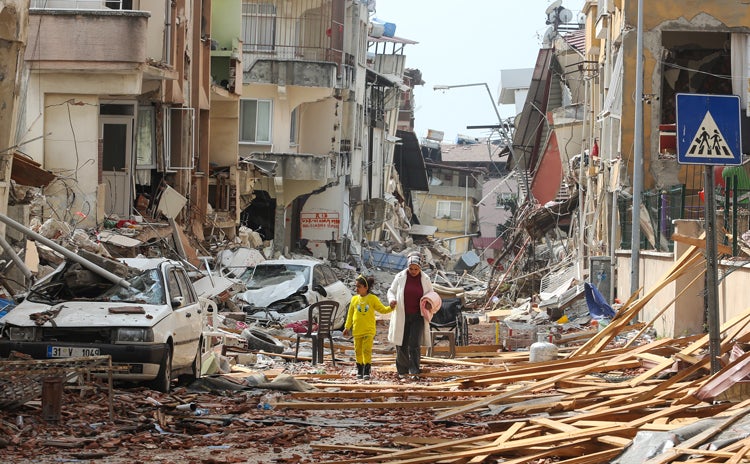 Residents walk amid the rubble in Hatay, Türkiye (photo by Yavuz Ozden/dia images/Getty Images)
Ince is just one of many U of T students, faculty, staff, librarians and alumni who have pitched in to help raise awareness and funds, as well as mobilize resources to help in the aftermath of the earthquakes – from fundraisers by student groups to donation drives by individual programs and faculties.
In a statement on Feb. 6, Joseph Wong, U of T's vice-president, international, urged members of the U of T community to support each other and to reach out for help if needed. Student Life units at the university have been touch with student groups and individuals from affected regions to offer support.
Ince, who completed her undergraduate degree at U of T Scarborough, says she drew on the skills she was learning in her master's program and sought the advice of her professors about how best to counsel people going through so much trauma.
"When this first happened, I was in fight-or-flight mode. And then I reached out to my professors to ask them what I should do and to send me some sort of training specific to crisis management," Ince said.
"At the college, I had classes that gave me a universal approach to everything – I even had the chance to take some disaster training. At the time, I felt like, 'When am I ever going to need this?' But being here when this actually happened, I felt like I was prepared. I keep wondering what I would have done if I hadn't started the program."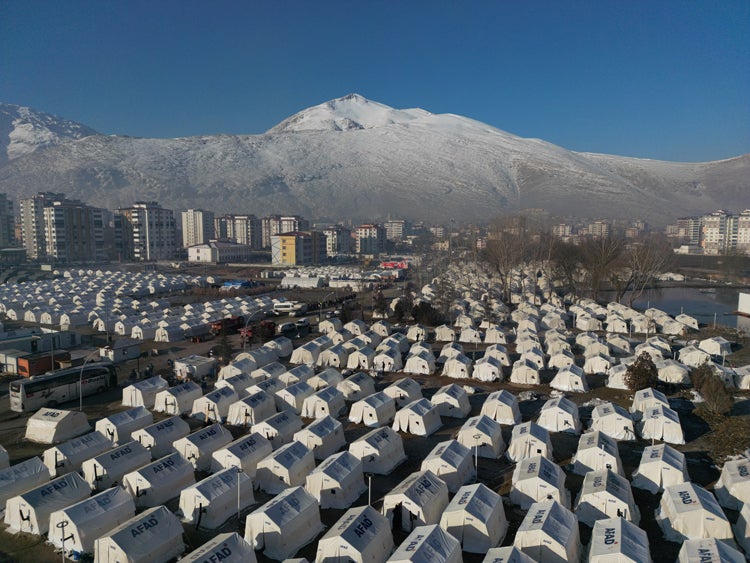 Tents errected by the Turkish disaster and emergency management organization (AFAD) for earthquake victims in Kahramanmaraş (photo by Yan Zhigang/VCG via Getty Images)
One of the professors Ince contacted was program director Nazila Isgandarova, who was able to advise her on trauma resources and connect her with peers who also wanted to help. "The damage due to the earthquake in Türkiye and Syria is beyond any imagination. Ayşenur met many people who suffered and continue to suffer from earthquake-related experiences and losses," Isgandarova said. "As a psychotherapy student, Ayşenur volunteered to help people not only with trauma-focused counselling and spiritually integrated grief counselling, but also tried to arrange support for people who faced financial hardships."
Ince received financial donations from her fellow students, which she used to purchase dozens of portable coal stoves for those left without electricity following the earthquakes. Emmanuel College also sent boxes of nonperishable food overseas and held a vigil a week after the disaster to remember the victims.
Efforts to raise funds to assist people in Türkiye and Syria and increase awareness about the scale of the disaster continue across U of T on all three campuses, particularly among student groups.
Bake sales and fundraising drives by the tri-campus chapters of the Turkish Students' Association (TUSA), Syrian Students' Association, Muslim Students' Association and Amnesty International, among others, have raised more than $25,000 to date – much of which is being matched dollar-for-dollar by the student groups.
Immediately following the disaster, the Turkish Students' Association at U of T Scarborough began collecting funds and in-kind donations on campus, raising close to $9,000 and 18 boxes of donated goods, said TUSA-UTSC co-president Yasmin Din.
"Staff and students have generously contributed to our campaign," Din said, adding that student volunteers can be found overseeing the donation location with their schoolwork in tow. "There are no words to describe this level of dedication and support."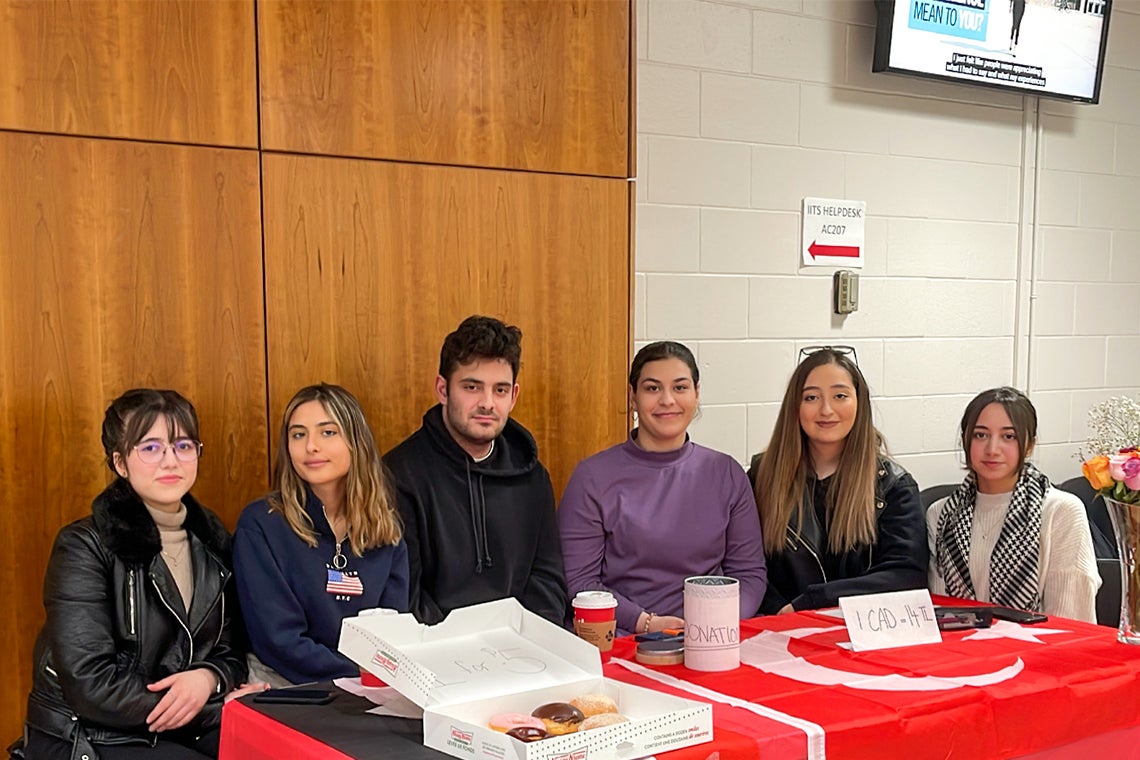 From left to right: Turkish Students Association members Lilaf Salman, Irem Demirel, Selcuk Maslak, Elif Baran, Yasmin Din and Sedika Salman at their donation table at U of T Scarborough (photo supplied)
A fourth-year psychology student, Din first heard about the earthquake from her father, who was in Ankara, Türkiye's capital. While her family in the region remained safe, Din lost a friend in Malatya, one of the most-affected provinces, and heard from another U of T graduate whose father was among the casualties.
"She had to patiently wait for 11 days for the rescue teams to recover her father's body," Din said. "At the same time, as there was no electricity in the city, she and her husband had to stay in their car at night or rest in the semi-collapsed buildings, which was very tough because aftershocks were constantly happening. So many millions of people have been affected by this mega-quake – for them, life will never be the same."
TUSA has been working with the Turkish Consulate General in Toronto to arrange for airlifts of the donated goods – including winter clothing, hygiene kits, baby formula and diapers – to the region, while cash contributions will be transferred to organizations in Türkiye who are managing the situation on the ground, including Turkish nonprofit Ahbap. Din noted that some of the financial support will go toward temporary shelter and repairing damaged homes in the region, which is crucial to rebuilding while so many are living in makeshift housing following the earthquakes.
Providing shelter is also a major issue in neighbouring Syria, which has been destabilized by a 12-year-long civil war.
"There is still a great need for housing for those who have been displaced, as well as the allocation of medicines and other requirements. This is especially important in Syria, where the infrastructure has been greatly strained," said Oya Mercan, an associate professor in the department of civil and mineral engineering in the Faculty of Applied Science & Engineering who received her undergraduate degree in civil engineering from Boğaziçi University in Istanbul.
"If the building safety assessment indicates that the structural components – the beams and the columns – of a building are not damaged, it will be cost-efficient to fix the damage to the nonstructural components such as the partition walls. As such, it is an important initiative to raise funds and awareness for this purpose."
The Syria Solidarity Collective (SSC), co-founded by U of T PhD graduate and staff member Kenana Al Kakouni, is also raising funds at St. George campus to assist with rebuilding homes in Syria, among other aid efforts. Funds raised will go to the Molham Volunteering Team, an international organization that works in northern Syria to rebuild homes for displaced people.
Al Kakouni, who currently works as an imaging facility lead technician in the department of cell and systems biology in the Faculty of Arts & Science, said while her relatives in Syria are safe, they are mourning the loss of a family who were their neighbours.
The earthquake only further exacerbated the ongoing humanitarian crisis in Syria after more than a decade of conflict in the country, Al Kakouni said.
"People there were already suffering from lack of food, heat, medical supplies – right now, what we're hearing is that what is most needed is tents, given that so many are still without shelter."
At U of T's Ontario Institute for Studies in Education (OISE), Dean Erica Walker, advancement staff and the OISE Alumni Association Student Advisory Committee (SAC) organized an in-kind donation drive for non-perishable food, winter clothing, equipment such as tents, blankets, sleeping bags and thermoses, as well as hygiene items including menstrual products and diapers. The donation bins will be available in the OISE lobby until March 6.
"OISE has a really diverse student body, and we wanted to not only send a message of hope to our U of T community, but also to take action," said SAC chair Seema Hooda, a graduate of OISE's master of education program. "The donation drive is an extension of our purpose and mission, and it has been a joint effort from both students and staff. It's a way to show support for our Turkish and Syrian peers – and also to engage people to make a contribution that could help save lives."
From left to right: OISE staff Sim Kapoor, Latifa Soliman, Helen Huang, Dean Erica Walker, Perry King, Reesa Barkhouse, Biljana Cuckovic (photo supplied)
SSC co-founder Al Kakouni urged U of T community members looking to support aid efforts on campus to follow student groups' social media accounts for upcoming fundraisers and other initiatives, write to political representatives to raise awareness of the disaster, and donate to reputable organizations such as the White Helmets and Syrian American Medical Society in Syria, as well as the Red Cross and Doctors Without Borders internationally.
For Türkiye, TUSA co-president Din recommends donating to Ahbap, the disaster and emergency management organization AFAD and search-and-rescue non-profit AKUT.
Students have also recognized the need to support their peers who may have been affected by the disaster, creating a "solidarity space" for reflection and connection at the Multi-Faith Centre on the St. George campus.
"The students' idea was to allow students from the region to get help in their own languages: Arabic and Turkish," said Adrien Zakar, assistant professor in the department of Near and Middle Eastern civilizations. "With the support of the department, the Turkish Students' Association and the Syria Solidarity Collective, more than 50 Turkish- and Arabic-speaking volunteers from U of T received health and wellness training to provide further guidance to visitors."
In addition to donating money and goods to help people affected by the earthquake, it's equally important for those far away from the region to recognize and amplify the sheer scope of the disaster, Emmanuel College student Ince said.
"The aftermath of this is going to be huge. We can see physical injuries, but no one sees psychological wounds," she said. "Right after the earthquake, one of my professors, Angela Schmidt, changed the whole subject of her class to focus on the issue – it was just what I needed. She explained what to do when you face certain situations. After a situation like this, we have to think about how to view calamity. Why do bad things happen to good people? It really makes us question everything in life."
---
Resources for U of T students, staff, faculty and librarians:
Student groups can post their fundraisers and other events on the Student Organization Portal to broaden awareness
The university has emergency funding available for students in need, which can be accessed by completing the U of T grant application: 
Students can access mental-health supports through:
My SSP (24/7 support via phone or chat)
Faculty, staff and librarians may contact the Employee and Family Assistance Program at 1-855-597-2110
 
The Scholars at Risk Award Program, established in part in response to the Syrian refugee crisis in 2016, remains open for applications each year from students who are accepted to U of T
UTC